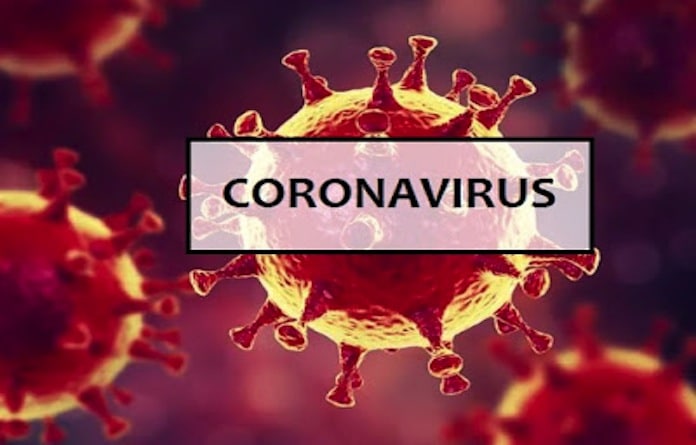 Monroe County health officials reported a fourth positive coronavirus case on Saturday. Monroe County Health Department Administrator John Wagner said it is a woman in her mid-70s who remains hospitalized. Meanwhile, St. Clair County reported its second death and six confirmed COVID-19 cases are in Randolph County.
The first confirmed case in Monroe County came March 21 and was a Columbia woman in her 40s who had traveled out of state. Two Monroe County women in their 60s were reported as the second and third COVID-19 cases on March 24 and March 25.
None of the first three women are currently hospitalized, Wagner said.
Wagner said the total number of locals tested for COVID-19 is not known, although Wagner did say his office is awaiting results of tests involving local residents.
"We do not have a total number of people tested (overall) since Red Bud and Memorial are doing drive-up testing using private labs and some Monroe County residents have gone to St. Louis for testing," Wagner explained, adding that his office is only notified by the Illinois Department of Public Health of all positive tests of Monroe County residents regardless of where they were administered.
The first death related to COVID-19 in St. Clair County was announced Friday. It was a woman in her 80s who had underlying health issues, according to the St. Clair County Health Department. On Sunday, St. Clair County reported the death of a female in her 30s who had underlying health issues.
There are 43 confirmed coronavirus cases in St. Clair County as of Monday. There have been 294 tested in St. Clair County, with 201 coming back negative and 52 results still pending.
On Sunday, the Randolph County Health Department said it was notified of its first two positive coronavirus cases. Both are contact related, the agency said. There are now three in that county, according to the Illinois Department of Public Health.
The number of coronavirus cases continues to climb statewide and nationwide, and an "immediate stay at home order" is effective in Illinois through April 7. The previously ordered closure of all schools in the state through March 30 has been postponed to April 8.
Gov. JB Pritzker announced Tuesday the order will remain in effect through the end of April, which complies with the latest federal guidelines. Pritzker said he will sign that order Wednesday.
That means businesses will continue to operate as they have for the last couple weeks. Schools will transition from Act of God Days to Remote Learning Days, with days counting toward the school year. Each school district will create and implement a Remote Learning Day Plan to ensure all students receive instructional materials and can communicate with their teachers.
There are 173,741 confirmed cases of COVID-19 in the United States as of Tuesday with at least 3,433 deaths.
That includes 5,994 confirmed cases in Illinois after 937 were reported on Tuesday and another 461 were reported Monday. That follows reports of 673 on Thursday, 488 on Friday, 465 on Saturday and 1,105 on Sunday according to the IDPH.
There are 99 deaths due to the coronavirus in Illinois as of Monday. The IDPH said 86 percent of the COVID-19 deaths in Illinois are among patients ages 60 and above. On Saturday, the IDPH reported the death of a Chicago infant who was less than one year of age.
Officials attribute the steady rise in Illinois cases in recent days to more people getting tested.
In Monroe County, there are multiple individuals currently in quarantine.
"We screen potential individuals that we receive from calls from a medical provider and then pass the information on to the Illinois Department of Public Health, who determines if they meet testing requirements," Wagner explained. "If they do, we then coordinate with a hospital to perform specimen samples and ship to an IDPH lab. There are now private labs that doctors can refer patients directly to for testing."
Wagner said Thursday that the IDPH is advising all those who are ill but not requiring medical care to self-quarantine for a minimum of seven days and/or until 72 hours after symptoms subside.
Illinois residents have been instructed to stay home. People are still allowed to go to work at "essential" businesses, go to the grocery store, pick up carry-out food orders, go to gas stations for fuel and seek emergency medical help if needed.
For the full stay at home order as issued by Gov. JB Pritzker, click here.
In Missouri, there are 14 deaths and 1,327 known cases as of Tuesday. The state health department reports 492 cases in St. Louis County, 136 in St. Louis city and 71 in St. Charles County.
Similar to Illinois, St. Louis city and county are now under "stay at home" orders.
Wagner urged any businesses who have N95 masks and other personal protective equipment they are willing to donate to bring them to the Monroe County Health Department, as emergency responders and senior living communities are reporting a shortage. To contact the health department, call 618-939-3871.
N95 masks cover the nose and mouth and help protect the wearer from breathing in hazardous substances. PPE includes items such as gloves, safety glasses and shoes, earplugs or muffs, hard hats, respirators, or coveralls, vests and full body suits.
"Locally, we're running short," Wagner said.
COVID-19 originated in China and has since spread with severity to countries like Italy, France, Spain and Germany. There have been more than 759,800 cases of the illness worldwide with at least 36,674 deaths. The virus has been detected in at least 171 countries.
Last week, Immaculate Conception Church Msgr. Carl E. Scherrer announced that he is in quarantine after having indirect contact with someone who has since been informed that their coronavirus test came back positive. Scherrer said this person was tested March 13 as a matter of protocol following a domestic flight.
"This person has no visible physical symptoms of the virus, but as a matter of extreme caution my physician has advised me to stay isolated until further notice," Scherrer said. "I'm feeling fine, but of course can't be tested unless I develop some possible symptoms of illness."
Red Bud Regional Hospital is offering a drive-thru screening site. This is for anyone who has been identified as a high-risk patient requiring COVID-19 testing. Those patients will receive an order from their doctor if they meet the criteria and be pre-authorized with specific instructions to use the drive-thru testing, the hospital said. Those experiencing symptoms should call their primary care provider for guidance or call the hospital's emergency room at 618-282-5165.
Memorial Hospital has a drive-thru testing site available in Swansea. People will only be allowed to go to the site if they have prior authorization from their doctor and their local health department, however. This testing site is located at 4000 N. Illinois Lane in Swansea, which is a former location of Siteman Cancer Center. It is open from noon to 6 p.m., seven days a week.
Mercy Hospital's drive-thru screening site opened March 14 at 15740 S. Outer Forty Road in Chesterfield, Mo. In the first six days at that site, Mercy collected samples from 441 patients and is now seeing about 120 patients per day. Mercy's plans to open another test collection at 13045 Tesson Ferry Road in South St. Louis County is currently on hold. To qualify for testing, patients must have a fever of at least 100.4 degrees and respiratory symptoms including cough or shortness of breath, and either recent travel to a high-risk area or contact with a confirmed COVID-19 patient. Anyone seeking a test must call 314-251-0500 before arriving.
The World Health Organization has declared the virus a pandemic, meaning it has "worldwide spread." The last time the WHO declared a pandemic was for the H1N1 flu in 2009.
COVID-19 is not influenza, although it behaves in some ways like the flu. It is more accurately described as a highly contagious viral pneumonia. COVID-19 is twice as contagious as the seasonal flu and has a death rate 10 times higher than the flu.
One of the most impactful steps that has been taken is the cancellations, postponements and losings of many events and a ban on public gatherings. City and county government units, as well as churches, are conducting meetings and services by video conference or teleconference to remain in contact with residents.
By an executive order from the governor, all child care programs are closed. Home daycare programs can care for up six children. The Governor's Office of Early Childhood Development, in partnership with IDHS and IDCFS, has established a structure and system for child care providers to apply for an "emergency child care license" to provide care for essential workers.
Until further notice, due to the COVID-19 pandemic, the Monroe County Courthouse is closed to the public. The county offices can still be contacted through phone or email. You can find that information at monroecountyil.gov. All city and county offices are also closed.
Schnucks is reserving the first hour of each day – from 6-7 a.m. – for shopping by seniors aged 60 and above and for those who are most at risk of COVID-19. Now through April 28, Walmart is opening its stores exclusively for senior citizens from 6-7 a.m. each day.
In Illinois, restrictions include all bars and restaurants being closed to the public for dine-in options. Those businesses may remain open for food delivery, drive-through and curbside pickup services only.
Individuals can still go into the lobby area for walk-up and pickup of food and drink. But self-service is banned.
For a list of Monroe County businesses offering the currently approved dining options – which can be cut out and placed on your refrigerator – see our Community Calendar in this week's newspaper. You can also see a list by clicking here.
One local business, Stumpy's Spirits Distillery in rural Columbia, has dedicated its entire production to an 80 percent alcohol antiseptic hand sanitizer. For more information on this product, click here.
All driver services facilities in Illinois are closed through April 7. That includes the facility in Waterloo. Expiration dates for driver's licenses, ID cards, vehicle transactions and other transactions and document filings will be extended for the duration of the governor's order and 30 days after the coronavirus crisis ends.
In Waterloo, the city has suspended all disconnections for non-payment for its utility customers. It is also waiving the penalty for late payment of bills due April 5 and encouraging citizens to use the drop boxes outside city hall for payments.
Among the first places to close or implement restrictions were senior sites because older people and individuals with severe medical conditions are more susceptible to COVID-19.
State Rep. Nathan Reitz (D-Steeleville) shared information on assistance offered by state agencies to help local small business owners facing hardship due to the planned closures of restaurants and other businesses.
"When we support local small businesses, we are helping a family keep a roof over their head and put food on the table," said Reitz. "Local small business owners and their families will be hurting in the coming weeks due to a loss of business with the mandatory closures of bars, restaurants and other establishments, so I am working to connect them with resources that could help ease the burden during this difficult time."
Reitz is highlighting the Small Business Administration's Economic Injury Disaster Loan Program to help small businesses impacted by COVID-19. Visit the SBA website by clicking here or calling Reitz's office at 618-282-7284.
A total of 60 members of the Illinois National Guard were deployed to assist with logistical support and medical staffing. Pritzker also announced a statewide coronavirus response website, which can be accessed by clicking here.
The American Red Cross faces a severe blood shortage due to an unprecedented number of blood drive cancellations in response to the coronavirus outbreak. Healthy individuals are needed to donate to help patients counting on lifesaving blood. Individuals can schedule an appointment to give blood with the Red Cross by clicking here or calling 1-800-RED-CROSS.
For other recent Republic-Times articles on the coronavirus, click here and click here.