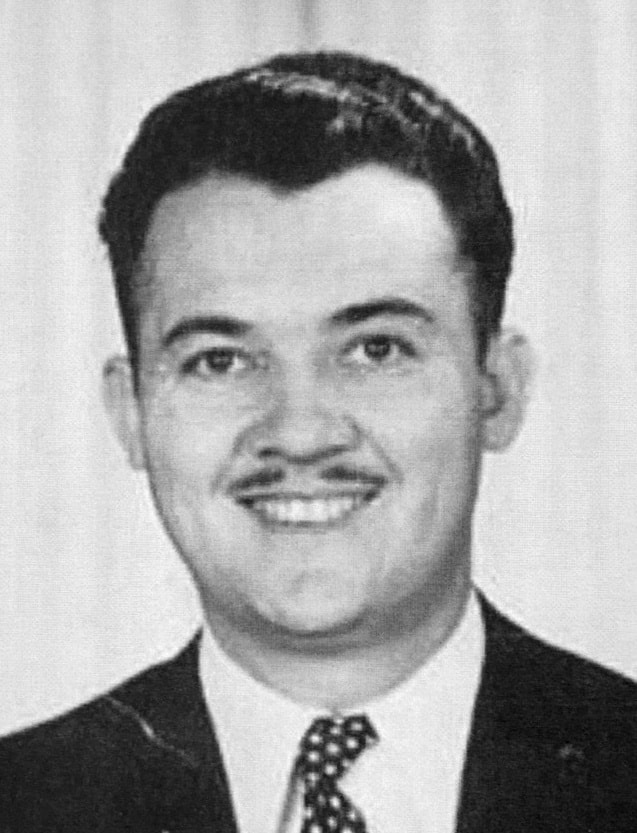 Roy J. May, 98, of Waterloo, died in his own home on Aug. 8, 2023, surrounded by three generations of his family. He was born May 7, 1925, in Burksville.
Roy J May, family man and a man of deep faith, served his clientele, profession, church, community and country.
As a 20-year-old, Roy became a State Farm agent in 1945, serving the area for nearly 78 years. He was the longest tenured State Farm agent in the history of the company. He and his wife, Norma, proudly built his agency which served many generations.
Throughout his career Roy attained the highest levels of company recognition. A charter member of the State Farm travel program, Roy was one of only 21 agents nation-wide to earn travel awards every year for the first 25 years of this program. He was also the only agent in the country who earned all three qualifications of Bronze Tablet, Silver Scroll, and the State Farm President's Club, of which he was a life-time member.
Roy was active in his profession. He attained his Charter Life Underwriter designation in 1964. He was a graduate of Purdue University's Life Insurance Marketing Institute, often serving as a faculty guest lecturer. He was a sought-after speaker, giving talks throughout the country.
He was active in the local, state, and national organizations of the National Association of Life Underwriters – serving the latter as a trustee. His State Farm recognition also included Legion of Honor, Golden Triangle and Crystal Excellence.
In addition to Roy's stellar career, he gave back to his church and community—giving of his time, talent, and treasure to both Ss. Peter & Paul Catholic Church in Waterloo and the Old Cathedral in St Louis. He was a Past Grand Knight of the Knights of Columbus Council 1334. Roy was instrumental in the construction of the Knights of Columbus Hall (now the Human Support Services) in Waterloo, past president and charter member of the Waterloo Optimist Club and past Lieutenant Governor of Optimist International.
He was also a past commissioner and board chair of the Bi-State Development Agency for 26 years. In his role as board chair, Roy was there in 1977 to escort Prince (now the King of England!) Charles to the top of the Arch. 
As a veteran of World War II, he was the commander of the American Legion Post 747 from 2005-2021, recently receiving his 80-year membership card.
For Roy and wife Norma, the number seven was a recurring theme in their life together. Each was born on the 7th, they were married on the 7th, were blessed with seven children, 11 grandchildren and Roy's 7th great-grandchild arrived in March of this year. In keeping with this theme, they traveled to all continents.
Roy loved working in his yard, visiting with friends and dining out with his wife. He was an avid reader of non-fiction and never stopped asking questions and learning. His passion for his family and travel resulted in many family trips—he loved introducing his children and grandchildren to the world. Roy was well-loved and respected and will be greatly missed.
He is survived by his children Susan (Randy) Rettberg, Jerry (Gina) May, Nancy (David) Nobbe, Barry May, Lissa (John) Murick, Laura (Kermit) Constantine and Danny May; grandchildren Kevin (Kelli) and David May, Nathan (Emily), Nicholas, and Jesse Nobbe, Matthew May, Travis (Kimmie), Ben, and Sam Constantine (fiancée Danielle Poepper), Monica May and Mallory (Drew) Huebner; great-grandchildren Aiden and Mila May; Harper, Sutton, Wells, and Miller Huebner and Wesley Nobbe; sister-in-law Rosemary Nagel; many nieces and nephews; and special friends Eugene "Buddy" and Gloria Knoke.
He was preceded in death by Norma, his beloved wife of 74.5 years; his infant daughter Molly; parents Alfred and Helen (Cody) May and all of his siblings and their spouses: Margaret (Arthur) Kaffai, James (Marjorie) May, Alfred May, Ambrose (Corinne) May, Helen (Edward) Frisch and Robert (Elizabeth) May; father and mother-in-law Edward and Rosina (Fleck) Frisch; step-father-in-law Theodore Parrott; sister-in-law Corinne (Ambrose) May; and brothers-in-law Edward (Helen) Frisch, and Delbert (Rosemary) Nagel; nieces and nephews.
Visitation is 4-8 p.m. Aug. 15 and 8-9:30 a.m. Aug. 16 at Quernheim Funeral Home in Waterloo.
Funeral Mass will be celebrated at 10 a.m. Aug. 16 at Ss. Peter & Paul Church in Waterloo with Father Linus Umoren C.M. officiating.
Interment will follow at Ss. Peter & Paul Cemetery in Waterloo.
As an expression of sympathy the family prefers memorial contributions to: Masses at Ss. Peter & Paul Catholic Church; The Catholic Service and Ministry Appeal (for the education and support of seminarians); or The Old Cathedral of St. Louis.