Mary Ann Sondag | Obituary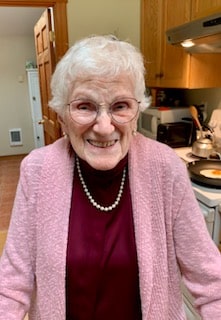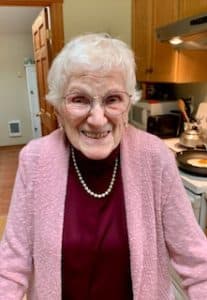 Mary Ann Sondag (nee Lorenz), 99, of Eugene, Ore., died peacefully on April 14, 2023. A native of Waterloo, she has been an Oregon resident since 1994, after her home in Valmeyer was inundated by the Mississippi River flood of the summer of 1993.
Born on March 13, 1924, she was the second child of John and Emma (nee Pansky) Lorenz, born after John Jr., while a younger sister, Mildred, and a second brother, Joseph, followed. Her brothers passed at the young ages of five years and two weeks respectively.
Graduating from Waterloo High School, she attended vocational school for a secretarial program, subsequently employed by the Boy Scouts of America in St. Louis.
She met Louis Sondag Sr. at a Halloween dance where the young men were returning from serving in World War II. They were eventually married on May 10, 1947, going on to welcome eleven children into their devout Catholic family.
Mary Ann was unfortunately widowed at the age of 55 with the four youngest boys remaining at home. During her husband's illness over the years she was the primary breadwinner, working for the local Valmeyer city hall as a town clerk. She would go on to perform similar duties in the town of Coburg after moving to Oregon, retiring at the age of 82.
In addition to love for her family, which eventually grew to include 18 grandchildren and six great-grandchildren, she had an unbound devotion to her faith. She was actively involved in the church, first at St. Mary's in Valmeyer and then at St. Mary's in Eugene.
She was a catechism teacher for over 50 years teaching endless numbers of children, sharing her knowledge and love of Christ. Mary Ann was also able to express her faith and experience with her writings as a guest columnist for The Catholic Servant, a newsletter founded by her eldest son John.
We will all miss her greatly, and the large void she leaves is filled only by the knowledge that she is being welcomed with open arms to her Lord and his kingdom.
She is survived by her sister Mildred Homan; children John Sondag of Minneapolis, Nancy Sondag (Tom Thomas) of New York City; Sally Ross of Lafayette, Ind.; Lou Sondag Jr. of Eugene, Ore.; Fran Sondag of Eugene; Andy Sondag (Sue) of Red Bud; Mary Wong (Ken) of Eugene; Rick Sondag (Julie), Norman, Okla.; Robbie Sondag (Joy) of Ft. Wayne, Ind.; Tony Sondag of Eugene; Greg Sondag (Cindy) of Aurora; Sami Thanh (Lou) of Phoenix (who considered Mary Ann her American mother); and her numerous grandchildren, great-grandchildren, nieces and nephews.
Mary Ann is preceded in death by her parents John and Emma Lorenz; brothers John and Joseph; husband Louis Sr.; and son-in-law Jay Ross.
Visitation is 8:30-9:30 a.m. April 21 at Quernheim Funeral Home in Waterloo.
Funeral Mass will be celebrated at 10 a.m. April 21 at Ss. Peter & Paul Church in Waterloo with Father Linus Umoren C.M. officiating.
Interment will be at Ss. Peter & Paul Cemetery in Waterloo.
As an expression of sympathy the family prefers memorial contributions to St. Mary's Catholic Church, Eugene, Ore.