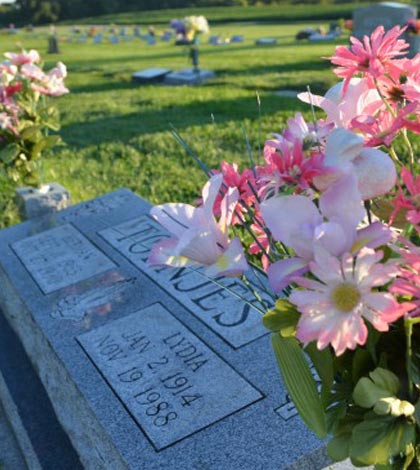 Margaret Elizabeth Imergoot, nee Markam, 91, of Cahokia, died June 18, 2014 at Memorial Hospital in Belleville.
She was born July 27, 1922 in Cahokia.
Mrs. Imergoot was retired from St. Mary's Hospital in East St. Louis.
She was preceded in death by her husband, Sam Imergoot; a son, Burl Thomas; a brother, Herbert Markham; and two sisters, Cora Bryant and Nina Reese.
Surviving are her children, Robert Thomas of St. Louis, Michael (Sharon) Imergoot of Cahokia and Diane (Leland) Waln of Patoka; two brothers, Bill and John Markham; eight sisters, Nellie Crow, Alta Howard, Dorothy Cashen, Josephine Cole, Roberta Ellis, Carrie Lewis, Dixie Risher and Patricia Stanford; six grandchildren, Terra, Angie, Danny, Nichole, Melissa and Dana; 15 great-grandchildren; and a great-great grandson.
She was a dear sister-in-law, aunt, cousin and friend.
Visitation took place June 20 at Braun Family Funeral Home in Columbia.
Funeral services took place June 21 at the funeral home.
Interment followed at Lake View Memorial Gardens in Fairview Heights.