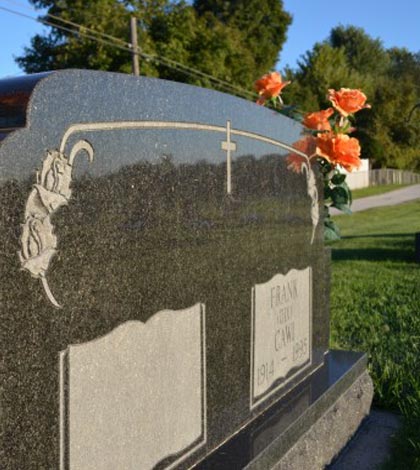 Helen Edwina Walsh, nee Parmer, 87, of Cahokia,  died June 21, 2014 in Belleville.
She was born May 1, 1927 in St. Louis.
Prior to becoming a homemaker, Mrs. Walsh was employed at the American Red Cross in St. Louis.
A quiet woman of few words, Helen's sweet smile showed all that she cared for them. She had a wonderful sense of humor. She loved playing the piano, singing, watching the Hallmark Channel, meeting with her girls at the hair salon, and most of all being with her family.
She was a loving wife, mother, grandmother, great-grandmother, sister-in-law, aunt, cousin and friend to many.
She was preceded in death by her parents, Jesse and Salome Parmer, nee Graves; daughter Nancy (Walsh) Frizzell; and brother Jess (Marjorie) Parmer.
She is survived by and will be greatly missed by her husband of 64 years, Thomas G.  Walsh, whom she married Nov. 5 1949; children, Tom Jr. (Roxanne) Walsh of Springfield, Mo., Jim (Mary) Walsh of Belleville, Jane (Fred) Fournie of Belleville and Peg (Dale) Sandheinrich of Columbia, son-in-law Charlie Frizzell; three grandchildren, Timaree (Eric) Sorlie, Zach (Erin) Walsh and Tom Fournie; four great-grandchildren, Kian, Beckett, Malin  and Locke Sorlie; and many nieces, nephews other extended family and  many dear friends.
The family would like to thank the staff at St. Elizabeth's Hospital for the special care they gave Helen over the course of her illness.
Visitation took place June 24 at Braun Family Funeral Home in Columbia.
Funeral services took place June 25 at the funeral home.
Interment followed at Jefferson Barracks National Cemetery in St. Louis.
Memorials may be made to St. Vincent de Paul.