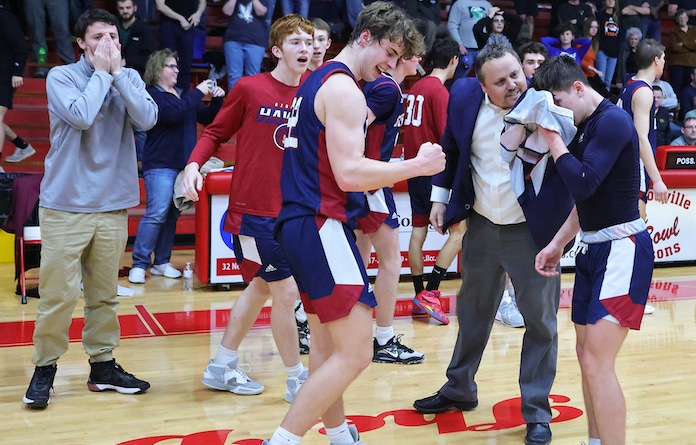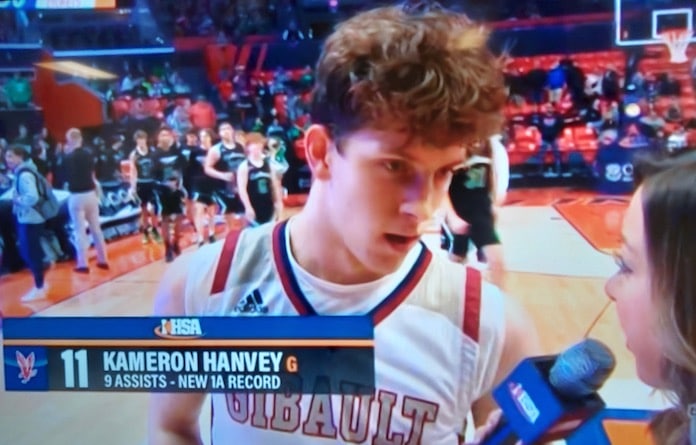 The amazing season continues for the Gibault Catholic High School boys basketball team, and will conclude Saturday in the IHSA Class 1A state final.
Twenty-four years since the school's last trip to the state tourney, the Hawks won by 24 points Thursday morning over Bloomington's Cornerstone Christian Academy in the state semifinal at State Farm Center in Champaign.
Gibault used suffocating team defense with physical, aggressive play to force several turnovers and build an early lead it would not relinquish. A Kameron Hanvey three-pointer put the Hawks up 20-8 at the start of the second quarter.
Hanvey, who sent Gibault to state with a buzzer-beating three-pointer Monday night, finished with 16 points and a Class 1A state semifinal record nine assists with six steals on Thursday.
"Great team defense. Everyone helped force turnovers," Hanvey – this week's Republic-Times Team of the Week – said after the game. "We knew we had a chance to do this, but to actually do it, it feels great."
An offensive rebound and putback by Gavin Kesler gave the Hawks a 60-41 lead with four minutes remaining in the contest and Gibault made it 66-46 with 1:50 left.
The final score was 70-46.
Kaden Augustine led the Hawks with 20 points, with Kesler adding 14 points.
The Hawks shot 58.5 percent from the floor and recorded 11 offensive rebounds on the day. Gibault scored 19 points off 18 total Cornerstone Christian turnovers.
Gibault (31-7) now faces Scales Mound (33-5) at 11 a.m. Saturday for a shot at the program's first state title in basketball. The Hawks lost on a buzzer-beater in the 1999 state final. Scales Mound, a tiny town at the Northern Illinois border with Wisconsin, is led by 6-foot-2 junior Thomas Hereau, who is averaging 16.6 points per game.
Longtime Hawks head coach Dennis Rueter has 795 career victories, but win No. 796 could be the sweetest of them all.
"I don't know if anyone is more confident than we are right now," Rueter said after Thursday's victory.