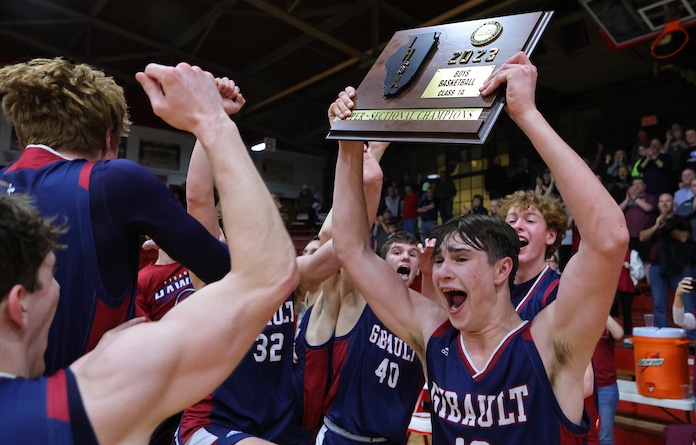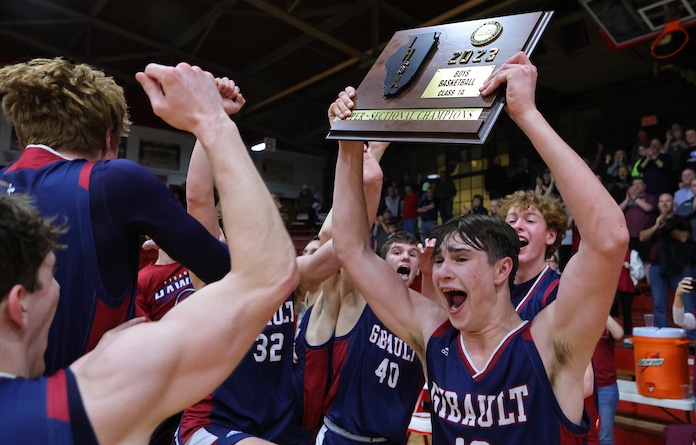 Break out the Champaign.
The Gibault Catholic High School boys basketball team trailed much of the game Monday night against Illini Bluffs, but a buzzer beater by Kameron Hanvey gave the Hawks a dramatic 45-44 victory in the IHSA Class 1A Jacksonville Supersectional.
The game was tied at 10-10 after the first quarter in what shaped out to be a defensive battle.
At halftime, Illini Bluffs took a 20-16 lead into the locker room. Hanvey had five points to lead the Hawks at the break.
Illini Bluffs, seeking its first ever state appearance and led by 6-foot-9 junior Hank Alvey, built a six-point lead after three quarters, 30-24.
With just 14 seconds remaining in the fourth quarter, Illini Bluffs clung to a 44-42 edge. Gibault inbounded the ball off a timeout with a chance to tie or win the game.
Gibault point guard Kanen Augustine dribbled up court and passed it to Hanvey, who passed to Gavin Kesler. He drove to the left side of the court near the rim and dished it back to Hanvey, who heaved it from deep three-point range as the buzzer sounded and connected to send the Hawks to their first state tourney appearance since 1999.
Hanvey forever etched his name into Hawks hoops lore. A video of the shot even made ESPN's "Sportscenter" show on cable TV late Monday night.
"It was a blur after I hit the shot," Hanvey told the Republic-Times. "For sure one of the best moments of my life so far."
Hanvey, a senior who is known more for his defense of late but eclipsed 1,000 career points earlier this season, led Gibault with 12 points on the night. For the season, Hanvey has shot 34 percent from three-point range.
But the four-year starter was more focused on talking about the cohesiveness of the entire team on its run to the state tourney.
"We knew we had a chance to go this far, but it feels so different when it actually happens," Hanvey said. "Coach (Dennis) Rueter told us before the game that we put in the work, which we had, and that we deserved to be here with a chance to go to state. All 12 players on the team were part of the win and have been a part of all our wins all year."
Alvey scored 14 points to lead Illini Bluffs.
Gibault (30-7) shot less than 40 percent from the floor and was just 4-for-8 from the free-throw line in a physical contest.
The Hawks advanced to the IHSA Class 1A state tournament and will face Bloomington's Cornerstone Christian Academy in the semifinal at 10 a.m. Thursday in the State Farm Center at the University of Illinois in Champaign.
With a win, Gibault would play for the state title against Tuscola or Scales Mound at 11:45 a.m. Saturday.
With a loss, the Hawks would play for third place at 7 p.m. Thursday.
Rueter, just six wins shy of 800 career victories, placed second at state in 1999.
"I think I can speak for every one of my teammates when I say it feels really good to be going to state and helping coach get his second state appearance," Hanvey said. "He has worked us hard all year, but it's worth it and I am grateful to have him as my coach. The shot at the end was a huge play but other really important things get lost because of that, like Peyton Schaefer's big minutes in the first half when Kesler was in foul trouble and the threes that were made before mine that allowed me the opportunity to win the game. It took a team effort to get there, and it took a team effort to win."
Gibault head golf coach and assistant baseball coach Steve Bergheger, who drove the student fan bus to Monday's game, said he told Gibault Athletic Director Jim Montgomery on the ride about 15 miles from Jacksonville that since it was a full moon, the Hawks were going to win in an upset on a three-pointer at the buzzer.
"It actually happened," Bergheger said. "On a full moon, anything can happen."
The buzzer-beating thriller Monday night came after another stressful game for the Hawks on Friday.
Gibault won 58-56 over Springfield Calvary in overtime Friday to capture the Class 1A Hardin Calhoun Sectional title.
The 29 wins set a new program record for Gibault, surpassing the legendary 1999 squad.
In a back-and-forth contest, the Hawks took a 54-52 lead with just 5.2 seconds remaining in regulation. But a Calvary inbounds play resulted in one of its players driving the length of the court and laying it in before the buzzer.
The only points scored by Gibault in OT were on two made free throws each by Kaden Augustine and Kesler – giving the Hawks the game's largest lead by either team at four points in the final minute of the extra frame.
Calvary had one last effort to tie it or win it, setting up a frantic final sequence.
Gibault had fouls to give and were called for a couple. Then with about 15 seconds left, the Hawks continued applying heavy defensive pressure to force a late three-pointer that missed, with Hanvey securing the rebound and winding out the clock for the victors.
Kesler, a junior, led the Hawks with 22 points, followed by senior Kaden Augustine with 17.
Last Tuesday night, Gibault opened Hardin Calhoun Sectional play against Payson Seymour.
Gibault won 66-59 behind 25 points from Kaden Augustine, followed by Kesler with 19 points and Hudson Blank with 15 points.
Blank, a 6-foot-1 junior, has been a key member of the squad since returning from an ankle injury that sidelined him during the middle of the regular season.
He's averaging nearly 10 points per game this season .
Kaden Augustine, also at 6-foot-1, leads the team in scoring at 17 points per game – including 44 percent shooting from three-point range.
Kesler, the tallest Gibault starter at 6-foot-3, averages 15.5 points and 6.5 rebounds per contest.
To purchase tickets for the state tournament, click here.