Daniel L. Nash | Obituary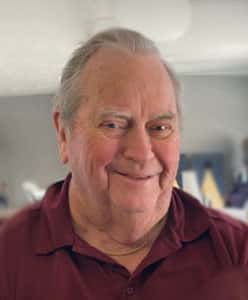 Daniel Lee "Danny" Nash, 72, of Waterloo, passed away into the care of the Good Lord with his family by his side in Waterloo on March 24, 2023. He was born Dec. 2, 1950, in Red Bud.
He was raised in Renault all his life. On May 30, he married childhood friend Carol (nee Schneider) Nash. His first job was making baby shoes at Evansville Shoe Factory in Evansville. He later worked for Erdman Henke at the grain elevator in Valmeyer until a good friend Floyd Meyer got him a job with Mon-Clair Grain. He worked there 40-plus years, including the merge with Monroe Service and with Gateway FS until he retired in 2013 after his first knee infection. Later, he was able to help his wife manage the gift shop at Oak Hill Nursing Home, putting in many hours there making sure residents and employees had snacks. It was nothing to see him at Walmart every day buying snacks for the gift shop. Danny was active in his church, serving on the consistory and cemetery board. One of the most important things to Danny was being on the Valmeyer Volunteer Fire Department for 40-plus years. During this time, he was also an active first responder. He was a charter member of the Valmeyer Lions Club and member of the St. Paul United Church of Christ-Floraville Men's Club. Danny was a great father and even greater grandfather. If you couldn't find Danny, he was always out playing ball somewhere with grandson Alex. A great follower of the Waterloo Razorbacks ball team.
Danny loved to travel, but health put a stop to it way too soon. He was a childhood friend in the eyes of Carol, but more in his eyes. He was born and raised in Renault, being very close to his buddies there. He went to the small school of Renault and then to Waterloo High School.
In addition to his loving wife Carol of almost 53 years, he is survived by daughter Tina Danielle (Albert) Loughary, and grandson Alex Loughary; sisters-in-law Barb Young (Judy Shute) and Judy (Harold) Wallace; and brother-in-law Joseph Clayton (Jeanette) Schneider; nieces and nephews Richard (Karen) Diemert, Kathy (Wally) Halloway, Debbie Diemert, Ronnie (Dena) Diemert, Donnie (Kathy) Diemert and Pam (Doug) Dufrenne, Mike (Susan) Schneider, Dana (Maureen) Norris, Jenny (Greg) Ray; godchildren Dennis Seidel and Dawn Walker; many great-nieces, great-nephews and cousins. Of course, we can't forget his A.M. coffee drinking buddies.
He was preceded in death by his parents Robert and Darlene (nee Godare) Nash; sisters Joann Harris and Ruth Mills; brother-in-law Carl Mills and nephew and godson Harold "JR" Wallace.
Visitation is 3-8 p.m. March 27 at Quernheim Funeral Home in Waterloo and 9 a.m. until time of service March 28 at St. John United Church of Christ in Valmeyer.
Funeral service is 10 a.m. March 28 at St. John United Church of Christ in Valmeyer, Pastor Steve Boorsma and Pastor Matt Friz officiating.
Interment is at at St. John Cemetery in Valmeyer.
As an expression of sympathy, the family prefers memorial contributions to: St. John UCC – Valmeyer, St. Paul UCC – Floraville, Hospice of Southern Illinois, or Oak Hill.