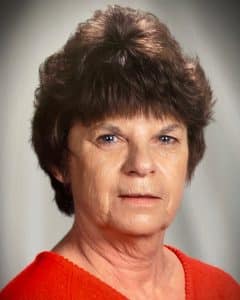 Cheryl A. Gruber, 71, of Red Bud, died Jan. 8, 2021, at Evelyn's House, Creve Coeur, Mo. She was born to the late Elmer and Elvie (nee Hentis) Blow on Nov. 9, 1949, in Red Bud. Cheryl married Eugene W. Gruber on April 5, 1968 in Waterloo; he survives.
She had worked in the cafeteria at Red Bud Elementary School for 27 years. Cheryl was a member of St. Peter's United Church of Christ in Red Bud, and she enjoyed camping and boating.
She is also survived by children Jason Gruber and Jada Berry; brothers Larry Blow and Jim Blow; grandchildren Garrett Berry, Griffin Berry and Zachery Rieke; great-grandchildren Huntlee Berry, Wyatt Rieke and Haylie Rieke; many nieces, nephews, cousins and friends.
Cheryl was also preceded in death by her sister Iva (Jim) Porter and sister-in-law Mary Blow.
Visitation is Jan 12 from 4–7 p.m. at St. Peter's United Church of Christ, Red Bud.
A funeral service will be held at 7 p.m. Jan. 12 at St. Peter's United Church of Christ, Red Bud, Pastor Cory Hartz officiating.
Occupancy is limited to 60 people in the church at a time. Everyone is asked to wear a mask and please use social distancing guidelines.
Memorials may be made to St. Louis Children's Hospital.