Carmelita L. Sensel | Obituary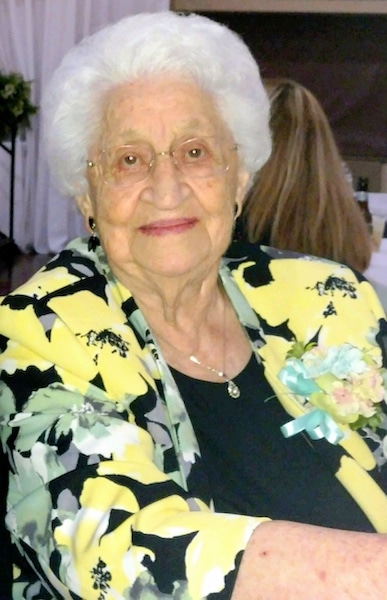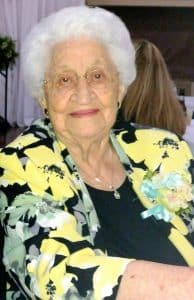 Carmelita L. Sensel (nee Nevois), 95, of Prairie du Rocher, died Sept. 11, 2023, in Waterloo. She was born Oct. 6, 1927, in East St. Louis, surrounded by love.
She was a member of St. John United Church Christ in Maeystown.
On Sept. 20, 1947, she married Wilbert, and their life journey of 55 years began. They provided a wonderful home on a farm near Renault, where their love of Polled Herefords was evident to all who passed by. Employment off the farm took her to a job with James Carpenter, Regional Superintendent of Schools, from which she retired.
Her love for church and community was evident in the many ways she served over her lifetime. The Monroe County Fair was often the family vacation where she served as the Fair Board Secretary while her family showed Polled Hereford cattle, the show and sale she attended until her health declined. Kloepper was her card game, Polkas and Waltzes her dances, food and cooking her passion.
Carmelita taught her family the importance of friendship, fun, family and faith. Well done, good and faithful servant. You will be missed.
She is survived by her children Sheryl Henslee, Pat (Morris) Brandt, Bill (Karen) Sensel and David (Karen) Sensel; grandchildren Kevin (Kristyn) Henslee, Brian (Anneliesa) Henslee, Adam (Jill) Henslee, Matthew (Gretchen) Brandt, Kate (Brett) Mueller, Aaron Sensel, Allyn (Heather) Sensel, Julie (Ray) Henerfauth, Bethany (Blake) Wolff, Darin (Jessie) Sensel, Dawn (Luke) Durbin, and Emily (Kyle Koester) Sensel; 24 great-grandchildren; sister-in-law Diane Nevois; nieces; nephews; and cousins.
Carmelita is preceded in death by her husband Wilbert C. Sensel; parents Clarence and Irene (nee Stoeckel) Nevois; son-in-law Harry Henslee; brother Lylburn Nevois; and father-in-law and mother-in-law William and Elizabeth Sensel.
Visitation is noon until time of service Sept. 15, 2023 at St. John United Church of Christ in Maeystown.
A funeral service will follow at the church with Pastor Patrick Poole officiating.
Interment will be at St. John Cemetery in Fults.
As an expression of sympathy the family prefers memorial contributions to St. John UCC – Maeystown.
Arrangements are with Quernheim Funeral Home, Waterloo.