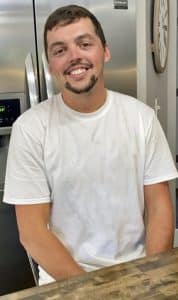 Blake Lorenzo McGowan, 28, of Columbia, died Saturday, March 11, 2023. He was born Oct. 13, 1994, in Granite City, to both John McGowan and Michelle Goodfellow, who survive.
Blake was a kind, gentle and generous soul from the moment of his birth and carried that spirit through his entire life. He was always ready to lend a hand to friends and family, never with any expectations. He was calm and sweet-natured but certainly knew how to have a great time in any circumstance. You would always find Blake with a smile, and he always knew how to lighten the mood when needed. He loved his friends and family unconditionally and completely, which is evidenced in the multitude of those who now mourn him.
Blake worked hard from age 15, learning many skills like working on cars or anything mechanical, carpentry and concrete finishing work, just to name a few. He was quick to learn and could build or fix just about anything. He had recently co-founded a new construction company with his younger brother and was so excited about their coming opportunities but mostly to work alongside his brother.
Blake loved the outdoors, spending as much time hunting, fishing and boating as he could. His love of fishing came from spending many summers at Lake of Egypt with his family. In more recent years, he became an avid duck hunter and enjoyed annual trips to Arkansas for a big hunt.
In addition to his mother and father, Blake is survived by step-father Gary Goodfellow; siblings Jacob McGowan (Allison Murphy), Haley Goodfellow, Brock McGowan (Carissa McNeely), Caden Goodfellow and Jaylie Goodfellow; grandparents Rosa McGowan, John (Lori) Baker, Valerie (David) White, and Clifford and Joann Goodfellow; girlfriend Adriana Roberts and her son Kayden Belba; aunts and uncles Mary (Ed) Edwards, Tom (Aimee) McGowan, Joe McGowan, Patty Barker, Robin (Bill) Williams and many cousins and extended family as well as countless friends who will all miss him tremendously.
Blake was preceded in death by grandfather Patrick McGowan, Sr., uncles Patrick McGowan Jr. and John Baker Jr., aunt Cindy Smith and great-grandparents Lester "Bud" Beyer, Dorothy Beyer, Maria King and Agnes McGowan.
A visitation will be held Friday, March 17, from 4-8 p.m. at Leesman Funeral Home in Columbia. A celebration of Blake's life will be held Saturday, March 18, with a visitation hour from 10-11 a.m. and service beginning at 11 a.m.
Memorial contributions can be made to the family at the funeral home, which will be used for a memorial to be placed in Blake's honor.