Youth wrestlers enjoy record season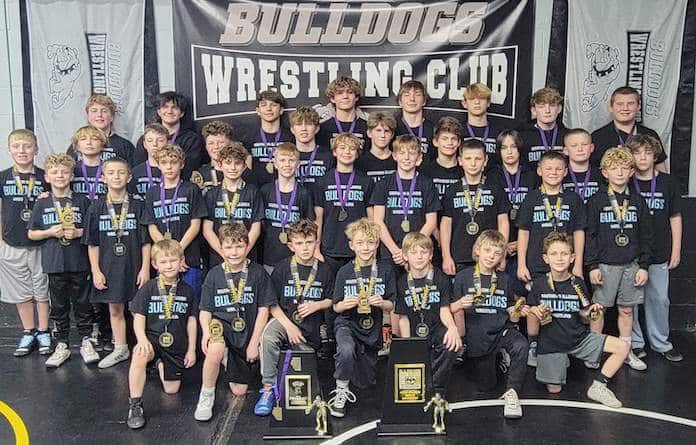 The Southern Illinois Bulldogs youth wrestling club based out of Red Bud has had another amazing start to its season.
The Bulldogs traveled to the Chicago area to compete in the IKWF State Dual Championships for ages 10-14 and the Didi Dual Illinois Championships for ages 6-10.
This was the first time in club history the Bulldogs were able to compete as a team in the duals and not just as individuals.
The Bulldogs brought home sixth place at the IKWF tournament and fourth place in the Didi Dual tourney.
"It is a tremendous achievement to be able to compete with teams from Chicago," Bulldogs coach Butch Schloemann said.
Several young Bulldogs wrestlers traveled to what is regarded as the toughest tournament in the country, the Tulsa Nationals, in January.
Danny Jackson, a seventh grader from Red Bud, placed fourth overall at this tournament – marking another first for the club.
The Bulldogs brought home first place as a team from the Bethalto Bulls, Granite City Holiday Classic, Belleville Little Devils and Carbondale tournaments.
The club also placed second at Vandalia and third at the Lion's Den tournament.
"This year is definitely one for the record books," Schloemann said. "I believe we will have our first IKWF state champs (ages 10-14) in Bulldog history. We have a lot of kids that have worked hard to prepare for this and are definitely where they need to be to have a shot at the championship."
Since 2018, the Southern Illinois Bulldogs have had 56 state placers between the three divisions, seven bantam state champions (ages 8 and under) and one midget state champion (ages 9-10).
If interested in learning more about youth wrestling, contact Schloemann at 314-712-3403.