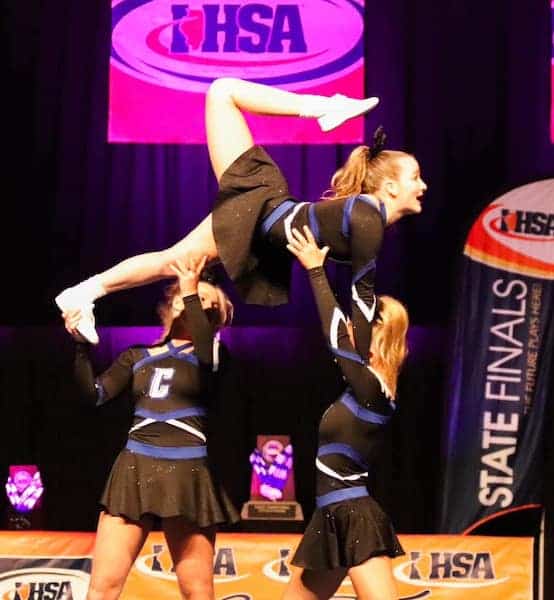 They may be from rival schools, but cheerleaders from Columbia and Waterloo high schools supported each other at the IHSA state meet this past weekend and ended up making all of Monroe County proud with top 10 placings.
Columbia, competing in the small varsity division, finished in second place.
Waterloo, competing in medium varsity, placed eighth at state.
Both programs won sectional titles to qualify for state.
After advancing out of the preliminary round Friday in Bloomington, the two local cheer squads were scheduled back-to-back for their final programs Saturday.
That gave them the opportunity to gather together in solidarity ahead of their final routines of the competition season.
For Columbia, the runner-up IHSA state finish followed another Illinois Cheerleading Coaches Association state championship.
"It has been a dream season with a dream team of dedicated athletes and coaches," Columbia head coach Robbie Walters said.
For Waterloo, the eight place showing was the program's best ever IHSA state finish. The Bulldogs placed 10th at state in 2022 and 15th at state in 2020. There was no state meet in 2021 due to COVID.
"As a program, we have come so far. Each year we have progressively improved, and that is a huge accomplishment for us. That is all we try to do each year," Waterloo head coach Brittany Imm said.
Columbia assistant coach Marla Rose credited her squad's mental and physical toughness to compete at such a high level year in, year out.
"These athletes are physically strong, in amazing athletic condition and extremely skilled, but the mental toughness is the key," Rose said. "It is what separates the good from the best. It's the confidence, excitement and sharpness you have to show while executing the skills. That takes a different kind of athlete. That takes heart. Heart you can't teach. This team has heart."
Walters said that from the start of cheerleading tryouts in May, he and other coaches could see there was something special about this unit.
"'Make it happen' was our team motto, and we were determined to do just that," he said.
Winning the ICCA Championships was a huge accomplishment, Walters said, considering Columbia temporarily lost a team member the week prior.
"In competitive cheerleading, we are no strangers to adversity. Incredibly, one of our sophomores, Kenzie Slusser, was able to step up in a short, stressful time and fill the role, executing elite stunts flawlessly and leading her teammates to our ninth championship title," Walters said.
He added that the IHSA state finals experience was magical.
"The mindset going into prelims on Friday was to perform as if it was the last time, and they nailed it," he said. "Scoring our highest of the season with a 93.25, we found ourselves .75 from the top spot. There was still room for improvement. We knew we had a shot. The pressure leading up to finals is all-consuming. Although there is only one chance to make your mark under the lights, on the biggest stage in the state, we never felt more assured that these amazing athletes were going to take advantage of the opportunity. Once again, the team delivered an outstanding routine; the absolute best of our season, posting a 93.35, a program record."
Walters closed by saying that cheerleaders support the other athletic teams at CHS but still find time to practice three times per week from June to February and attending camps in the summer.
"When our competition season rolls around, we are at basketball games Tuesday and Friday nights, squeezing practice time in between, and competing on the weekends. It takes a special kind of person to tough it out, but in the end it's all worth it," he said.
Imm said cheerleading is different from most sports.
"You have three minutes where you have to be perfect. There isn't room for mistakes, because those mistakes cost you points, and when you are within tenths of a point from other teams, it's a big deal," Imm said.
Imm expressed pride that Waterloo was able to place higher than Triad and Normal University High at the sectional after both squads had placed higher in earlier competitions.
"The state of Illinois has tremendous talent. We were so grateful to go up against the best and proud to have placed eighth in the state. The love I have for these girls is unmeasurable, and I couldn't be more proud of them. They never gave up and were each other's biggest fans," Imm said. "The family we have created means so much more than any place we could have gotten. I hope that they look back on this year and remember the hard work they put into it, the joy the sport brings, and the amazing friendships they have made."
Waterloo cheerleading captains Ashtyn Seymour and Jaynanne Caupert offered their reflections on a record-setting season for the program.
"This team has grown a tremendous amount with grit, dedication, determination and attitude as a whole since the beginning of the season," Seymour said. "We all had our eyes on the same thing and went out as a unit every time. We always had each other's backs and made sure everyone knew that we were proud of them. When it came down to mistakes and failures, we tried to keep everyone's heads up and use it as fuel for the next competition. We knew we only had each other on that mat and we used every minute together the best we could to show the judges our story and why we were here. All in all, this team is irreplaceable and nothing like any other. I'm so proud and so happy of this team and the outcome of the season with them. Wouldn't trade any of this season for anything."
Caupert agreed.
"The medium division was tough this year, but despite that we still achieved many of our goals," she said. "We have been practicing since summer, gone to various camps, and spent hours with choreography to create one of our fastest paced routines yet. We've spent numerous practices picking apart the smallest pieces of our routine to maximize the rubric the best we could. As a team, most of us have known each other for years with the exception of the freshmen, but they bonded instantly. All season, we would do things for not just ourselves but for others and the rest of the team. That's how I think we've been able to make Waterloo cheer evolve throughout the past couple of years and how we made it to the level we were able to get to today. We were all willing to change things, try new skills, and connect with others we didn't know as well. Our team not only has some of the most talented athletes, but we also have a team that cares about each other and at the end of the day, we're all family. Every competition, we've all stayed up late laughing and learning new things about each other and truly making some of the best memories together."