WHS soccer kicking strong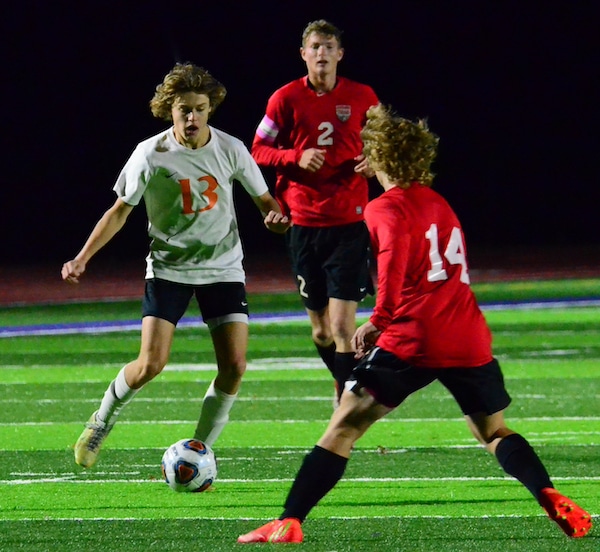 The Waterloo High School boys soccer team was kicking strong at 7-1 on the season entering a key Mississippi Valley Conference showdown with Triad at home Tuesday night. 
Unfortunately, the 'Dogs lost 3-2 to the Knights, who led 3-0 before Waterloo rallied late.
The Bulldogs won 9-0 over Mt. Vernon on Monday, getting two goals and an assist from Ty Kinzinger and two goals each from Ethan Gardner and Dallas Stueve.
On Thursday, Waterloo won 10-0 over Jerseyville in an MVC tilt. Grant Eugea and Eli Schwehr recorded two goals and two assists each. Kinzinger added two scores.
Last Tuesday, the Bulldogs won 4-0 at Civic Memorial in another MVC match. Trent Glaenzer netted two goals for Waterloo in that victory.
Kinzinger leads the 'Dogs in scoring so far this season with seven goals and four assists.
Parker Lacroix has been strong in net, going 6-1 with an .864 save percentage.
The Bulldogs play Thursday at Mascoutah before hosting Belleville West on Monday and playing at Highland on Tuesday. 
Columbia (6-1-2) is 3-1-1 in recent action, including a 4-0 victory over rival Gibault at home on Tuesday. Carson Mueth scored twice for the Eagles in the win.
The Eagles tied Althoff on Monday, 1-1, getting another goal from Mueth. Brady Hemminghaus made 10 saves in net.
On Thursday, Columbia dropped a 2-0 match against Belleville East as Lancers netminder Sam Haake made nine saves.
Last Wednesday, the Eagles won 3-0 at Granite City. Liam Bivins, Lucas Cole and Micah James scored the goals for Columbia. Hemminghaus made five saves.
Last Tuesday, Columbia posted a 7-0 win over Breese Central. Hayes van Breusegen notched a hat trick and also contributed an assist. James added two goals and two assists.
The Eagles host Freeburg on Thursday, play Monday at Wood River and host Salem on Tuesday.
The scoring leader so far this season has been van Breusegen with five goals and three assists.
Gibault (1-7) picked up a 3-2 victory Monday at Breese Central. 
Gavin Kesler scored twice and John Bollone added the other goal for the Hawks.
On Saturday, Gibault lost 4-0 to Belleville West.
On Thursday, the Hawks lost at large school Edwardsville by a count of 5-0.
Last Tuesday, Gibault dropped a hard-fought battle with Freeburg, 2-0.
Gibault hosts Pinckneyville on Monday and Mater Dei on Tuesday.
Kesler is the leading scorer this season for the Hawks. 
Valmeyer (0-6) is still in search of its first victory of the season.
On Saturday, the Pirates lost 5-1 to Massac County. Ripken Voelker netted the goal for the Pirates.
On Thursday, Valmeyer dropped a 5-0 match to Wood River.
The Pirates play in the Hancock Tournament this week over in Missouri.