'Dogs, Eagles fall in football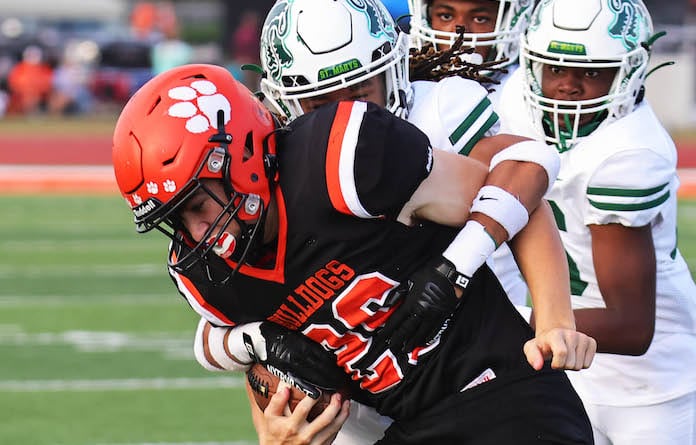 The Waterloo and Columbia football teams both suffered home defeats this past Friday.
Waterloo (1-2) lost 30-23 to two-time defending Missouri state champion St. Mary's despite a second half comeback.
Columbia (0-3) was shut out for the second straight week, losing 15-0 at home to Taylorville.
The Bulldogs trailed 8-0 following a quiet first quarter of action as a Dragons touchdown pass was the only score.
St. Mary's piled on two more TDs late in the second quarter before the Bulldogs barked back. Chris Pete ran a kickoff 80 yards to paydirt with 1:37 left in the first half to cut the Dragons' lead to 22-7.
Unfortunately, St. Mary's answered with a 43-yard TD pass to close out the half up 30-7.
The Bulldogs staged a comeback courtesy of a 16-yard TD pass from Conrad Lindhorst to Brady Rose at 6:39 of the third quarter. That was followed with a short TD run by sophomore running back Derez Sayles to make it a 30-20 contest entering the final frame.
A 23-yard field goal by Kaleb Buechler cut the St. Mary's lead to 30-23 with 7:40 remaining in regulation.
That was all the closer the Bulldogs would get on this night, however.
Lindhorst was 4-for-6 passing for 38 yards and also rushed for 36 yards for Waterloo.
Sayles rushed 23 times for 84 yards.
Waterloo's defensive standout was Gavin Lich, who had a sack among his seven tackles and 10 assists.
Waterloo plays host to longtime Mississippi Valley Conference foe Triad this Friday. The Knights are also 1-2, having lost 28-24 at Alton last week.
In Columbia, offense was hard to come by once again as the Eagles were clipped by the Tornadoes.
A 29-yard TD pass late in the first quarter put Taylorville up early.
The only other scoring of the night came via a short TD run by the Tornadoes late in the second quarter.
Columbia quarterback Mason Voegele was 7-for-15 passing for 87 yards and three interceptions.
Jase Nelson led the Eagles in rushing with eight carries for 50 yards.
Columbia mustered just 160 total yards of offense on the night.
The Eagles play Friday at Roxana (3-0). The Shells have outscored their opponents 118-13 so far this season.
In contrast, Columbia has been outscored 51-14 so far this season.