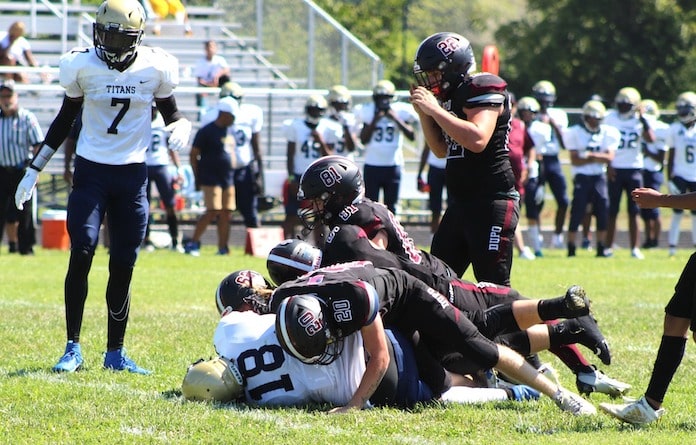 The wins keep coming for the Dupo High School football team, which improved to 3-0 with a 56-29 victory at home over Madison on Friday.
The Tigers got four touchdown passes from sophomore quarterback Deegan Prater in the win. He was 13-for-16 passing for the four scores and also rushed for 45 yards.
His favorite target once again was Nick Phillips, who caught five passes for 133 yards.
Ashton Stein led Dupo's running attack with 70 yards on 10 carries.
Defensively, Connor Ballard was the star on this night for the Tigers with an interception and fumble recovery.
"We are super excited with our start," second-year Dupo head coach Zach Klaustermeier said. "We for sure have not been perfect, but it has been getting the job done."
Klaustermeier said his team needs to buckle down as the conference schedule starts up this Friday at Wesclin (2-1).
"You will always get everyone's best. It is a well-coached and very competitive league," he said.
The Tigers have done well with adapting to the situations presented and overcoming adversity, the coach said.
"One of the top things we have had going for us so far is our ability to overcome bad plays or even things that we can't control during a game," Klaustermeier said.
Dupo's defense is still "figuring some things out, but has looked much improved," the coach added.
In addition to Ballard, standouts include Colten Skaggs and Caleb McGlasson.
Klaustermeier also credited the work of the offensive and defensive lines consisting of Thomas Asher, Carter McMannis, Teegan Hargrove, Cole Hearty, Gavin Barlow and TJ Baugh.
"I am very proud of our entire team so far," Klaustermeier said. "It only gets tougher, but we are looking forward to the challenge."