Golfers in the swing of things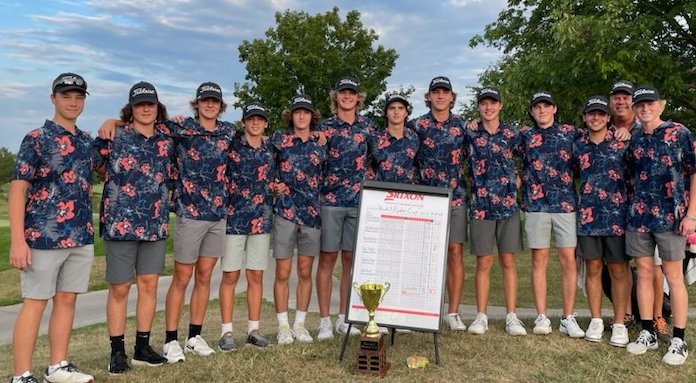 Just more than a week after the Columbia boys won this year's Monroe County Tournament at Annbriar Golf Course, Waterloo took the annual Route 3 Ryder Cup at Acorns Golf Links.
Friday's win capped off a recent string of success for the Bulldogs.
Last week, Waterloo won by two strokes with a 162 over Highland in the Mississippi Valley Conference match, which was preceded by a 21-stroke victory over Triad. Waterloo shot a 164 in that win.
Previously, Waterloo topped MVC rivals Mascoutah and Highland in a match with a team score of 158. That was 12 shots better than Mascoutah and 13 shots better than Highland.
The Columbia boys are also playing well of late.
On Thursday, the Eagles won by 22 strokes over Cahokia Conference foe Freeburg at Annbriar after shooting a 160.
Leading the way for Columbia were Jacob Hall, Jimmy Vonderhaar and Charlie Steckler all at 39.
Just prior to winning the county tourney, Columbia placed second in a four-team match at Governor's Run in Carlyle on Aug. 29 with a 152. Mater Dei won with a 147.
Hall led the way for the Eagles in this meet with a 35, earning solo medalist honors.
Waterloo and Columbia boys and girls golfers competed Thursday in the Co-Ed Scramble at Cardinal Creek Country Club on Scott Air Force Base.
Waterloo, led by the duo of Armbrecht and Reese Kite, placed third as a team behind O'Fallon and Mater Dei. Armbrecht/Kite shot an 11 under 61 for third place overall.
Columbia, which placed fifth as a team, was led by the duo of Hall and Avery Arendell with a score of 59, which was second overall.
On Saturday, Waterloo girls golfers competed as part of Team Illinois in the annual River Challenge against Team Missouri at The Orchards Golf Course in Belleville.
Team Illinois consisted of Waterloo, Edwardsville, O'Fallon, Triad and Father McGivney.
Team Missouri consisted of St. Joseph's, Jackson, Francis Howell, Visitation and Lafayette.
For this tournament, the top two scores from each team were used to determine the winner, with Missouri taking it with a 759 compared to an 824 for Illinois.
With a birdie on Hole 17, Kite shot a 69 to win the individual title of this tourney for the second straight year.