WHS girls soccer makes sectional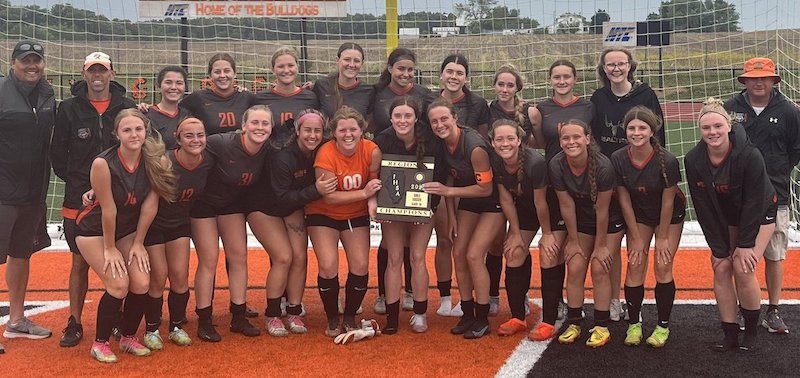 The Waterloo High School girls soccer team cruised through its regional competition, posting two easy wins to advance to the sectional round.
On Friday, the Bulldogs (17-4-2) hosted Carterville in the Class 2A Olney Regional final following a venue change. 
With a fierce wind at their backs, the Bulldogs netted four first half goals en route to a 7-0 championship victory.
Cambell Watters scored twice, Grace Pohl scored once and contributed three assists, and Megan June added a goal and assist for Waterloo.
Last Tuesday, Waterloo opened regional play with an 8-0 blasting of Olney. Jung finished with two goals and an assist. Josie Briggs added a goal and an assist.
Waterloo opened Marion Sectional play Tuesday night against Mattoon, winning 3-0. Jung netted all three goals.
Mattoon won its regional by defeating Civic Memorial, 3-1. The Bulldogs topped Civic Memorial twice during the regular season.
Waterloo won and now faces Triad in the sectional final set for 6 p.m. Friday at Mascoutah.
Triad topped Marion on Tuesday to reach the sectional final. The perennial soccer powerhouse is 14-7-3 and has not lost a match in more than a month.
Waterloo split its two Mississippi Valley Conference matches with Triad this season, winning 1-0 on April 4 but falling 2-1 on April 27.
The winner of the Marion Sectional advances to the Chatham-Glenwood Supersectional set for 5 p.m. May 30.
For the season, Jung has 19 goals and 12 assists to lead the Bulldogs, followed by Pohl with nine goals and 17 assists. 
Waterloo senior goalkeeper Lexi Stephens has 15 shutouts and an 0.62 goals against average this season to go along with an .862 save percentage.