Hawks, Eagles soar to sectionals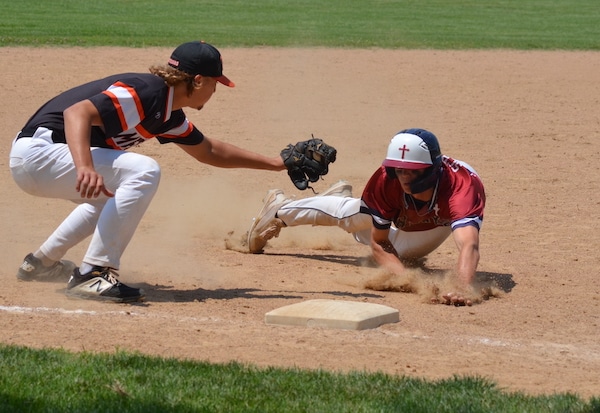 Saturday was a banner day for high school baseball in Monroe County, with local squads winning regional titles.
Gibault (19-14) avenged last year's loss at home to Marissa in the Class 1A Valmeyer Regional championship by blasting the Meteors to the tune of 11-1 at Borsch Park.
Trailing 1-0, Daniel Darin's one-out double tied the game for the Hawks in the bottom of the third inning. Gibault added two more runs in that frame on a grounder that got past Marissa's third baseman.
In the bottom of the fourth, Kameron Hanvey slashed an RBI hit to left center to make it 4-1. Following an RBI groundout, a throwing error by Marissa's shortstop allowed two more runs to score.
The big blast came in the bottom of the fifth, as Darin smashed a three-run mercy rule walk-off homer over the right field fence to give Gibault the title.
Darin went 2-for-4 with four RBIs on the day. Hanvey went 3-for-4 with two RBIs and three runs in addition to pitching a complete game two-hitter.
Last Wednesday, Gibault opened regional play with a 3-1 victory over Dupo. A two-run sixth inning gave the Hawks the slight edge. Hudson Blank went 2-for-3 with a pair of runs and Brady Biffar pitched a complete game with seven strikeouts.
Gibault faces Pawnee in the Greenville University Sectional at 4:30 p.m. Wednesday. With a win, the Hawks would take on either Christ Our Rock Lutheran or Greenfield in the sectional final at 11 a.m. Saturday for a berth in Monday's Lincoln Land Supersectional.
Darin leads the Hawks in hitting this season at .414 with a .606 on base percentage to go along with five homers, 27 RBIs and 37 runs.
Blank is hitting .411 with 31 RBIs and 31 runs.
Hanvey is hitting .379 with 20 stolen bases and 42 runs in addition to posting an 8-3 pitching mark with a 2.83 ERA in 52 innings.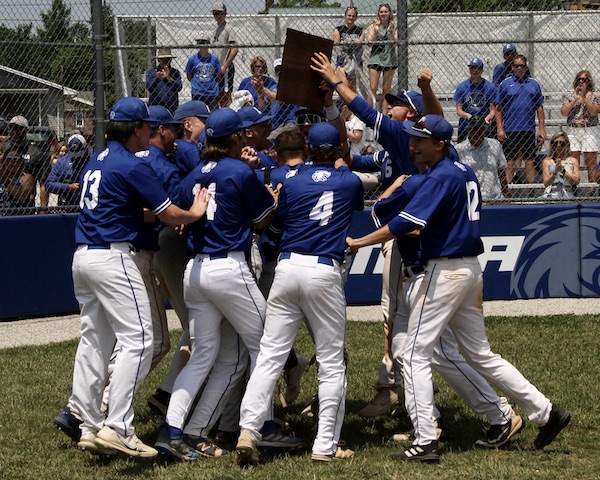 Not to be outdone Saturday were the high-flying eagles of Columbia, who won 4-0 at home over Breese Central for a Class 2A regional title.
Columbia (30-4) was led once again by dominating senior Dom Voegele. The hard-throwing righty struck out 12 in a complete game shutout.
Leading the way on offense were Jack Steckler and Riley Etherton with two hits apiece.
Last Wednesday, the Eagles faced a scare from Marquette to open the postseason. Down 3-2 in the bottom of the seventh, Voegele smacked a walk-off two-run homer to give Columbia the narrow 4-3 win.
Voegele, a University of Kansas commit, also picked up the pitching win in relief of Lucas Riebeling, striking out two in his one inning.
The Eagles face Newton in the Breese Central Sectional at 3 p.m. Thursday. The winner takes on either Father McGivney (36-1) or Teutopolis in the final at 11 a.m. Saturday.
The winner of this sectional advances to the Southern Illinois University Carbondale Supersectional on Monday.
Voegele is ranked among the top hitters and pitchers in the St. Louis area. He's hitting .514 with a .617 on base percentage and 1.076 slugging percentage and has 12 homers, 19 doubles, 22 stolen bases, 47 RBIs and 50 runs.
On the mound, Voegele is 8-0 with a 0.91 ERA and 90 strikeouts in 53-plus innings pitched.
Another key pitcher for the Eagles is Riebeling, who is 6-0 with a 1.13 ERA in 37 and one-third innings.
While the Hawks and Eagles have already enjoyed postseason success, Waterloo is trying to win some hardware of its own.
The Bulldogs (22-11-1) enter the Class 3A Jerseyville Regional after posting two victories to close out the regular season.
Last Wednesday, Waterloo won 5-0 over Belleville West behind a complete game shut out with eight strikeouts by Nate Phillips.
Max Oswald went 3-for-4 with two runs and Evan Davis went 2-for-4 with three RBIs.
On Monday, the Bulldogs won 8-0 at home over Carbondale. Phillips, Nolan Veto and Jack Roessler combined to allow just one hit on the mound. Veto, Davis and Koby Osterhage collected two hits each.
Waterloo opens regional play Thursday against Civic Memorial, which it has defeated twice already this season. With a win, the 'Dogs face either Mascoutah or Cahokia in Saturday's final for a berth in next Wednesday's Centralia Sectional.
Davis leads Waterloo in hitting this season at .495 with three homers, 15 doubles, 44 RBIs and 36 runs.
Bryce Reese is hitting .421 with 12 doubles and 28 RBIs.
Veto is hitting .380 to go along with a pitching mark of 3-2 with a 2.29 ERA.
Phillips leads Waterloo's pitching staff at 7-1 with a 0.99 ERA in just under 50 innings, followed by Roessler at 5-2 with a 2.65 ERA in 37 innings.