Venhaus jumps to state title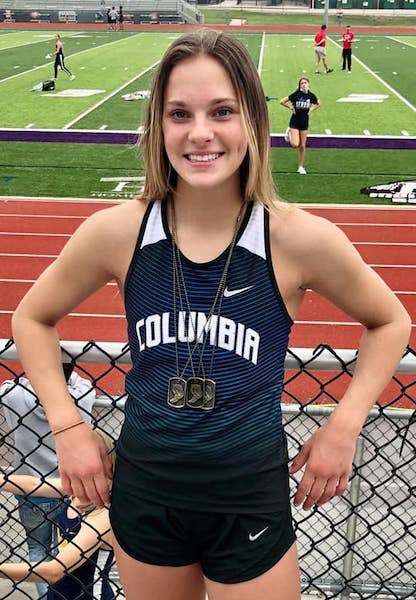 On her final day of competition as a high school athlete, Columbia High School graduating senior Abby Venhaus saved her best for last.
With a distance of 11.56 meters Saturday in the triple jump finals at the IHSA Class 2A Girls Track State Meet at Eastern Illinois University, Venhaus etched her name into both IHSA and CHS history as a state champion.
Venhaus has made herself at home at Eastern Illinois as a three-time state qualifier. Now, she will officially call that university home as she plans to attend EIU for track.
In addition to her first place medal in the triple jump, Venhaus placed eighth in the long jump, 14th in the 200 meter run and 21st in the 100 meter run.
IHSA rules only allow one athlete to compete in four events at state.
Last year, Venhaus competed in three events at state, placing fourth in the long jump, sixth in the triple jump and 27th in the 100 meter run.
As a sophomore, Venhaus placed fourth in the long jump, seventh in the 200 meter run and 15th in the 100 meter run at state.
Saturday was full of emotion for Venhaus as she reflected on her stellar track career at CHS.
"To be honest, I was feeling a lot of emotions going into finals with it being my last high school meet," Venhaus said. "I was sad of the amazing teammates I would be leaving as well as the coach I was leaving. But overall, I was incredibly happy with how I left it."
It was the first triple jump attempt by Venhaus that put her in the lead on Saturday.
"From that point on, I was sitting there thinking that it could be beat because all the girls I was jumping against were more than capable of beating it," she told the Republic-Times. "When everyone had finished their last jumps, I realized I won. It didn't hit me until I got that gold medal. But when it did, I was so happy."
Having been at the state meet twice before, Venhaus said the experience paid off this year.
"I would say it was a huge advantage because I know how the meets ran and how it goes," Venhaus said. "I know where I need to go and when. With being there years prior, I overall felt less anxious going into it this year. Nothing was new to me. "
Venhaus said one challenge this time, however, was the fact she had to compete in four events as opposed to three.
"It was much more difficult, mainly because some of the events overlapped each other," she explained. "Like while doing triple jump, I would have to go run my 100 meter dash. I felt like I never really got a break during the day. So, it ended up being really tough on my body to balance it all."
Venhaus said she loves competing in both the long jump and triple jump but if she had to choose just one, the long jump wins out by an inch.
With her gold medal at state, Venhaus became just the second track state champion at CHS.
The only other state champ for the Eagles was Cindy Stechmesser, who in 1982 won the 200 meter low hurdles in Class A with a time of 30 seconds. That event no longer exists in the IHSA.
Venhaus is just the fifth athlete from Monroe County who can claim the title of state track champion. In addition to Stechmesser, Waterloo has Brendan Duncan (2011 Class 2A discus champ), Justin Kretchmer (2012 Class 2A high jump champ) and Jenna Schwartz (2018 Class 2A 3,200 meter run champ).
Just missing that list was graduating Waterloo senior Molly Grohmann. She ended her illustrious high school track career with a fourth place showing in the high jump on Saturday.
Last year, Grohmann placed third in the high jump at state. She will participate in track at Southeast Missouri State University, which competes against Eastern Illinois as part of the Ohio Valley Conference.
Grohmann placed 12th in the 300 meter hurdles at state this year and also ran in the 4×400 meter relay with Kristin Smith, Calla Espenschied and Taylor Thorsten, placing 16th.
Waterloo's 4×800 relay team of Espenschied, Angelynn Kanyuck, Danielle Mudd and Ava Rau placed 12th at state.
Kanyuck placed 13th in the 1,600 meter run and Cameron Crump placed 20th in the 3,200 meter run.