Pirates, Eagles win regionals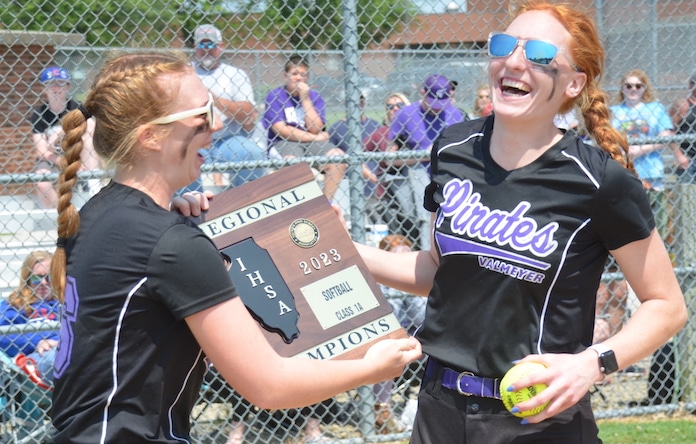 Two local high school softball squads hoisted regional championship plaques Saturday, and another hopes to do the same Friday.
Valmeyer (18-2) won its second regional title in three years with a 4-2 victory over Odin at the Class 1A Marissa Regional.
The Pirates plated four runs in the first inning and then held on for dear life.
The Pirates actually celebrated twice, as a liner to third was snared by Mia McSchooler and she fired it to first for what was initially called a game-ending double play. But the umps gathered to discuss the play and changed the call to safe.
Despite the distraction, Brooke Miller calmly closed the door on a complete game pitching performance, sending Valmeyer to the Class 1A Hardin Sectional at 4:30 p.m. Wednesday against Carrollton.
Last Tuesday, the Pirates opened regional play by avenging a prior loss to Lebanon. Valmeyer won 6-1, as Peyton Similey went 3-for-4 with a triple and RBI. Miller pitched a complete game two-hitter with 13 strikeouts.
The winner of Wednesday's sectional semifinal will meet either Okawville or Hardin-Calhoun in the sectional final set for 11 a.m. Saturday for a berth in the Athens Supersectional on Monday.
Valmeyer may have to avenge its only other loss on the season if it faces Okawville, which won 7-0 over the Pirates on March 22.
Similey, a junior catcher, leads Valmeyer in hitting this season at .508 with 21 RBIs. Miller, also a junior, is hitting .487 with seven triples and 21 runs to go along with a 10-1 pitching mark and 1.47 ERA with 129 strikeouts in 81 innings.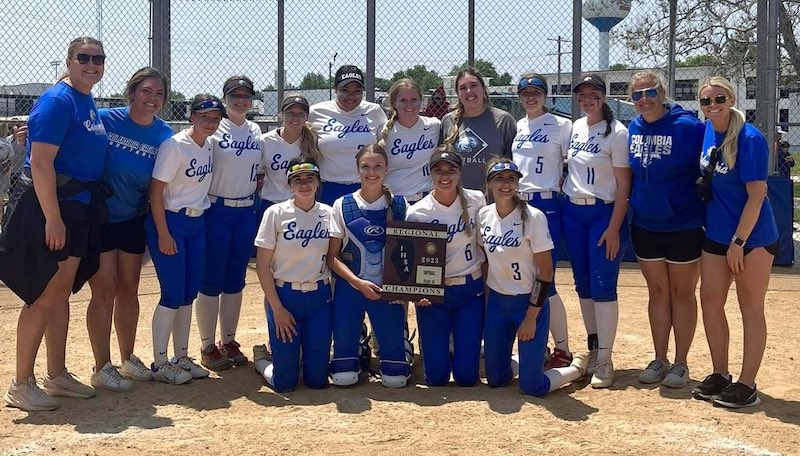 Columbia (18-11) also avenged a loss to capture a regional title. The Eagles won 5-0 over Mater Dei at the Class 2A Roxana Regional.
Scoreless after four innings, the Eagles plated three runs in the fifth to take charge. That was all starting pitcher Paige Froess needed. She pitched a complete game two-hitter with eight strikeouts and just one walk.
Julia Foster and Jaylyn Brister both went 3-for-4 with a home run and two RBIs for the Eagles, who previously lost to Mater Dei by the score of 11-1 on March 22.
Columbia advanced to the regional final by virtue of a 3-0 victory over Piasa Southwestern last Wednesday. Foster pitched a complete game five-hitter with 11 strikeouts and also had a hit and RBI.
Columbia battles Flora at 4:30 p.m. Wednesday in the Freeburg Sectional semifinal. With a win, the Eagles would face either Freeburg or Salem in the regional final on Friday for a berth in Monday's Johnston City Supersectional.
The Eagles lost twice to both Freeburg and Salem previously this season, as all three teams compete in the Cahokia Conference.
Brister, a junior, leads Columbia in hitting this season at .489 with seven homers, 12 doubles, 39 RBIs and 31 runs. She is followed by sophomore Elle van Breusegen, who is hitting .429 with 40 runs. Karsen Jany, a senior, is hitting .398 with five home runs, 33 RBIs and 29 runs.
Froess, a sophomore, is 9-2 with a 2.09 ERA in 80 and one-third innings pitched.
Waterloo (16-12) closed out its regular season last week in winning fashion.
Last Wednesday, Lilly Heck homered for the 'Dogs in a 6-2 victory over Granite City. On Friday, Mia Miller struck out 10 in a complete game 2-1 win over Edwardsville.
Waterloo opens Class 3A Jerseyville Regional play against Cahokia on Wednesday. With a win, the Bulldogs would face either Jerseyville or East St. Louis in the regional final on Friday for a berth in the Highland Sectional on Tuesday.
Waterloo lost twice previously to Jerseyville this season by scores of 4-3 and 4-0.
Sam Juelfs, a freshman, leads the Bulldogs in hitting this season at .462 with 26 runs, followed by Miller at .405 with 23 RBIs.
In the pitching circle, Miller is 8-6 with a 1.52 ERA and 186 strikeouts in 101 innings.