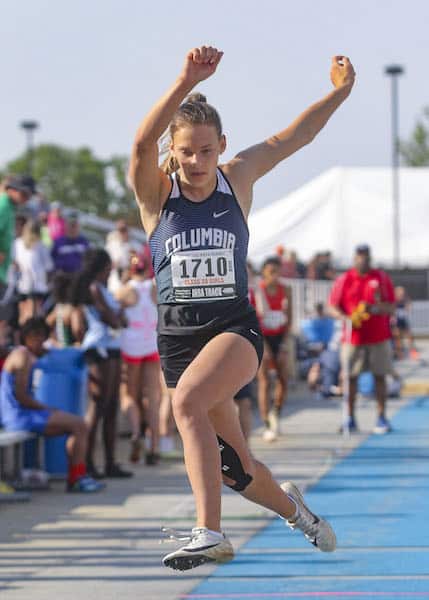 Several local high school girls tracksters qualified for state by virtue of solid showings at the IHSA Class 2A Mascoutah Sectional on Thursday. 
Columbia senior Abby Venhaus sealed her return trip to this weekend's state meet at Eastern Illinois University in four events. She placed first in the long jump, triple jump and 200 meter run Thursday and second in the 100 meter dash.
Venhaus has committed to attending Eastern Illinois to participate in track next season.
She placed fourth in the long jump, sixth in the triple jump, and 27th in the 100 meter dash last year at state.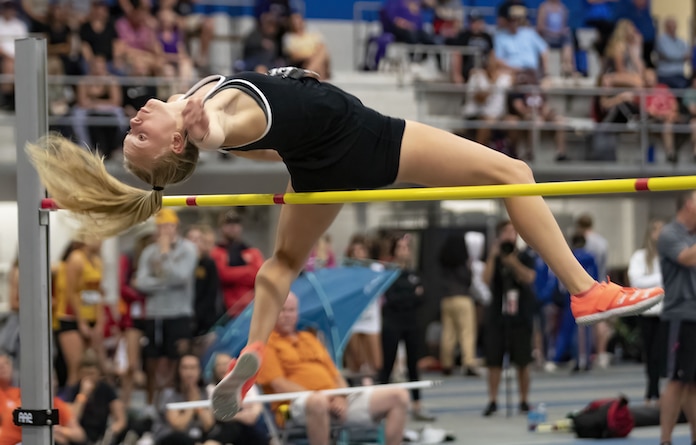 For Waterloo, which placed second as a team at the sectional, senior Molly Grohmann will also return to state in three events.
She won the high jump, placed third in the 300 meter hurdles and was part of Waterloo's 4×400 relay team with Kristin Smith, Calla Espenschied and Taylor Thorsten that placed second on Thursday.
Grohmann placed third at state in the high jump and was on the 4×400 relay team that placed 10th at state last year.
Waterloo's 4×800 relay team of Espenschied, Angelynn Kanyuck, Danielle Mudd and Ava Rau placed second at the sectional to make state.
Kanyuck also qualified for state with a second place finish in the 1,600 meter run.
Waterloo's Cameron Crump will join her teammates at state this weekend after placing second in the 3,200 meter run.
Boys track
For the first time since 1978, Dupo High School boys track team captured a conference title by winning the Kaskaskia Division of the Cahokia Conference Track Meet held last Tuesday in Wood River.
The Tigers topped Steeleville, New Athens and Lebanon for the title.
Key athletes for the Tigers at the conference meet included Peter Taylor, Deegan Prater, Keith West, Harry Jordan, KK Jordan, Sam Stoffel and Robert Schroeder.
In the Mississippi Division of the Cahokia Conference, Columbia placed second as a team to Freeburg. First place finishers at the meet for the Eagles were Ethan Hogan (800, 1,600 and 3,200 meters), Christian Kronk (110 and 300 meter hurdles), and the 4×800 relay team of Mueth-Acevedo-Habermehl-Range.
The Mississippi Valley Conference Track Meet took place last Wednesday at Civic Memorial, with Waterloo placing third as a team. First place finishers for the Bulldogs were Joe Schwartz (1,600 meter run), Hunter Kettler (400 meter run) and Austin Corey (800 meter run).
Athletes from Dupo and Gibault will compete this Friday at the Class 1A Nashville Section for a berth at the state meet.
Athletes from Columbia and Waterloo will compete Thursday at the Class 2A Salem Sectional for a chance at qualifying for state.