WHS alum awarded for veterinary research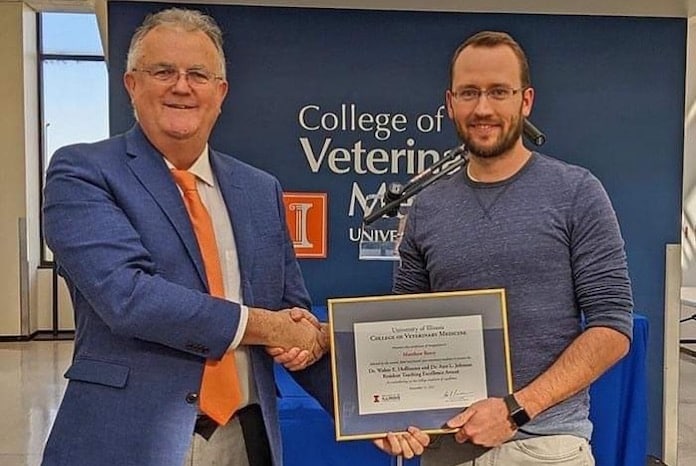 A Waterloo High School alumnus was recently presented with two awards recognizing his work as a researcher and clinical director at the University of Illinois in the College of Veterinary Medicine.
Dr. Matthew Berry grew up in Waterloo, takin an interest in animals at an early age.
During his time at WHS, he was a kennel worker at Columbia Animal Hospital. It was here that his interest in animals and veterinary work truly blossomed.
Berry said he became familiar with the day-to-day of veterinary work during his time at the hospital, cleaning and maintaining the space while also taking care of the boarding animals.
He also spoke highly of Dr. Alec Flaum, a vet at Columbia Animal Hospital who Berry said served as his mentor, further encouraging Berry's interest in the field.
"That's where I got to see what a veterinarian's job really is, and I was lucky enough to have a really good mentor there," Berry said. "He saw my interest and he was able to change my job so that I could work more closely with him and see more and more of what he did."
Berry went on to attend the University of Missouri – St. Louis for his undergraduate degree, later moving to the University of Illinois where he is currently working toward his PhD.
He also spoke positively of his instructors and the various mentors he's encountered during his time in higher education.
Through his academic career, Berry developed a particular interest in veterinary cancer research which stemmed largely from those instructors as well as a few losses and struggles in his personal life.
"My interest in oncology kind of arose from that good mentorship but also just kind of built upon my own experience leading up to vet school where a couple of my family dogs unfortunately died from cancer," Berry said, "and then a really close family member was going through cancer treatment as I was going into vet school."
He added that a specific area of interest for him is comparative oncology. Berry explained that "we can use some of the cancers that develop in companion animals species – dogs and cats – as models of specific human cancers."
Berry was recently presented with two separate awards, one to recognize excellence in resident teaching and the other – sponsored by the American Kennel Club Canine Health Foundation – recognizing his research.
These awards encapsulate Berry's core interests in veterinary medicine, what he described as the areas he hopes to continue pursuing even after he acquires his PhD.
"My goal as a veterinarian and a PhD student is, when I'm finally done with all of my training, my goal is to stay in academia like at U of I to be able to teach veterinary oncology, foster the research interests of students, continue pursuing research in cancer biology and teaching in the clinics," Barry said.
Looking back at his time at the Columbia Animal Hospital as well as through his education, Berry noted the impact that his mentors and teachers have had on him.
While research and animal care are clear passions for him, so too is helping students find their own passions in the field.
"I think that every step along the way of my college education I was able to put myself into the shoes of the instructors that I had, and every step along the way I saw myself as a future teacher," Berry said. "That continued throughout vet school where I got to vet school and I realized that I just want to be able to continue teaching this advanced degree of veterinary medicine."