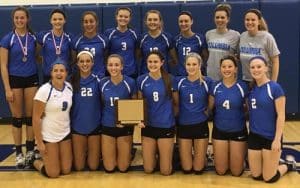 Local high school volleyball teams competed in recent area tournaments, with some bringing home hardware.
Columbia won the Marissa-New Athens Invitational Tournament with five victories, including a Thursday win over cross-county foe Gibault.
The Eagles are now 7-0 on the season.
Columbia had little trouble defeating Lebanon and East St. Louis last Tuesday, winning both matches in two quick games. Alyssa Yochum led the way with five kills and two blocks against Lebanon; Colene Hamilton recorded five kills against East St. Louis.
On Thursday, the Eagles toppled Gibault, 25-15, 25-12, to reach the title game.
Yochum had nine kills and three blocks to lead the way for the Eagles. Hamilton added five kills. For Gibault, Kelly Dooley had seven kills and Hillary Wessel added 10 assists.
In the tourney title game, Columbia rolled to a 21-12, 21-4 win over Chester. Hamilton racked up 11 kills, with Yochum and Jordan Hausmann recording three blocks each.
The undefeated Eagles will host rival Waterloo this Thursday night.
The Bulldogs posted some tourney success of their own down in Carbondale on Saturday, winning four of five matches to earn third place.
Following a Thursday night loss to Belleville East in three games, Waterloo opened Carbondale tourney play with a 25-16, 25-17 win over cross-county foe Valmeyer.
Kathryn Finnerty led the way with six kills and three blocks for the Bulldogs against the Pirates. Finnerty and teammate Sam Kruse each recorded 12 kills in the loss to Belleville East. Hannah Cope had seven service points.
Waterloo's win over Valmeyer was followed by victories over Centralia and Marion on Saturday before they ran into a tough Highland squad, losing in three games.
Kruse had four kills and three blocks against Centralia, seven kills against Marion and seven kills against Highland. Finnerty had seven kills against both Marion and Highland.
In the third place game, Waterloo defeated Carbondale in two games, 25-15 and 25-18. Kruse had seven kills and Finnerty registered eight blocks in the match.
Waterloo enters Thursday's match against Columbia with a record of 4-4.
Gibault bounced back from Thursday's loss against Columbia to defeat New Athens, 25-23, 21-13, to secure third place in the tourney.
Dooley had a monster game against New Athens, finishing with 13 kills. Wessel contributed 21 assists for the Hawks (6-1), who hosted Althoff on Tuesday.
Last Wednesday, Gibault avenged last year's regional final loss with a 15-21, 21-17, 15-10 victory over Trico to advance in the tourney. Dooley had 14 kills and Bailey Lehmann added 11 kills.
Valmeyer finished Carbondale tourney play with a three-game loss to Marion, 25-23, 21-25, 9-15.
The Pirates played at Lebanon on Tuesday and will play at Red Bud on Wednesday. On Monday, Valmeyer plays at Marissa.
Dupo is 3-5 on the season after splitting recent tourney matches at Marissa-New Athens. The Tigers lost to New Athens last Wednesday, but defeated Marissa and Madison before falling to Trico in two games to end tourney play.
Taylor Esmon leads the Tigers in kills with 17. Megan Brown has six service aces.