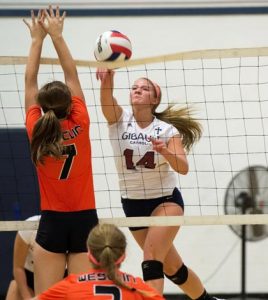 Volleyball season is spiking ahead for area high school squads, with many early season tournaments in store through the holiday weekend.
Gibault began play in the Marissa-New Athens Labor Day Tournament on Monday, picking up wins against Red Bud and Lovejoy to improve to 4-0 on the young season.
Kelly Dooley led the way in both matches, recording five kills against Red Bud and eight kills against Lovejoy.
Hillary Wessel had 12 assists against Red Bud and 13 assists against Lovejoy. Kayla Huels added 10 assists against Lovejoy.
Gibault continues tourney play Wednesday with a match against Trico, who ended their season last year in the regional title game.
The Hawks picked up two wins at home last week to start the season, defeating Red Bud on Tuesday and Wesclin on Thursday.
Dooley had nine kills, nine service points and five aces in the season opener against Red Bud.
Thursday night, the Hawks toppled Wesclin in three games, 25-19, 14-25, 27-25.
Dooley finished with 12 kills. Bailey Lehmann had five kills and Caralyn Papenberg also had five kills with two blocks against Wesclin.
"I am impressed with the senior leadership, especially (from) Kelly Dooley," Gibault head coach Heather Lazarides said. "So far, Hillary Wessel is doing a great job of spreading the ball to our hitters, keeping our offense balanced.
Our serving remains a strong part of our game as a unit."
Columbia posted a thrilling three-set victory at Althoff on Thursday.
Colene Hamilton led the way with 19 kills for the Eagles in the match. Jordan Hausmann added 10 kills and six blocks.
On Monday, the Eagles began play in the Marissa-New Athens tourney with a win over Pinckneyville. Hamilton had six kills and 11 service points. Alyssa Yochum had nine kills. Hausmann added three blocks.
The Eagles played Lebanon on Tuesday to continue pool play in the tourney.
The result was not known at press time.
"Our serve receive and defense have been solid these first few games," Columbia head coach Kelly Landgraf said. "Offensively, we are still figuring out where everyone is most comfortable in the rotation.  Our goal is to make improvements every game and learn from past mistakes."
Waterloo enters this weekend's Carbondale tournament at 0-2, with a Thursday match at Belleville East looming before the tourney begins.
Thursday night at O'Fallon, the Bulldogs lost in two games, 18-25, 23-25. Kathryn Finnerty had six kills and Hannah Cope had 13 assists for the Bulldogs.
Last Tuesday, Waterloo opened the season with a three-set loss at Freeburg, 19-25, 25-21, 24-26. Sam Kruse had 10 kills and Finnerty added eight kills. Cope recorded 27 assists.
"We beat ourselves," Waterloo head coach Angie Crawford said on her team's loss to Freeburg. "I'm not taking anything away from Freeburg. I'm super impressed with their defense.  However, we had eight serving errors and our hitters were in the net five or six times.  This just can't happen at the high school level."
Crawford said her team cleaned up the serving and net errors against O'Fallon.
"However, we didn't put everything together," she said. "When defense was on, the offense wasn't and vice versa. It is early, but the Bulldogs are determined to make a change.  We know our areas of strengths and weaknesses. We are addressing these areas; together we will pull through."
Crawford said Cope has picked up right where she left off last season as a team leader.
"She has been running a 5-1 for us the last year and this year.  She was our team MVP last year," Crawford said. "She is super valuable to us and our success."
Also playing in the Carbondale tournament is Valmeyer, which opened its season with a win at home Friday against Valley Park, 25-13, 25-8.
Sam Seidel led the Pirate attack with five kills, with Jordyn Killy and Savannah Williams close behind at four kills apiece.
Guin Kohnz had four aces and Blair Brady added three aces.
"For a first match, I was very pleased," Valmeyer head coach Jenny Kohnz said. "Guin and Blair both did a great job setting with 15 assists together. They both can be a force in the front row as well, and each recorded two kills, too."
The coach said she was happy to see Seidel back in action following shoulder surgery.
"Sam did not disappoint," Jenny Kohnz said.
Sara Andres, a sophomore, is new to Valmeyer's starting rotation and came away with three kills.
Valmeyer's libero, Cierra Goldshmidt, was solid in the back court, the coach added.
"She led the team on defense and she also did a great job serving," she said.
Valmeyer has matches against Waterloo, Marion and Centralia to begin Carbondale tourney play on Saturday.
Dupo picked up its first victory of the season Monday, topping Okawville, 21-14, 21-13, in the Marissa-New Athens tourney.
The Tigers also lost to Wesclin in two games as part of tourney play.
Taylor Esmon leads the team in kills so far this season with 16.
Dupo plays New Athens on Wednesday and Madison on Thursday.