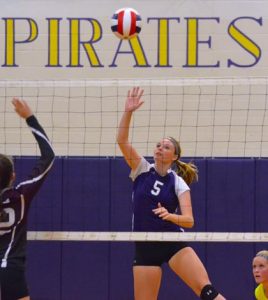 The high school volleyball season is entering its home stretch, and local teams are starting to elevate their level of play in preparation for the postseason.
Waterloo has won six straight matches since a Sept. 8 loss at undefeated Columbia, including four wins on Saturday to win the Lancer Invitational at Belleville East.
The Bulldogs posted Mississippi Valley Conference victories against Jerseyville and Civic Memorial prior to the tourney.
In the Lancer Invitational, Waterloo defeated Miller Career (25-8, 25-3), Marquette (25-13, 25-9), Belleville East (23-25, 25-14, 15-13) and Metro East Lutheran (25-11, 25-9) to improve to 10-5 on the season.
"The girls have improved their team chemistry and play has improved," Waterloo head coach Angie Crawford said.
Over the six most recent matches, Kat Finnerty had 34 kills, eight solo blocks, seven assists and 19 points to lead the Bulldogs.
Sam Kruse recorded 34 kills, 47 points with 12 aces and a 92 serve-receive percentage.
Hannah Cope added 14 kills, 34 points and 107 assists.
Megan Gilliam had 18 kills and 25 points. Skylar Geske added 43 points and 10 aces. Paige Henson had 21 points and  Genna Bourgeois added 13 kills.
Waterloo played conference foe Mascoutah on Tuesday and will be at Highland on Thursday.
Columbia keeps rolling along, toppling Breese Central and Red Bud at home last week to improve to 15-0 on the season.
Last Tuesday, Elizabeth Fleming led the way with 12 points and 24 assists in a 25-13, 25-9 win over Central. Colene Hamilton added nine kills and two blocks and Alyssa Yochum added seven kills and four blocks.
On Thursday, the Eagles won 25-19, 25-11 over Red Bud. Hamilton had eight points and 10 kills; Jordan Hausmann added six kills and four blocks.
"It is always nice to get a win against Breese Central, but more importantly a win against Red Bud because we knew they were a strong team going in," Columbia head coach Kelly Landgraf said. "Setting by Elizabeth Fleming has been extremely consistent, along with the defensive effort of the team. Kelly Metter has done a great job making the transition to outside hitter, which helps free up our middle hitters."
Landgraf said her team has a tendency to start slow in matches before pulling away late.
"That is something we are working on in getting a stronger start from the beginning," she said.
The Eagles played at Freeburg on Tuesday and will play at Wesclin on Thursday.
Gibault is 8-3 on the season following a split of recent matches.
The Hawks defeated Metro East Lutheran last Wednesday, 25-15, 25-15, but lost at home to O'Fallon on Friday, 25-15, 25-13.
Haley Davitz and Caralyn Papenberg finished with seven points each for the Hawks against Metro East Lutheran. Kelly Dooley added seven kills and Lexi Chambers added three blocks.
Dooley had seven kills against O'Fallon, with Hillary Wessel adding 14 assists.
Gibault hosts Lebanon on Wednesday and New Athens this coming Monday.
"We are dealing with a concussion injury of senior libero Rachel Lindauer, so we've been experimenting with underclassmen — most recently Kayla Huels in the O'Fallon game," Gibault head coach Heather Lazarides said. "We continue to be led by senior Kelly Dooley."
Valmeyer is 11-8 on the season following wins over Marissa and Dupo last week, a fourth place finish in the Ray Long Pretzel Classic at New Berlin on Saturday, and a three-set victory against Steeleville on Monday.
Jessie Seidel led the way with 11 kills and Jordyn Killy added six kills in the Marissa win.
Valmeyer's Guin Kohnz had 14 points and eight assists, Killy had six kills and Savannah Williams added nine points in the win at home over Dupo.
In the New Berlin tourney, Valmeyer posted wins against Agenta-Orleana and Carrollton, but lost to Lincolnwood, New Berlin and Calhoun. Killy was named to the all-tourney team.
The Pirates will play at rival New Athens on Thursday and at Chester on Monday.
Dupo is 4-8 on the season following recent losses to Lebanon, Steeleville and Valmeyer. The Tigers are led in points by Skylure Barlow with 39 and Brittany Phillips with 38. Megan Brown leads the team in kills with 41, followed by Taylor Esmon with 40.
The Tigers hosted New Athens on Tuesday.