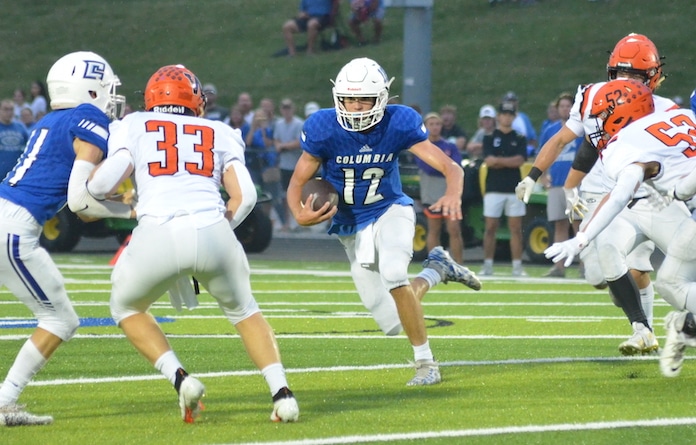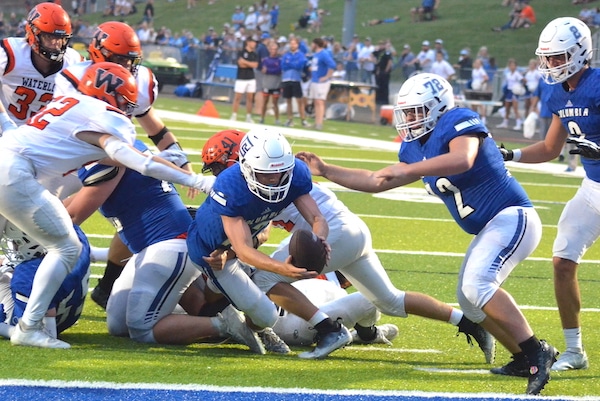 Columbia senior Dominic Voegele did it all in a 9-0 win at home Friday night over Monroe County football rival Waterloo.
At quarterback, Voegele mostly used his legs to grind out yards all night. His two-yard rushing touchdown gave the Eagles a 6-0 lead with 3:50 left in the first quarter. He finished with 177 yards rushing on 33 carries.
With a light rain falling, Voegele kicked a 47-yard field goal to put Columbia up 9-0 with 2:14 remaining in the third quarter.
In the game's final minutes, Waterloo's deepest offensive drive was snuffed out by an interception from who else? Voegele. It was his second interception of the night on defense. He also made seven tackles.
Voegele, a hard-throwing righty pitcher who led the Eagles baseball squad to a third place state finish in baseball this past spring, announced last week his commitment to pitch for the University of Kansas. He was 12-of-16 passing Friday night for 71 yards.
"Voegele is Voegele – a warrior in all aspects of the game. He did it all," Columbia head coach Scott Horner said. "We really have to have some other kids step up though, moving forward, as he can't carry the load the entire season. "
In all, Columbia's defense bottled up bruising Waterloo running back Evan Davis and forced four total turnovers – three interceptions and one fumble recovery.
The Bulldogs were held to 79 yards rushing on 25 carries and 88 total yards passing.
"I was very happy with how our defense played and the plan that (defensive coordinator) Coach (Scott) Germain put together," Horner said. "We executed almost perfect all night. Our kids always seemed to be in the right place."
Waterloo's defense was led by Bryce Reese, who had seven tackles and 10 assists. Harrison Bartosik recorded an interception for the 'Dogs.
Friday's annual rivalry clash between Columbia and Waterloo featured a couple of firsts.
The inaugural mascot race between the Eagle and Bulldog was won by Columbia's feathered friend.
At the end of the game, the Eagles were presented the first-ever Route 3 Rivalry trophy to commemorate the longstanding local gridiron game.
Columbia (1-1) plays this Friday at Marquette (0-2). The Explorers lost 24-3 to Civic Memorial to open the season and dropped a 48-7 game to Salem on Friday.
Waterloo (1-1) will aim to bounce back from last week's loss as it welcomes Carbondale to town for its home opener this Friday. Carbondale (1-1) lost 41-20 to Murphysboro to open the season and edged Granite City, 34-32, on Friday.
Tigers fall on road
The Dupo football team dropped to 1-1 on the season with a 42-16 loss Saturday afternoon at Oneida (ROWVA).
Tigers quarterback Deegan Prater, a freshman, rushed for 205 yards and threw for 69 more. Logan Stevens added 92 yards rushing for Dupo, which plays at Madison this Saturday at 1 p.m.
Madison (0-1) lost 35-7 at Galena on Friday.