Valmeyer softball aiming high again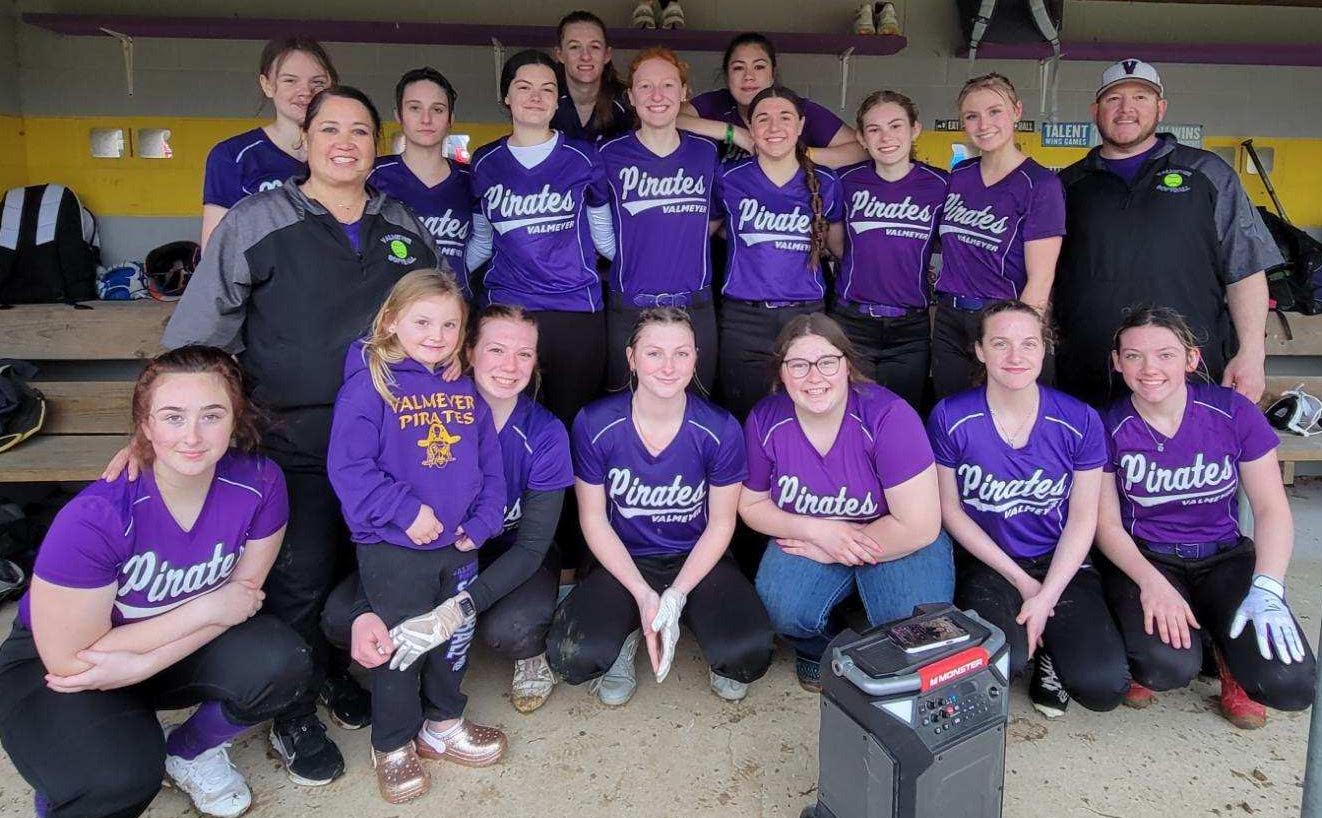 Players that were freshmen and sophomores on a team that won the Valmeyer High School softball program's first regional title in 2021 are now juniors and seniors.
Following a rain-soaked 2022 campaign that resulted in a 9-7 record, the Pirates have set sail this spring in search of more postseason riches.
"We set our goals one at a time," Valmeyer head coach Gayle McCarthy said. "The first is to win regionals. That is what we are working for. A conference title would be nice, too."
The Pirates only graduated one senior from last year's team, returning two seniors, seven juniors and four sophomores in addition to welcoming four freshmen.
Joining the team this year is assistant coach Matt Similey.
"Matt is passionate and loves the game like I do," McCarthy said. "He is a great addition to our team with his game knowledge, love of working with young athletes and his contagious enthusiasm. He definitely brings fresh energy to our team."
Seniors counted on to lead are Markee Voelker at shortstop/first base and outfielder Kylie Eschmann.
Voelker, who also starred in volleyball, hit .438 with seven stolen bases in 2022.
"She will be key this year with her great defensive skills, leadership abilities and her strong bat," McCarthy assessed. "Markee is one of my best baserunners. She is a positive role model and a great teammate. I expect Markee to have her best year yet."
Eschmann, who received all-conference recognition last season, hit .385 with 17 RBIs in 2022.
"Kylie's speed in the outfield and her strong bat will lead the team," McCarthy said. "I am expecting Kylie to lead the outfield with her confidence and strong leadership abilities."
Helping the seniors in the leadership department are junior three-year starters Brooke Miller, Mia McSchooler and Payton Similey.
Miller, a pitcher/outfielder who also stars in volleyball and basketball, hit .442 with seven home runs and 20 runs and also posted a 2.32 ERA in 72-plus innings pitched.
"Brooke is throwing hard and smart. She is going to have a great season," McCarthy said.
McSchooler will share pitching duties and also play third base. She hit .280 with eight stolen bases last season.
"Mia has gotten physically stronger with her work in the weight room and it is showing in her pitching," McCarthy said. "She has picked up quite a bit of velocity and is very confident in herself and her team. Mia will lead the team with her strong defense, speed and hitting/bunting skills."
Another all-conference player is Similey, who McCarthy called "the best catcher in the conference, hands down."
Similey hit .356 with five triples and 16 RBIs last season.
"Her ability to stop runners and a strong bat will be key for the Pirates this season. She is also a great leader on the field," McCarthy said.
Other juniors are outfielders Hannah Gideon and Kate Lueck, who show off speed in field and on the bases, McCarthy said.
Two other juniors trying to get healthy are Brooke Mueller and Rylee Nagel.
Of the freshmen and sophomores, McCarthy pointed to Alex DeLuca, Meia Jaggie and Avery Proffer seeing time in the infield.
Others hoping to see playing time include Laney Dehn, Kylie Sullivan, Lily Peterson and Ava Staggs.
"I really feel like we have the best all-around defensive team that I have had in a while," McCarthy said. "They just really work well together as a whole."
The Pirates have pieces in place to collect more treasure. Expect to see them making a postseason run.