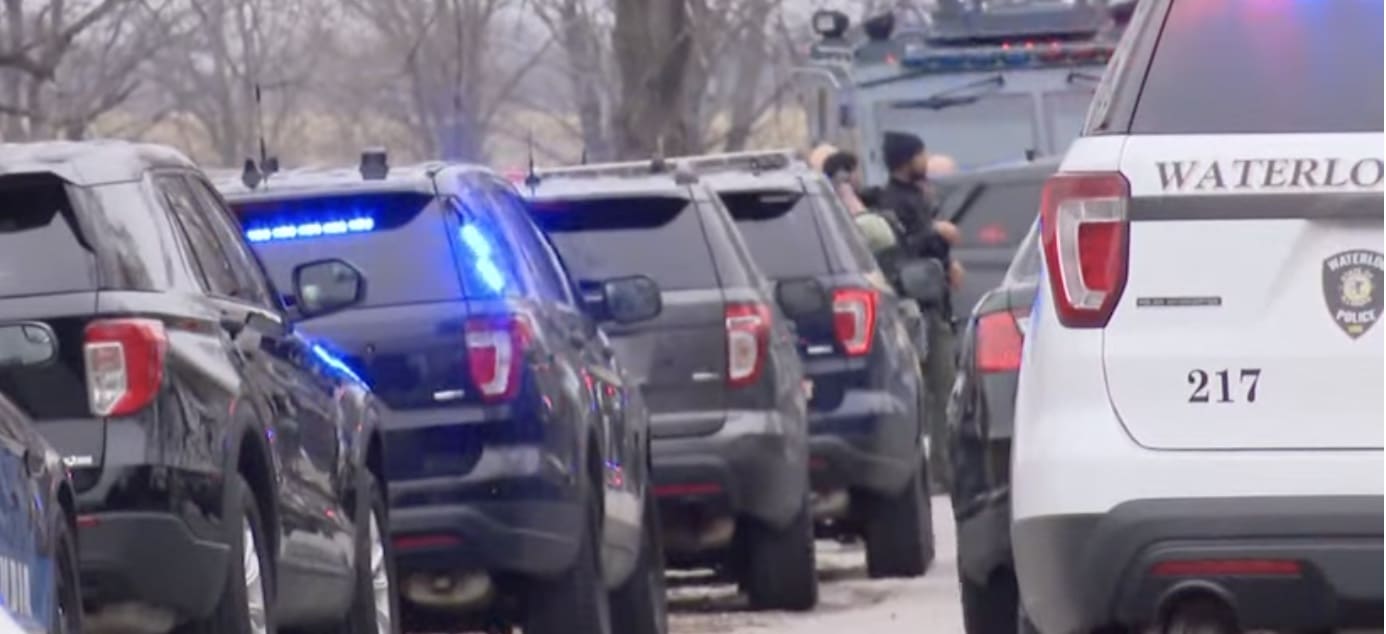 A heavy police presence descended upon a neighborhood in Dupo for an active shooter situation Sunday afternoon after a police officer was shot by a male suspect and another man was killed by gunfire.
An ensuing standoff of several hours ended late Sunday night when the suspect was found dead of a self-inflicted gunshot wound on his property.
Shortly before 1:30 p.m., an Illinois State Police Emergency Radio Network broadcast was issued to alert neighboring law enforcement agencies after a man armed with an AR-15 driving a Bobcat construction vehicle was reported to have shot a Dupo police officer after shooting another person at 457 McBride Avenue and then drove off in the officer's patrol vehicle.
The officer, a 49-year-old law enforcement veteran, was rushed to an area hospital with gunshot wounds to his shoulder area.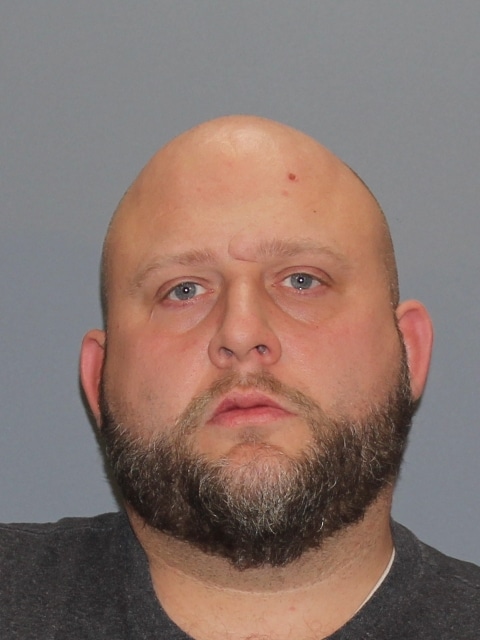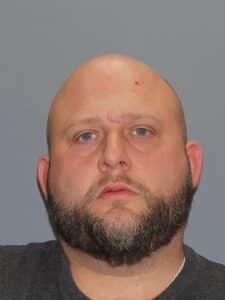 Police said Monday the officer is out of surgery and in recovery. The injured officer, identified by a village official as Patrick Carrier, is a 12-year police veteran, having served in Cahokia Heights and East Roxana prior to his time in Dupo. Police said Carrier faces future surgeries and rehabilitation.
The other person was located deceased at the scene. Police identified the victim as 46-year-old Darryl T. Mantz. He was shot multiple times, police said.
The suspect in the shootings, 40-year-old Reginald O. Allen of Dupo, had an extensive criminal history. He was charged with murder in the death of Mantz late Sunday, according to St. Clair County Circuit Court records.
A police perimeter was quickly established around Allen's residence, 769 McBride Avenue – located just east of I-255 in unincorporated St. Clair County – with officers keeping watch on his home with windows barricaded and multiple weapons believed to be inside. That area of North Dupo is backed up against the bluff and has a wooded area nearby.
An officer's unoccupied patrol vehicle was eventually discovered behind the residence in question.
Illinois State Police deployed the use of aerial drones in addition to providing a SWAT team on scene. There were also multiple K-9 units working the incident. In addition to police agencies from St. Clair and Madison counties, police vehicles from the Monroe County Sheriff's Department, Columbia Police Department, Waterloo Police Department and Valmeyer Police Department were observed at the scene.
Nearby residents were evacuated from their homes as a precaution.
ISP indicated the incident originated in the 400 block of McBride Avenue – located just west of I-255 – shortly before 1:20 p.m.
"A Dupo officer has been struck by gunfire and since transported to an area hospital with serious injuries. One deceased victim has been located at a nearby residence. The suspect is believed to be barricaded in another nearby residence. This is an active situation. Please avoid the area," ISP issued in an email reply Sunday afternoon to the Republic-Times following a request for information.
During a late Monday morning news conference at the St. Clair County Jail in Belleville, police said officers entered Allen's home about 10:30 p.m. and it was unoccupied. Officers then entered a detached garage on the property and found Allen deceased as a result of an apparent self-inflicted gunshot wound. An AR-15 was located next to his body.
Police said Mantz and Allen "knew each other," as they worked together in construction and home rehabilitations. As for motive in Sunday's shooting, officers said that is still being investigated.
"We're looking into whether it was money-related, drug-related, a female issue," St. Clair County Sheriff's Department Master Sgt. Brad Clossen said. "We're not sure, so we're looking into every aspect of it."
After shooting Mantz, Allen jumped on his Bobcat and rode along McBride Avenue toward his residence, per police. Witnesses reported the shooting and said Allen was armed with some sort of assault rifle.
Police said Allen abandoned his Bobcat shortly after shooting Mantz and started walking down McBride Avenue when the Dupo police officer arrived on scene.
The officer confronted Allen, police said, when Allen then shot the officer next to his patrol vehicle. With the officer's rifle still inside, Allen then drove the police vehicle to his home and parked it next to his garage at 769 McBride Avenue. The patrol vehicle was not immediately visible to responding officers.
Dupo Police Chief Dennis Plew talked about the daily dangers of law enforcement and also the strong support system in place for those wounded in the line of duty.
"It is a danger, and everybody that gets into this profession, they know that going into it," Plew said. "But you have no idea the family that you join when you join law enforcement. It is one enormous family."
Police said Mantz did not live at the residence on McBride Avenue where Sunday's initial shooting took place. The St. Clair County Sheriff's Department listed Mantz's official address as Belleville, but he had previously lived in and near Dupo and was known to frequent the McBride Avenue neighborhood.
"Let's remember in all of this that there are victims," St. Clair County Sheriff Rick Watson said during Monday's press briefing. "This was an excellent job of police work. Everyone came together."
As a convicted felon, police confirmed Allen should not have been in possession of any type of firearm. It was not known how he obtained the AR-15 used in Sunday's shootings.
Clossen said some of the questions police hope to answer as part of this ongoing investigation is a motive for the shooting of Mantz – which the master sergeant admitted "might be difficult now" – in addition to how Allen came into possession of the AR-15.
Allen made headlines several years ago regarding the 2009 death of 23-year-old Anthony Rice outside an East St. Louis topless club owned by Allen's family. Allen, a bouncer at the club, was accused of reckless homicide after driving over and killing Rice with his pickup truck.
Six years later, Allen pleaded guilty to a lesser charge of mob action and was sentenced by Judge Jan Fiss to just one year in prison.
He was also charged with severely beating a stripper at Miss Kitty's strip club in Washington Park, which is owned by his mother Gail Allen.
Prior to these incidents, Allen had several other police run-ins related to battery, drugs and possession of weapons.
However, the St. Clair County State's Attorney's Office said Allen was not on probation or any sort of court-ordered supervision for prior criminal behavior at the time of Sunday's incident.
"As far as I know, he was not recently released from prison," Clossen added during Monday's press briefing. "He did not have anything pending in St. Clair County recently."
In fact, due to it being several years since his most serious of charges, Allen would still have been free even if sentenced to the maximum prison terms issued at that time.
The Dupo Police Department thanked everyone for "all the prayers and support our department has received over the past few days" in a Facebook post Wednesday morning. "The outpouring of care and concern has been overwhelming."
The police department added that an account for Officer Carrier has been set up at First National Bank of Waterloo, 107 N. 2nd Street, Dupo, for anyone who wishes to donate toward his recovery.
(with additional reporting from Andrew Unverferth)