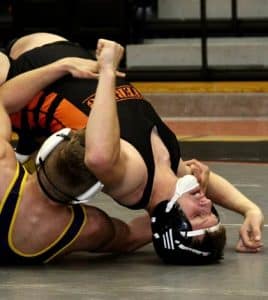 Dalton Viglasky accomplished something this season no other sophomore wrestler had before at Waterloo High School, advancing to the IHSA state meet this past weekend.
And although his state trip ended sooner than desired, Viglasky aims to build off the experience and improve for next year.
"It was an amazing experience and taught me a lot," Viglasky told the Republic-Times.  "Seeing all the great wrestlers really motivated me to get to where they are and make my way toward the top."
Viglasky didn't have an easy bracket at state. He lost to the eventual second place winner, Blaize Punke of Washington, and fell to the state third place winner, Tyler Demo of Belvidere North, in his two matches.
The sophomore grappler placed fourth in the 138-pound division at the Class 2A Mascoutah Sectional on Feb. 11 to advance to the state meet.
In doing so, Viglasky became the fourth wrestler in WHS history — and first sophomore — to advance to state competition, joining Pat Bieber and Paul and Austin Stewart in an exclusive club.
Bieber made it to state as a junior; both Stewarts advanced as seniors.
Waterloo head wrestling coach Pat Stewart and Monroe County Bulldogs youth wrestling coach Paul Viglasky now have two sons each who have wrestled at state.
Paul's oldest son, Dylon Viglasky, placed fifth in the state during his senior season at Belleville West in 2011.
Dalton wrestled one year with the Monroe County Bulldogs as an eighth grader before  entering high school. He now helps coach the youth wrestlers with his father.
Viglasky ended the season with an overall record of 31-15.