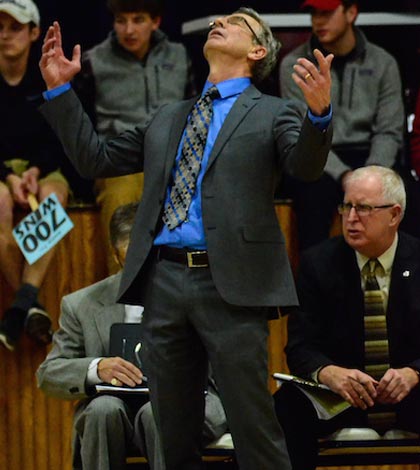 Legendary Gibault Catholic High School boys basketball coach Dennis Rueter won the 700th game of his illustrious career in a 41-26 home victory over Mascoutah on Friday night.
With a packed gym on hand for the historic event, Rueter was honored by fans, current and former players, and coaches following the milestone.
"(Coaching) has been great to me. I couldn't ask for anything better," Rueter said while addressing the crowd after the game. "There's nothing I'd rather do than what I'm doing right now. You know what? I'm hoping we can do this again at 800."
Rueter, 60, has served as head coach of the Hawks since 1980, coming in fresh out of college. He has won 14 regional titles, four sectional titles and led Gibault to a state runner-up finish in 1999. He now has 17 seasons of 20 or more wins.
Trevor Davis led the Hawks with 19 points and seven rebounds in the win, which also marked the team's 11th straight.
Gibault made it 12 straight victories on Saturday night, toppling Valmeyer at home on senior night, 81-46, to give Rueter win No. 701. Davis again led the way, scoring 18 points and pulling down 11 rebounds. Garrett Rueter added 16 points.
Gibault plays at Marquette on Tuesday night. For photos from Friday's win, click here.
Other local hoops action
Prior to Saturday's loss at Gibault, the Valmeyer Pirates had a ceremonial night of their own on Friday. The school honored its newest inductees into the VHS Athletic Hall of Fame before the game, which included Karla Steinmann Bivins, Michelle Hawkins Miller, Bob Mohr and Allyn Rohlfing. The 1959-60 baseball team was also inducted.
The Pirates defeated Dupo following the ceremony, 77-69. Dupo outscored the Pirates 31-14 in the fourth quarter to make a game of it. Michael Chism led the way with 30 points and 12 rebounds for Valmeyer (13-13).
Also on Friday night, Columbia (12-12) picked up a Cahokia Conference road victory at Carlyle, 61-51. Jordan Holmes scored a career high 31 points, pulled down six rebounds and added six steals in the win. The Eagles play at Wesclin on Tuesday.
Waterloo dropped to 9-17 on the season with a home loss to Highland on Friday, 55-47, followed by a 43-42 defeat at Mt. Vernon on Saturday. Ben Huels scored 15 points and grabbed 10 rebounds against Highland and turned in a 14-point, nine-rebound, six-steal effort to lead the 'Dogs against Mt. Vernon. Waterloo hosts Mascoutah this coming Friday.