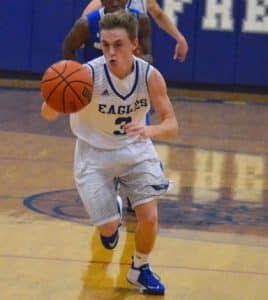 The Columbia, Gibault and Valmeyer high school boys basketball teams each posted home wins Friday night, while Waterloo dropped an overtime heartbreaker as regional play looms.
The Eagles improved to 13-13 on the season with a 65-53 victory over Freeburg. Jordan Holmes scored 20 points and pulled down 10 rebounds for Columbia. Jon Peterson added 11 points and 11 rebounds.
The Eagles led 17-8 after the first quarter and never looked back.
Last Tuesday, Columbia dropped a 52-50 heartbreaker at Wesclin. The Warriors used a 19-9 run in the fourth quarter to pull out the victory. Peterson led the way for the Eagles with 20 points. Holmes added 16 points.
Columbia hosted Highland on Tuesday and will be at Triad on Friday to close out the regular season.
Columbia opens Class 3A regional play against Jerseyville on Monday in Bethalto.
Holmes, a junior, is averaging 21 points and eight rebounds per game this season.
Peterson, a sophomore, is averaging 12.5 points and seven rebounds per game.
Gibault (21-7) had an easy time at home against Lovejoy, winning 63-32. The Hawks led 38-4 at halftime. Trevor Davis led the way once again with 19 points and 10 rebounds.
The Hawks had their 12-game winning streak snapped at Marquette last Tuesday night, however, falling 48-41.
The Hawks came back after a sluggish first half, even taking the lead for a short time in the fourth quarter. Garrett Rueter led the way with 19 points for Gibault.
Gibault could face Marquette (26-3) in the regional final at home this Friday night.
Gibault hosts a Class 2A regional and will play Red Bud on Wednesday.
Davis, a senior, is averaging 17.5 points and nearly 10 rebounds per game. Fellow senior Collin Kessler is averaging 12.7 points and seven rebounds per game.
Valmeyer (14-14) closed out its regular season with a 67-62 win over Marissa on Friday in a back-and-forth contest. Michael Chism scored 24 points and grabbed 10 rebounds for the Pirates. Owen Miller added 23 points for Valmeyer.
The Pirates ended their season with a 63-56 loss to Lovejoy in a Class 1A regional contest Monday at home. Chism scored 23 points and grabbed 10 rebounds. Owen Miller added 20 points and 10 rebounds.
The Pirates held a 45-44 lead entering the fourth quarter, but Lovejoy went on a 19-11 run to win the game.
Chism, a junior, averaged 20 points and 10 rebounds per game. Miller averaged 11 points per game.
Waterloo (9-18) lost to Mascoutah at home in overtime, 69-63. The Bulldogs trailed 27-18 at halftime, but a second half surge forced the game into extra time.
The loss marked Waterloo's fourth in a row.
Dylan Hunt scored 21 points to lead Waterloo. Eli Dodd added 15 points for the 'Dogs, who play at Jerseyville on Tuesday.
Waterloo closes out the regular season at home against Civic Memorial this Friday before opening Class 3A regional play against Freeburg at Mater Dei on Monday.
The Bulldogs have split two games with the Midgets this season, falling 42-41 at Freeburg on Dec. 6 and winning 50-33 at the Freeburg Holiday Tournament on Dec. 29.
Senior Ben Huels leads the Bulldogs with a 12.8 points per game average. Junior Ross Schrader is next at 12.3 points per game, followed by Hunt at nearly 12 points per game.
Dupo (6-21) closed out its regular season with a win last Wednesday, 85-51, over Wood River. Kelvin Swims scored a game-high 32 points in the victory.
The Tigers battled Sparta in regional play Monday night at Gibault, falling 70-62 to end their season. Swims poured in 30 points and Austin Francis added 15 points — including his 1,000th career point.