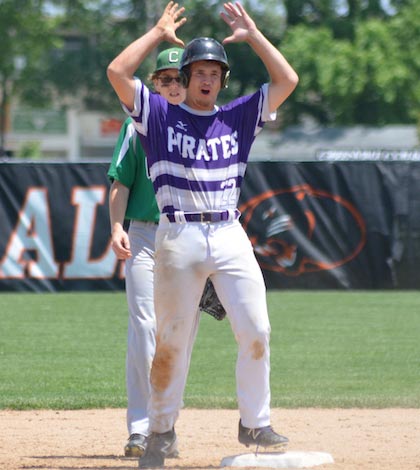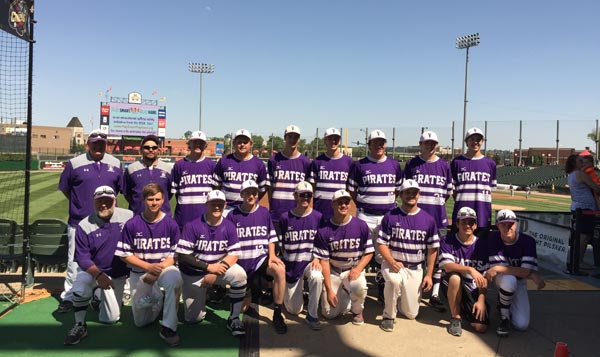 ---
The Valmeyer High School baseball team is just one win away from a state title after defeating Somonauk in the Class 1A state semifinal on Friday, 7-4.
The Pirates (28-9) will take on Peoria Heights (23-5) at 11:30 a.m. Saturday at Dozer Park in Peoria.
Trailing 2-1 with two outs in the bottom of the fourth, the Pirates capitalized on three straight infield errors by Somonauk. Philip Reinhardt had an RBI infield single and then junior catcher Tyler Kempfer blasted a two-run double to give Valmeyer a 4-2 lead.
"I knew at that point in time during the game it was a big moment, because if we score I knew momentum would shift our way. If we didn't, it would go their way," Kempfer told reporters after the game. "I just saw a good pitch to hit and tried to put a good swing on it and put ourselves on top."
The Pirates plated three more in the fifth to pull away, with a Drew Maus double and Cole Juelfs RBI single being the key hits.
Reinhardt, a freshman southpaw, mixed speeds to keep Somonauk hitters off balance all day en route to the complete game pitching victory. He struck out eight and issued only one walk while allowing just one earned run. He finishes the season with an ERA under 1.00.
"It was fun," Reinhardt said afterward. "I was just out there doing my thing. Stayed confident."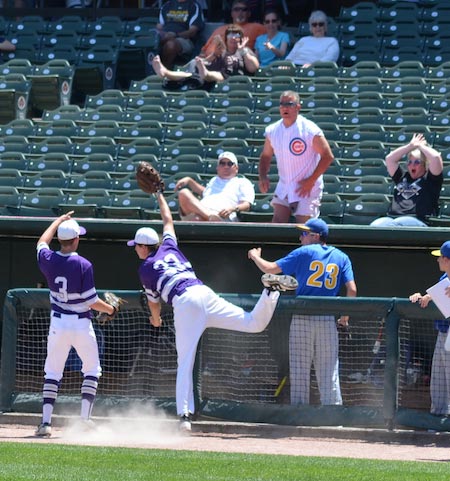 Reinhardt helped himself at the plate as well, going 2-for-4.
Each team committed five errors on what both teams described as a "speedy infield." The short grass allowed ground balls to get to the fielders quicker than they are used to.
Head coach Greg Reinhardt said his team is ready to go on Saturday. Senior Easton Wallace will get the ball to start, but it is "all hands on deck" with a state title on the line.
"I just want them to have fun. You know, the odds are you don't make it back here. It's just that tough," Greg Reinhardt said after Friday's game. "This is our shot, so let's make the best of it. I think we will."
While Saturday marks the first time in high school history that a Valmeyer sports team will be playing for a state title, several players on the 2017 squad were members of the 2013 and 2014 teams that won Southern Illinois Junior High School Athletic Association Class S baseball state titles.
"We've been chasing this for a long time, ever since we were 10-11 years old," Kempfer said. "I'm really excited. I plan to come out on top."