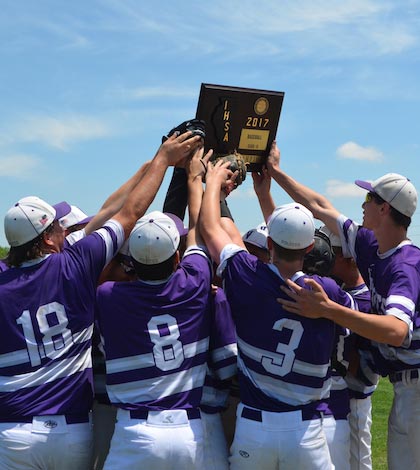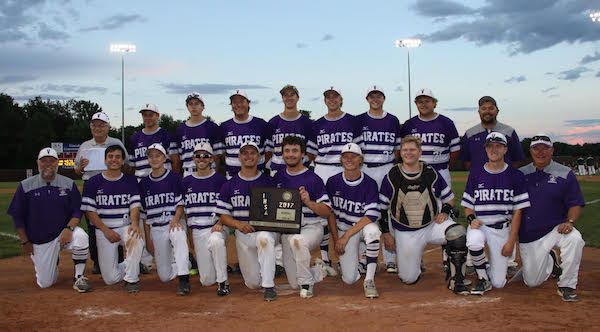 The Valmeyer High School baseball team advanced to its first-ever state tournament with a 16-9 victory over Abingdon-Avon in the Class 1A Springfield Supersectional at Lincoln Land Community College on Tuesday night.
"It feels very special," Valmeyer head coach Greg Reinhardt said. "It's been a community effort. A lot of people have helped us get to this point."
The Pirates stormed out to a 4-0 lead in the first inning Tuesday night, only to watch Abingdon tie it up in the bottom of the frame.
Abingdon went ahead, 6-4, in the second inning, causing the Valmeyer coaching staff to settle down the players.
"We didn't look like ourselves out there," Reinhardt said. "The stage kind of got to them early. We re-grouped, told them to just play the game of baseball like when they were kids."
The Pirates responded with a seven-run third inning, capitalizing on some free passes and a couple of key hits. Riley McCarthy came through with a clutch two-RBI single.
But Abingdon battled back again, and the Valmeyer lead was just 12-9 late.
With the Pirates pitching staff scrambling to find consistency on this night, senior Easton Wallace stepped up. Wallace, the team's leading hitter, had not been used much on the mound this spring.
"He wanted the ball. He's a senior," Reinhardt said.
Wallace threw three innings of one-hit ball to pick up the win in relief. Ultimately, a four-run seventh gave the Pirates the breathing room they needed at the end. Easton's twin brother, Erik Wallace, provided a key pinch-hit, two-RBI single in the inning.
Easton Wallace was mobbed by teammates at the mound after recording the final out to advance to state.
"Easton just shut the door," Reinhardt said. "He's been our leader all season. His arm looked strong."
Philip Reinhardt went 3-for-3 with three runs scored to pace the offense.
Valmeyer (27-9) will face Somonauk (24-1) in the IHSA Class 1A state semifinal at Dozer Park in Peoria on Friday at noon.
"They're solid," Greg Reinhardt said of Friday's state opponent. "We'll have a good shot, though."
Philip Reinhardt will start Friday for the Pirates. The freshman southpaw is 8-1 with a 0.94 ERA this season.
With a win, the Pirates would play for the state title at noon on Saturday against either Goreville or Peoria Heights.