Judge chooses life imprisonment over death penalty
Into the evening hours on the second anniversary of Sheri, Garett and Gavin's deaths, a Perry County jury of 10 women and two men reached a guilty verdict on three counts of murder against husband and father Chris Coleman Thursday, May 5, 2011, at the Monroe County Courthouse in Waterloo.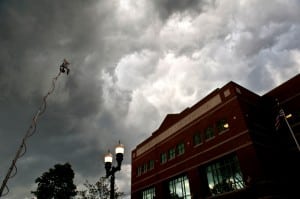 After the jury ruled Coleman, 34, eligible to receive the death penalty on Friday at the prosecution's request, the convicted triple-murderer opted to waive a jury decision at sentencing and put his fate squarely into Judge Milton Wharton's hands on Monday.
The argument of life imprisonment or death was probably a moot point, given the fact Illinois Gov. Pat Quinn earlier this year signed a bill abolishing capital punishment effective July 1. Gov. Quinn has also said he intends to commute any death sentences imposed prior to that date to life in prison.
Judge Wharton heard arguments from attorneys on both sides Monday morning, and following a lunch recess ordered Coleman to serve three concurrent life sentences for the May 5, 2009 strangulation murders of his wife and two sons in their Columbia home.
Wharton said the "horrible nature of the crime cannot be diminished," adding the victims were killed in "a place of safety," their own beds.
"A sentence of death may be expedient from the standpoint of the court," Wharton ruled. "But I also believe it would compound the tragedy that the family already has experienced, and would make me engage in a symbolic sentence of death."
The judge called Coleman to the bench to impose the life sentence, after which sheriff's deputies escorted him from the courtroom back to jail.
Monroe County Sheriff Dan Kelley told the Republic-Times that Coleman was transported to Graham Correctional Center in Hillsboro on Tuesday morning, where he will stay until the Illinois Department of Corrections determines a permanent place of residence.
Meanwhile, Coleman defense attorney Bill Margulis said his client plans to appeal the verdict, perhaps as soon as next week.
The verdict
The jury had been deliberating since just after 3 p.m. last Wednesday, following seven days of testimony for the prosecution and just two witnesses called by the defense.
Jurors asked multiple questions of the court throughout the deliberation process, sources said, including the definition of "reasonable doubt" and a request to view the basement window Coleman claimed was the point of entry for a mystery intruder.
One juror, Kimberly Ferrari, later told the Pinckneyville Press from the confines of her Perry County home that the jury was deadlocked in the early hours of deliberation due to a lack of physical evidence presented in the case.
"It was like a piece was missing," she said.
This juror said the turning point in deliberations was when they noticed some of the dates listed on romantic and sexually explicit photographs shared between Coleman and his Florida mistress, Tara Lintz, indicated they had been taken in October 2008 — at least a month or more before Lintz had testified the affair started.
Ferrari said this caused jurors to lose all trust in the defense, and the tide turned toward a unanimous guilty verdict.
After 15 hours of deliberating, it was announced about 7:10 p.m. Thursday a verdict had been reached.
Before the verdict was read 30 minutes later, Judge Wharton cautioned the packed courtroom to refrain from showing emotion.
In a quiet courtroom punctuated by muffled sobs, the jury foreperson read, "We the jury find the defendant guilty of the first-degree murder of Sheri Coleman. We the jury find the defendant guilty of the first-degree murder of Garett Coleman. We the jury find the defendant guilty of the first-degree murder of Gavin Coleman."
Chris Coleman bowed his head and took several deep breaths as the verdict was read.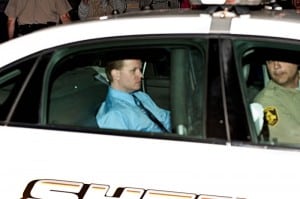 His family, including his parents, two brothers and their spouses, showed little emotion.
Members of Sheri Coleman's family embraced outside the courtroom as media and onlookers were immediately ushered from the courthouse to allow her family privacy, Monroe County Sheriff's Department deputies said.
Many people gathered outside the Market Street entrance to the courthouse in anticipation of the long-awaited verdict, erupting into cheers when it was announced.
These cheers became almost deafening when a police car escorted Coleman back to jail a short time later.
Closing arguments
Last Wednesday afternoon, closing arguments capped off a murder trial that captivated the entire St. Louis area.
And prosecutor Kris Reitz, Monroe County State's Attorney, and Coleman defense attorney Jim Stern didn't disappoint, both making impactful arguments for their respective side.
Stern cautioned the jury that the state's case is "entirely circumstantial" against his client, and "there's no direct evidence that Chris Coleman committed these crimes."
He painted Coleman neighbor and then-Columbia police detective Justin Barlow as an aggressive cop who was tied too intimately to the case. During the six-hour interrogation video shown at trial, police "were not treating (Coleman) as a victim. They had made up their minds," Stern said.
Stern said there were too many holes remaining in the prosecution's case and reminded jurors that any question left unanswered in their minds will remain with them forever.
"You can't undo your decision," Stern said.
Columbia Police Chief Joe Edwards in a post-trial press conference.
In his closing, Reitz pointed to Coleman's motive and opportunity to commit murder.
He said Coleman had an "unlikely, incredible dream job" with Joyce Meyer Ministries that he didn't want to lose, and an ongoing affair with a Florida woman with whom he promised to marry after serving divorce papers to his wife on May 5.
But, "there was no (divorce)lawyer, there were no divorce papers," Reitz said.
Reitz said Dr. Michael Baden was his star witness, an expert forensic pathologist who looked at the evidence provided and said the victims were dead well before 5 a.m. that day, and "it wasn't even close."
All DNA recovered from the scene returns to a member of the Coleman household, Reitz added, and the defendant's actions before and after the crimes are highly suspicious.
For instance, he worked out the night before at a Waterloo gym, then woke up early the next morning to work out again at a South County gym.
He and his mistress were planning a cruise in June of that year, and he canceled a family trip to Disneyworld to accommodate it, Reitz told jurors.
Video testimony from Joyce Meyer, Coleman's former employer, indicated Coleman would have probably lost his job if it was learned he was having an affair.
"No one else in the world had a motive like that," Reitz said.
The email and letter threats could be traced to Coleman's own computer, experts testified.
Coleman purchased the exact brand and color of spray paint weeks before the murders in a "sad attempt" to link these threats and obscenity-laced messages on the walls — and even the bed next to his youngest son's body.
Reitz ended his closing remarks by taking the jury back to the early morning hours of May 5, 2009, inside the Coleman family home on Robert Drive in Columbia.
As young brothers Gavin and Garett lay asleep in their beds, "they didn't get up, they didn't scream," when the killer went up to them in their rooms.
"Of course not, why would they?" Reitz asked rhetorically. "It's just dad."
Death penalty eligibility
On Friday, the same jury who spent 15 hours mulling Coleman's guilt or innocence needed only about 20 minutes to decide he was eligible for the death penalty.
For prosecutors, their arguments focused on the three murder victims.
"They deserved a lot more years on this earth than they experienced," special prosecutor Ed Parkinson told the jury during Friday's death penalty eligibility hearing.
The three eligibility factors to be considered were:
That the defendant killed two or more people; killed children under 12 years of age in a brutal or heinous manner; and that the murders were "cold, calculated and premeditated."
The jury came back unanimous on all three.
Parkinson was blunt in his remarks, saying that when the family went to bed in their Columbia home that night, there "were four hearts beating." Pointing to Coleman seated across the room, Parkinson added, "The only one left is his."
Defense attorney O'Gara softly said to jurors that their verdict from the night before "achieves justice" already, meaning life imprisonment is where this case should end.
He added that they no longer need to be unanimous in their decisions as part of the death penalty phase.
Parkinson countered that Coleman "thought he could get away with" this horrible crime, plotting it out months beforehand. But, "he caught himself."
Parkinson also apologized to the jury that prosecutors had to show graphic photos in court of the deceased victims strangled in their beds.
He said it was meant to show the viciousness and magnitude of the crime.
"How could anybody do that," Parkinson asked the jury. "But he did."
Sentencing
Convicted triple-murderer Christopher Coleman waived his right to have the jury decide his fate on Monday, after which Judge Wharton ruled he will serve life in prison without the possibility of parole.
In his brief argument on Monday, prosecutor Reitz told the judge the jury's decision on Friday ruling Coleman eligible for death "deserves to be heard" by ruling in favor of a death sentence.
"He felt them die, your honor," Reitz said. "If not the death penalty for this defendant, then who?"
A devout Catholic and longtime proponent of a state death penalty ban, Coleman defense attorney John O'Gara said "he never thought he'd see the day" when Illinois would abolish capital punishment.
In passionate remarks made to the judge with jurors observing as mere spectators, O'Gara said he's never understood violence, and never will.
"I've never believed the answer to death is death," he said, adding, "The jury's verdict in this case is a death sentence. He will die in prison."
O'Gara admitted it's probably the will of the general public that his client receives the death penalty.
"Can there be a man more hated right now than this man?" O'Gara asked, pointing over to Coleman.
"(Death) would be a popular gut reaction," he said. "But what's popular is not always right."
In closing, the attorney then asked Judge Wharton to have mercy on Coleman.
"Mercy is not weakness, but strength," O'Gara said.
Wrongful death lawsuit
The family of Sheri Coleman re-filed a civil lawsuit for wrongful death last Wednesday afternoon, naming both Chris Coleman and Joyce Meyer Ministries as defendants.
"If we can save one person from being abused, that would make us just feel wonderful," Sheri's mother, Angela DeCicco said during a brief press conference announcing the suit that afternoon while jurors deliberated in the case. "That is our goal."
DeCicco said she had last spoken with the three victims on April 30, 2009, for Garett's birthday.
The family seeks a sum in excess of $50,000 on each of 11 counts.
Asked why the family decided to add Joyce Meyer Ministries as a co-defendant, attorney Antonio Romanucci said the ministry should have done more to prevent the killings, such as monitoring their former employee's computer habits to uncover the source of threats traced back to Coleman's own computer.
He also said the ministry should have advised Sheri Coleman of these threats and that police should have been notified.
"Instead, they did nothing," Romanucci said.
Asked if money was a factor in naming the ministry, Romanucci answered, "She (Joyce Meyer) has money, right? There's no question that's part of the reason."