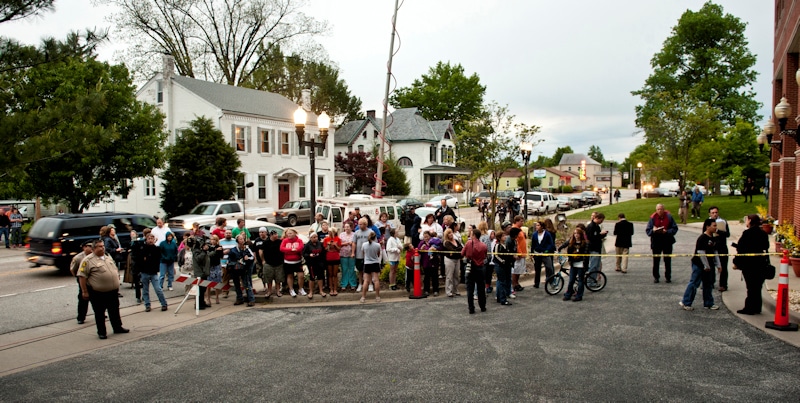 By COREY SAATHOFF with ANDREA DEGENHART and MARK HODAPP
For the Republic-Times
Columbia Police Chief Joe Edwards called it "the longest wait of my life."
But his reaction to Thursday night's guilty verdict in the Chris Coleman murder trial echoed the sentiments of all law enforcement personnel who worked the case over the past two years.
"You can't say much more than those three words "guilty, guilty, guilty," said Jeff Connor of the Granite City Police Department, who assisted Columbia police with the investigation as head of the Major Case Squad.
Chief Edwards said a day hadn't gone by since May 5, 2009, that his department stopped investigating this case.
"Every lead we received came back to one person," Edwards said immediately after the verdict. "And that person was found guilty tonight."
For the family of Sheri Coleman, the fact the verdict was handed down on the two-year anniversary of her murder was a small consolation.
"Today is the worst day of the year," said Sheri's brother, Mario DeCicco, while addressing the media outside the Monroe County Courthouse. "Maybe (the verdict) makes it a little bit easier. And maybe it will be even a little easier next year."
To DeCicco and the rest of Sheri, Garett and Gavin's family, the timing of the verdict is less important than the message it sends out.
"We know the truth, the world knows the truth," he said. "I had faith the whole time. The truth is told and justice is served," he said.
DeCicco thanked former Columbia police detective Justin Barlow, current CPD detective Karla Heine, Chief Edwards, the Major Case Squad and Monroe County State's Attorney Kris Reitz for their tireless efforts on the case.
"I didn't realize how many people were working this hard on this case for the past two years," DeCicco said. "They've put their hearts and souls into finding the truth."
Ed Parkinson, who assisted Reitz in prosecuting this high-profile case, said the verdict was "justice, for sure."
As for it coming on the two-year anniversary of the murders, Parkinson said, "maybe Sheri had something to do with that."
Avoiding the circus-like atmosphere outside the courthouse following the verdict, Reitz slipped away from the limelight to be with his father, retired Monroe County Circuit Clerk Aaron Reitz, and immediate family at nearby JV's Downtown Bar & Grill for pizza and beer.
Monroe County State's Attourney Kris Reitz and his father, retired Circuit Clerk, Aaron Reitz at JV's Dowtown Bar & Grill after the Coleman trial.
Kris Reitz gave no official comment on his reaction to the verdict, but he was obviously pleased.
And so was his dad.
"I didn't miss a minute of it," Aaron Reitz said of the proceedings. "I'm so proud of him."
Speaking to reporters on Monday after Judge Milton Wharton sentenced Coleman to life in prison, defense attorney Bill Margulis said his client was upset with the verdict and plans to appeal.
Margulis said the case "was about as tough as they come" for him to work on, and that the jury "obviously put a lot of thought and time into" their verdict.
Asked if the judge's decision of life in prison over the death penalty was in some way a small victory, fellow Coleman defense attorney John O'Gara disagreed.
"There are no small victories," he said. "All there is, is tragedy."
Asked about the large crowd who gathered near the courthouse sallyport and cheered loudly upon his trip back to jail, O'Gara said he'd never witnessed anything like it.
"I've never seen a crowd of people applaud somebody who's just been convicted of murder," he said.
Chris Coleman's parents, the Rev. Ronald and Connie Coleman of Chester, declined comment following the verdict.
Coleman's brother, Brad Coleman, told the St. Louis Post-Dispatch on behalf of his family that "in our eyes, Chris is still innocent."
For local residents, the two-week trial and swarm of media attention drew them to the courthouse.
"It's the craziest thing I have seen," Waterloo resident Dottie Schillinger said from her view across the street at Outsider's tavern last Wednesday.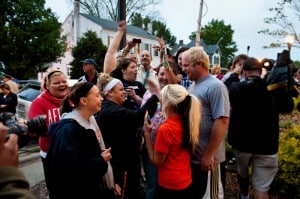 "I can't imagine this happening here," she added. "I don't know how anybody can do this to their boys."
Fellow Waterloo resident Allen Felix went to the courthouse last week at the urging of his daughter in Arizona, taking pictures of reporters and the police car transporting Coleman.
"It's a calm scene," he said. "I thought it would be a lot more chaotic."
Standing outside the courthouse as part of a National Prayer Day gathering Thursday evening, Ralph Axe of First Baptist Church in Columbia said he is praying for both families affected by this tragedy.
"It's hard for those families to ever have peace again," Axe said. "It's not going to be a quick fix and happen overnight. But God will carry them through this, as hard as it seems."