Girls tracksters go stride for stride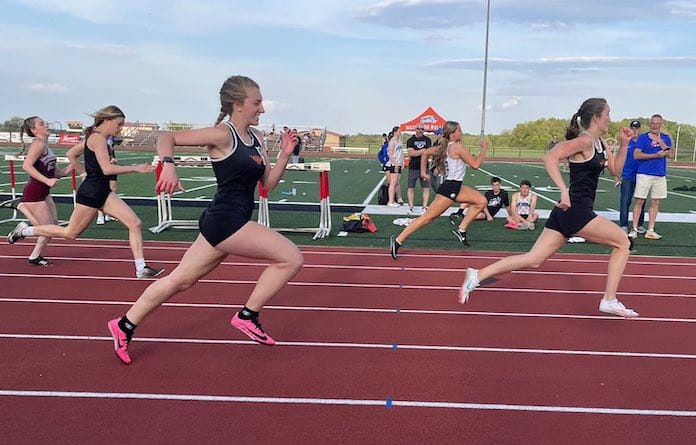 The high school girls track season enters its stretch run with sectional meets taking place this week.
Columbia and Waterloo compete in the Mascoutah Sectional on Thursday with athletes from 15 other area schools.
Dupo and Gibault compete in the Chester Sectional on Thursday with athletes from 19 other schools.
Waterloo competed in the Mississippi Valley Conference Championships on Thursday, with several of its athletes placing strong.
First place conference championship medals went to Kristin Smith in the 400 meter dash and Molly Grohmann in both the high jump and 300 meter hurdles
In addition, Grohmann posted a come-from-behind win in her anchor leg of Waterloo's 4×400 meter relay with Calla Espenschied, Smith and Ella Brown.
Second place medals went to Cameron Crump in the 1,600 meter run, Angelynn Kanyuck in the 3,200 meter run, and Summer Wilson in the 100 meter hurdles.
Third place medals went to Waterloo's 4×800 meter relay team of Espenschied, Ava Rau, Norah Kettler and Crump, the 4×100 meter relay team of Marie Starek, London Barringer, Morgan Springer and Ellie Zweigart, plus Danielle Mudd in the 3200 meter run.
"I'm very pleased with how everyone competed," Waterloo girls track coach Larry Huffman said. "There were a lot of personal best performances."
The Cahokia Conference Championships took place last Wednesday at Breese Central, with athletes competing in the Mississippi, St. Louis and Kaskaskia divisions.
Columbia's Abby Venhaus added more pieces of hardware to her already large trophy case, winning the 100 meter dash (12.65 seconds), 200 meter run (26.02 seconds), long jump (16 feet, 11.5 inches) and triple jump (36 feet, 1.5 inches) in the large-school Mississippi Division.
In the small-school Kaskaskia Division, Dupo won its third straight team title.
The Tigers were led by first-place medalists Adrienne Latimer (100 meter dash and high jump), Ava Thompson (200 meter run), and Tamoni Jordan (long jump and triple jump).
Kaylyn Woods placed second in both the long jump and triple jump.
All of these tracksters and more have hopes of qualifying for the IHSA state meet set for May 18-20 at Eastern Illinois University in Charleston.