Regional time for girls soccer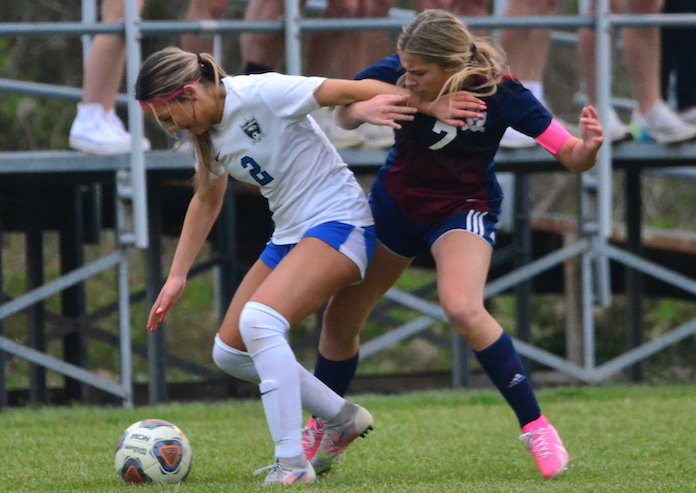 Survive and advance is the name of the game for local high school girls soccer teams as regionals begin.
Columbia (13-6-2) opened Class 1A Freeburg Regional play Tuesday against DuQuoin, the result of which was not known at press time. With a win, the Eagles would face the winner of Freeburg vs. Pinckneyville in the regional final set for 5 p.m. Friday.
The winner of the Freeburg Regional advances to the Columbia Sectional at 7 p.m. Tuesday.
The Eagles lost to Freeburg for the first time ever, 3-2, in overtime last Wednesday night. The win gave the Midgets their first conference title in the sport.
Taylor Martin and Reese Woelfel scored goals for Columbia.
Last Tuesday, the Eagles won 13-0 over Salem. Maddie Mauch netted a hat trick with an assist. Alexa Maulding added a goal and three assists. Martin and Woelfel both scored two goals each.
Mauch leads the Eagles in scoring this season with 26 goals and 18 assists, followed by Martin with 13 goals and nine assists and Woelfel with 14 goals and six assists.
Also in Class 1A, Gibault (8-10-1) opens Murphysboro Regional play Wednesday night against Metropolis. With a victory, the Hawks would play either Murphysboro or Mt. Carmel at 10 a.m. Saturday for the regional title.
On Thursday, Gibault posted a 2-0 win at Breese Central. Emily Richardson and Aubry Thomas each scored for the victors.
Last Wednesday, the Hawks won 3-2 over Father McGivney. The match was tied 2-2 at halftime. Richardson and Thomas both scored goals, with Sydney Wahle netting the other goal.
Richardson leads the Hawks in scoring this season with 14 goals and five assists, followed by Wahle at seven goals and four assists.
In Class 2A, Waterloo still has a couple of regular season matches before regional play.
The Bulldogs (12-4-2) won 10-0 over Highland on Thursday. Liv Colson finished with two goals and two assists, with Megan Young adding a goal and three assists.
Last Tuesday, Waterloo lost 2-1 in penalty kicks to Mascoutah. Grace Pohl scored the goal on an assists from Rachel Bradley.
The Bulldogs played Tuesday at Civic Memorial and hosts Mt. Vernon on Wednesday before competing Tuesday in the Richland County Regional this coming Tuesday against Olney.
Megan Jung leads Waterloo in scoring this season at 10 goals and nine assists. Pohl has five goals and 12 assists.