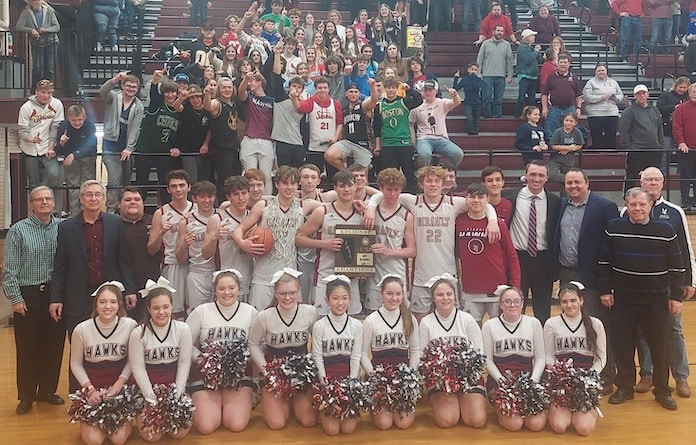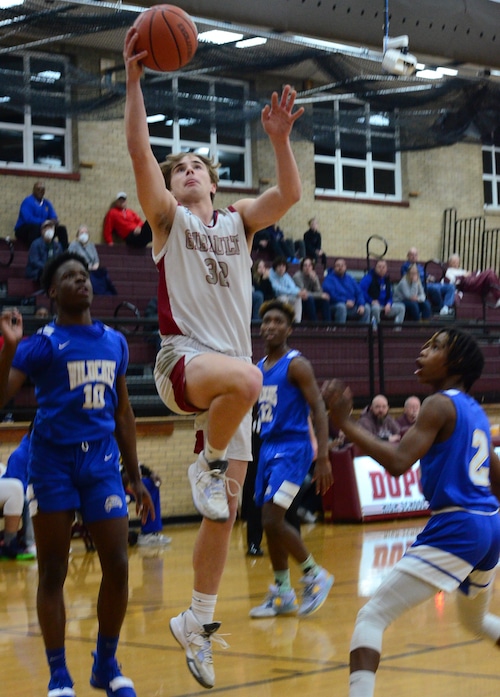 The Gibault Catholic High School boys basketball squad won its second straight regional championship Friday night, 71-57 over Lovejoy in an IHSA Class 1A contest at Dupo.
The Hawks (28-7) led 31-18 at halftime and upped their lead to 17 points before Lovejoy mounted a late comeback.
Lovejoy – with only seven total players dressed for the game – cut Gibault's lead to nine points with three minutes remaining in regulation.
Both teams were assessed technical fouls late as the competition became physical down the stretch. Lovejoy cut Gibault's lead to five points before the Hawks ultimately pulled away.
Gavin Kesler led Gibault with 25 points and Hawks senior Kaden Augustine poured in 20 points.
The win marked longtime Gibault head coach Dennis Rueter's 16th career regional title.
"This team finds ways to win," Rueter said. "(We) didn't play well but scored enough to hang on."
Rueter said starting point guard Kanen Augustine was out for Friday's game, forcing senior starter Kameron Hanvey to switch to that position.
"We don't rely on one player," Rueter said. "(We) get contributions from a number of people. Kameron had to take on point duties and he did a pretty good job."
The Hawks advanced to the Hardin Calhoun Sectional on Tuesday night, where it faced Payson Seymour. Gibault won 66-59 behind 24 points from Kaden.
One common opponent for these two teams this season was Jackson Routt. Payson Seymour lost 76-70 to Routt on Jan 9. Gibault lost 50-41 at Routt on Dec. 3.
Tuesday's win put the Hawks in the sectional final set for 7 p.m. Friday for a berth in Monday's supersectional at Jacksonville.
Last Wednesday, Gibault posted a 67-43 win over Father McGivney to advance in regional play.
Kesler, a 6-foot-3 junior, again led the way with a career-high 27 points. Hudson Blank added 19 points and Kaden scored 17.
For the season, Kaden leads the team in scoring at nearly 17 points per game and is shooting nearly 43 percent from three-point range.
Kesler is averaging 15.4 points and 6.5 rebounds per contest.
Hanvey, known mostly for his solid defensive play, is averaging 9.5 points and 2.3 steals per game on the season.
Blank, who missed more than a month of action before returning Jan. 28, has been a solid contributor on both offense and defense of late.
To see photos from Friday's game, which are available for purchase as prints or digital downloads, click here.