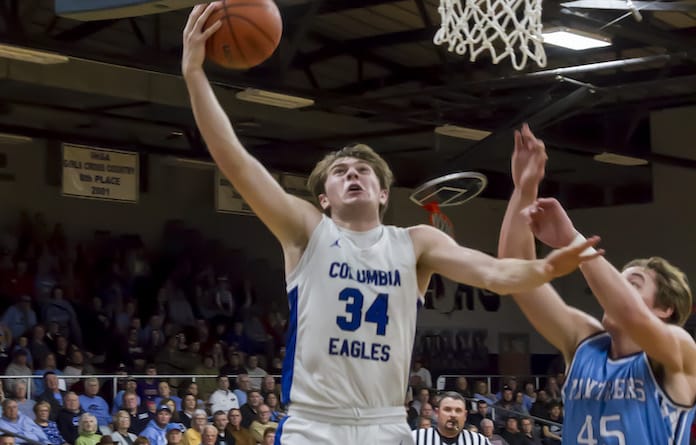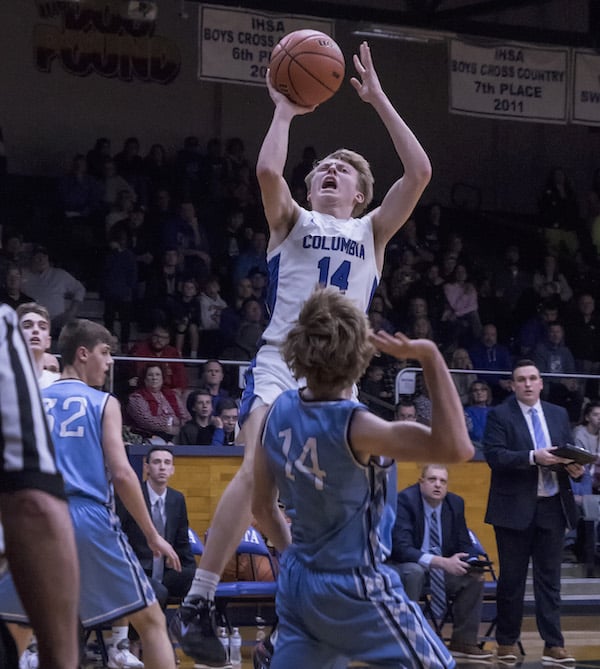 Playing before a packed gym Friday night in Sparta, Columbia and Pinckneyville battled for a Class 2A regional championship.
The Eagles got behind early and fought back late before ultimately falling to the Panthers, 48-45.
Columbia (28-5) trailed 16-6 after the first quarter and was down 36-25 entering the fourth quarter.
An 8-0 run by the Eagles trimmed Pinckneyville's lead to just 39-37 with 2:48 remaining in regulation. Columbia again cut the lead to two at 45-43 with just 24 seconds remaining.
But the Panthers hit crucial free throws late to capture the victory.
Columbia seniors Dylan Murphy and Jack Steckler led the way in their final games, scoring 17 and 12 points, respectively. As a team, the Eagles shot just 2-for-13 from three-point range.
"It was definitely a tough way to go out," Columbia head coach Mark Sandstrom said. "We got off to a slow start, but fought all the way back to have an opportunity to tie the game twice. Unfortunately, it did not work out and our fabulous season ended."
The Eagles were called for 22 fouls on the night compared to 14 for the Panthers. Two Columbia players fouled out of the contest.
In a Saturday evening post on Twitter, Sandstrom called out the officiating crew stemming from actions during last Wednesday's regional semifinal win. The same crew officiated Friday's contest.
"Do I question what happened during (Friday's) game? Absolutely. Did I have reservations before the game? Absolutely," Sandstrom told the Republic-Times. "It's just very unfortunate what transpired during our games on Wednesday and on Friday. I have never encountered anything like it during my coaching career."
Pinckneyville is coached by former Columbia head coach Bob Waggoner.
Last Wednesday, Columbia opened regional play against a sizzling hot Red Bud team.
Despite Red Bud making it close with a 23-16 run in the fourth quarter, the Eagles won 59-50.
Murphy led the way with 19 points and 13 rebounds for Columbia. Steckler scored 18 and Sam Donald added 13 points, nine rebounds and six assists.
In regard to the season as a whole, Sandstrom was extremely proud of his team.
"We won 28 games and three tournaments with two seniors and a bunch of underclassmen. That's really tough to do and it shows how much our kids prepared for each opponent and their overall work ethic," Sandstrom said. "I'm extremely appreciative of our two seniors Dylan Murphy and Jack Steckler, who showed outstanding leadership and competitive fire throughout the year. They led our young team to a number one state ranking and 17 wins in a row at one point during the season. They will be missed."
Murphy, who will play at NCAA Division II St. Leo University in Florida next season, averaged 18 points per game this season.
Steckler, who also stars in soccer and baseball, averaged 13 points per contest.
Sandstrom said he was also impressed by his team's chemistry this season.
"There was no drama. The kids bought into their roles. The kids just wanted to win and have fun. They definitely achieved that," he said.
Looking to the future, key returning players include Donald, a 6-foot-8 sophomore (12.6 points, 7.3 rebounds, 4.6 assists and 1.5 blocks per game), and 6-foot-5 freshman Brody Landgraf (seven points, 4.3 rebounds per game).
"I'm excited about our future," Sandstrom said. "We will have a ton of experience coming back for the next two seasons. It's going to be fun."