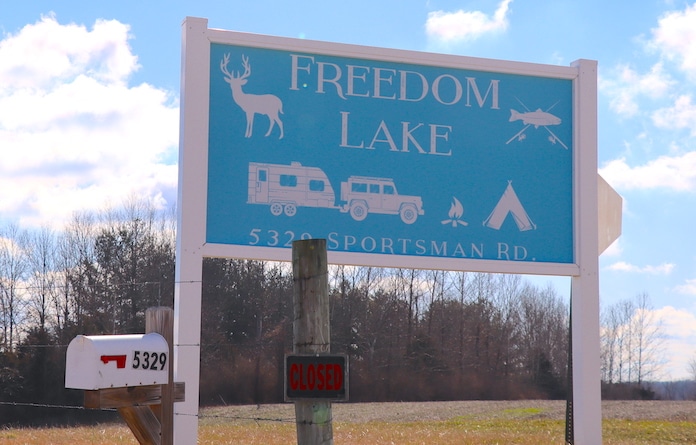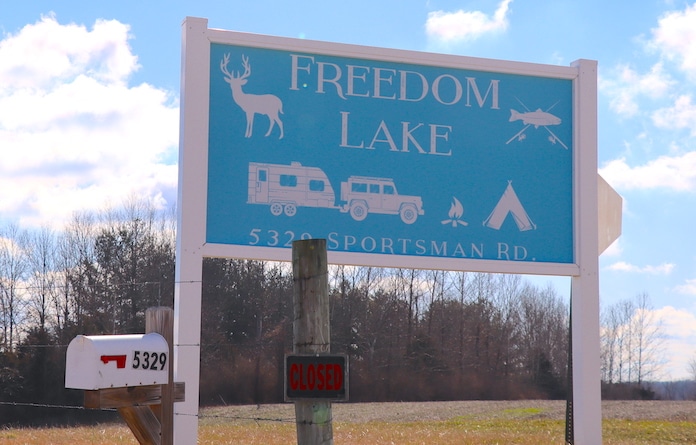 The Monroe County Zoning Board of Appeals met recently to address several projects as well as two matters of apparent non-compliance with previously granted special use exceptions.
One of these compliance reviews concerned Frances Gruber, who operates the Freedom Lake campground at 5329 Sportsman Road near Waterloo Sportsman's Club.
As discussed at the meeting, the campground has been serving as a permanent residence for several individuals in recent years. Concerns were expressed because of the lack of property tax collected from these residences as well as a high volume of police and emergency service calls made to the property.
Monroe County Zoning Administrator Chris Voelker said Gruber was previously granted a special use exception to operate a travel trailer park, which he defined as "a track or land or two or more continuous parcels on which facilities are developed for accommodating travel trailers for temporary occupancy during one or more seasons of the year."
Voelker also offered the definition of a travel trailer as "any mobile structure built on a chassis and designed for temporary occupancy" which may or may not have full sanitary services.
Gruber offered his perspective on the Freedom Lake situation by explaining he originally applied for a permit to operate the fishing lake but later had to acquire a permit to operate the space for campers that stayed around the property.
According to Gruber, Freedom Lake began to develop into its current state as he allowed a number of poor individuals to stay on the property, starting with a now deceased veteran who suffered from alcoholism.
"I know where the problem's coming up, because I had some VA veterans stay out there because I felt they didn't have two nickels to rub together," Gruber said. "They stayed one week, two weeks… first thing you know, I moved them into some campers I had out there because he had no other place to go. Guy was a drunk, but he was a veteran. So I took him in. Cost me a lot of money, but I still took him in."
The overall quality of the grounds were discussed among Gruber, the board and several individuals in attendance last Wednesday.
Notable in these conversations was that several trailers in Freedom Lake currently have porches or other amenities that seem to indicate they are being used as long-term residences.
Voelker expressed that the issue for the board to decide is what to do with Gruber's special use exception given the property is currently being used for permanent residences.
"It's a travel trailer park for temporary occupancy," Voelker said. "This is more like 'We have buildings that we should be paying taxes on because we're renting them out as a residence,' and it's not allowed."
While the permanent residency was the main issue for the board, a secondary concern was the overall safety of Freedom Lake as it has been the subject of numerous 911 calls.
Chris Lutz from the Monroe County Sheriff's Department presented at the board to describe some of the issues his department has had with the property.
He noted the difference between Freedom Lake and the neighboring Waterloo Sportsman's Club in terms of call volume, illustrating his point with a physical collection of reports – a stack of papers held together by a full binder clip for Freedom Lake and only a few loose pages for Waterloo Sportsman's Club.
"One we have no problem at and another one we have consistent problems at," Lutz said. "We've encountered numerous convicted felons. We've taken firearms offenses out of there. Multiple known drug users, thefts, et cetera."
Ultimately, the zoning board approved a motion to layover the issue, providing Gruber with a month to address the situation – with more time potentially available should progress be made within 30 days.
Another question of special use exception compliance concerned Andrew and Christina Large, who are currently allowed to keep three tractor trucks and trailers on their property off Hill Castle Drive as they operate a trucking company.
A neighbor had reported a total of four trucks present on the property one day, thus bringing the issue to the board.
Andrew explained to the board that the fourth truck shown in pictures displayed at the meeting belonged to a former business associate who had stopped for some small repairs, staying on the property for only 32 minutes.
Several of the Larges' neighbors spoke at the meeting, some in defense of the couple and others against.
One neighbor spoke about how he believed the Larges' trucks cut into his property at a sharp turn onto the rural county road, leading to ruts and rocks in his field.
Another neighbor also complained about the noise caused by the trucks as they leave, though still another neighbor said the noise only lasts about three minutes, and the trucks have started leaving later in the morning due to complaints.
The board ultimately approved a motion requiring Andrew to provide a list of his three trucks and get straight pipes on his trucks to accommodate his neighbors further, though George Obernagel and other board members agreed the short visit of a fourth truck was insignificant.
"I just don't see an issue for 32 minutes or 33 minutes," Obernagel said. "I know there's some other feuds out there. I'm just worried about the truck issue."
Also at the meeting, the board approved a motion to allow for an area/bulk variance for a side setback to allow Nathan Kemling to build an attached garage on his property on Cedar Lake Drive.
While several neighbors voiced concerns about the addition, they were ultimately amicable and expressed their willingness to discuss the matter further in private.
The board also approved a special use exception for Ryan and Julie Weber to operate a commercial stable of no more than 14 horses at their property on Crook Road south of Waterloo.
At the end of the meeting, the board also approved a flood plain variance for Eric Knaust, who hopes to renovate a dilapidated shed on Lagoon Road in Valmeyer.
The board approved the variance contingent on Knaust getting a letter of intent from his associate who plans to use the shed for farming purposes.
For more on Knaust, click here.