Remembering a 'ray of light'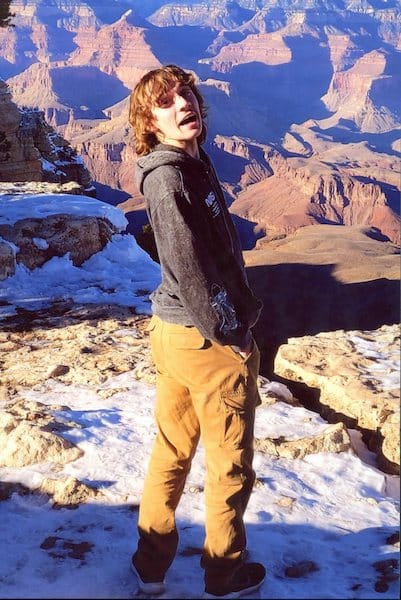 Paden Schultz, a familiar and friendly face for many in and around Monroe County, passed away recently, leaving countless groups and individuals to consider the impact he'd had on them.
Crystal Schultz and Cathy Taylor, Paden's mother and grandmother, respectively, recalled just a few of the many activities, organizations and causes to which Paden frequently dedicated his time.
One of Paden's defining character traits was his love of animals. As a sophomore at Southern Illinois University Carbondale, he was working toward a degree in zoology.
Crystal spoke about Paden's passion for just about any animal, though his greatest passion in this area appeared to center around the rescue and rehabilitation of tigers.
Wearing Paden's class ring, Crystal read an inscription on the ring's interior: "I was born to save animals."
"Any cause that came with nature or animals, Paden was all for it," she said. "Instead of being in the priesthood, he was following God's work as far as God's creatures."
Paden also participated in a myriad of other hobbies and groups that he approached with a similar passion.
Crystal and Cathy spoke about Paden's very involved participation with the Boy Scouts, starting from his time as a Tiger Cub. His experience in scouting ranged from unique camping trips – including setting up in the outfield after a Gateway Grizzlies baseball game – and getting substantial training, particularly for Wilderness First Aid.
One of several camping mishaps Cathy recounted was at the annual Lincoln Pilgrimage in Springfield. His first year there was hit with a tremendous storm, but he and other young scouts toughed out the weather, moving from one flooded spot to another through the night while most of the older scouts had left.
Paden was also interested in camping beyond scouts, attending Camp Ondessonk, Camp Lakewood and Camp Wartburg, which left him stopping at home just to pick up clean clothes over the weekends during at least one summer.
Paden also had a love for the arts, evident by his participation in and dedication to theatre, painting and the many flavors of band and chorus during his time at Gibault Catholic High School.
His interest in sketching and painting was clear in his art classes as well as his work on a mural in the office of previous Gibault principal Stephen Kidd.
In regard to music, Schultz spoke about one year when Paden had wound up in the hospital during the school's spring concert. She recalled how he watched the performance only to be rather frustrated when the boys in the chorus weren't projecting quite enough.
Gibault music director Scott Ruppel, who said he had Paden all four years of high school as he participated in just about every music group the school could offer, spoke highly of him.
"He was just such a unique person," Ruppel said. "He was such a unique individual, very confident, very comfortable with who he was. Very kind and loving… He was just such a big part of Gibault and such a big part of the music program. He really impacted a lot of people, and that was pretty evident at his funeral by how many people got up to speak."
Paden showed a similar passion for theatre, though his relationship with Gibault theatre director Mary Beth Babcock started well before high school as he participated in Actors' Attic summer shows as a kid.
While Paden brought plenty of energy to any performance, he was perhaps most known among the theatre department for his efforts in the school's mezzanine, a substantial collection of costumes which Paden took great care to keep organized as best he could.
Babcock recalled reaching out to Paden after he graduated in order to track down a costume or get the space back in order.
Though Crystal and Cathy recalled how Paden would sometimes annoy Babcock as he scooted around her on a rolling chair, she nevertheless expressed her affection for him and all he brought to the department.
"Everybody loved him," Babcock said. "He was just a very upbeat, delightful person who was always bringing food for people, very generous. It seemed like he was always in a good mood, but when he was complaining about something, he was funny about it, so he had a little smirk on his face and you were kind of laughing through his complaints. It was kind of a really refreshing quality."
Paden's impact on Gibault was felt by students as well as faculty.
Isabella Simmonds, a Gibault graduate two years older than Paden, recalled a time when the band kids' Kermit the Frog doll had gotten ripped up only for Paden to whip out a small sewing kit he kept with him and stitch the group's mascot back together.
"I just remember him as being the nicest kid ever," Simmonds said. "He would give somebody the shirt off of his back."
His effort for the sake of his fellow students persisted into college in a number of ways. Perhaps most notable among his contributions during his brief time at SIUC was the creation of a baking club, which Paden managed to organize even as a freshman on campus.
Outside of school, Paden also held a great passion for helping others.
Within the Monroe County House of Neighborly Service, Paden often worked for the organization's Back Porch thrift store.
HNS Vice President Jan Dudley worked closely with him during his service to the group, and she recalled just how dedicated he was to helping people whenever he could.
"Paden was one of those people who just loved to serve other people, and that's why he loved the Back Porch," Dudley said. "Every box that he unpacked was a new treasure. He just enjoyed helping people."
Paden also frequently volunteered at Waterloo's Morrison-Talbott Library. Adult Services Coordinator Sherri Tjemmes discussed how he helped organize book sales in the basement prior to the library's more recent construction.
Tjemmes also spoke to Paden's character and his passion for others.
"If you never met him, he was just wonderful for a young person of his age," Tjemmes said. "He was well-mannered, and he could hold on a conversation with an adult… He just was a delight. It's hard to even put it all in words the loss to scouting and everything he was involved with."
Paden's individual passions ranged even further. Some smaller interests included rock climbing and martial arts, both of which began at a young age.
Paden, as his mother and grandmother will attest, also felt a deep love for his faith. As he was growing up and all through high school, he was quite active in church and often volunteered at the Cathedral of St. Peter in Belleville, where Bishop Emeritus Edward Braxton came to know him by name among many other servers and volunteers.
Paden dealt with a significant number of allergies and several health complications, but nevertheless found himself touching countless lives around him.
As Crystal described, he brought a tremendous positivity to those around him, clearly demonstrated by the number of pictures they have in which he refused to be too serious.
He will be missed by many.
"He was just a ray of light," Schultz said. "No matter how dark it was, he was always happy. No matter the health issues he was having, he was happy. He didn't let anything stop him."