Columbia learns about home rule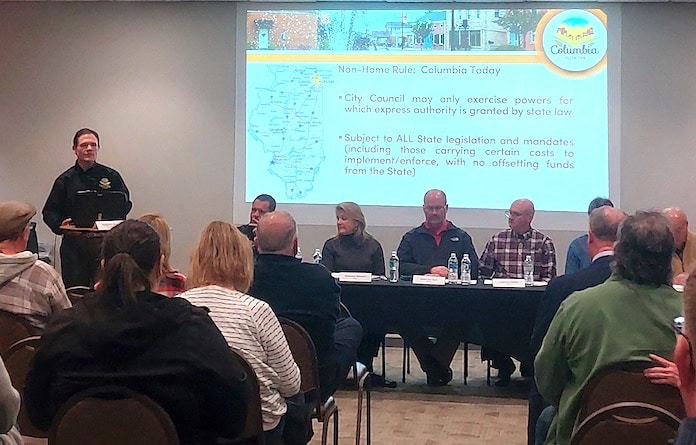 Columbia city officials joined residents Thursday evening for a town hall discussion about home rule.
Aldermen voted at the beginning of the month to propose a referendum question on the April 4 ballot to let voters decide if the city should adopt home rule status.
Columbia City Administrator Doug Brimm stated becoming a home rule municipality would give Columbia more leeway in finding "local solutions to local problems," although he acknowledged that home rule is often perceived as a "power grab" and a way to increase taxes. 
By definition, non-home rule units like Columbia have "no inherent powers" other than those "granted to them by the Illinois Constitution of statutes."
Brimm clarified that any city action must correspond to the Illinois Compiled Statutes which are decided at the legislative level – including those carrying certain costs to implement enforce with no offsetting funds from the state.
He then presented information to further explain what home rule entails and how it could help the city.
The main benefit to residents would be to fund city projects without creating more reliance on property taxes.
As a home rule municipality, Brimm outlined several revenue streams would become available to Columbia government, allowing it to capture tax money from non-residents in relation to commerce done in the city.
If the referendum passes, Brimm proposed a 1 percent home rule sales tax, a food and beverage sales tax and an incremental increase of the city's hotel/motel tax.
He clarified the food and beverage tax would only be applied to items prepared for "immediate consumption" and would not apply to groceries.
Using data gathered from an external source, Brimm reported about 80 percent of visits to Columbia restaurants and 66 percent of patronage at the city's other businesses is derived from people who live outside the 62236 zip code.
"Columbia is a destination for the region," Brimm stated, using the data to argue home rule would allow the city to create "diverse revenue streams, mostly from non-residents."
In addition to extra revenue, Brimm also claimed home rule would benefit the city by creating opportunities to foster entrepreneurship and local businesses, enhancing the city's ability to address areas of concern voiced by residents and providing the ability to attain lower-interest bonds for major projects.
One such project is construction of a new sewage treatment plant. The Illinois Enviromental Protection Agency requires Columbia to have its current lagoon-style facility replaced by a functional "Class 1" facility by 2035.
With an estimated price tag of $25 million, Columbia Alderman Jeff Huch told the audience the sewage treatment project was the "big piece" that led to his support of the home rule referendum.
"(2035) is a hard deadline and it is a huge amount of money," Huch said, adding he would like to have the "additional tax revenue coming from outside the community rather than from me and my parents and all of you guys. My biggest fear is that cost, that deadline and what we have to do to maintain that infrastructure."
Huch also mentioned a future water treatment plant project as a cause for concern.
The city's current agreement with Illinois American Water expires in 2028, after which city water rates could increase 30 percent or more.
A city-owned water treatment plant would minimize future cost increases for residents, but would cost the city an estimated $20 million.
Another project the city would like to accomplish is a new public safety complex for Columbia emergency service departments at an estimated $15-20 million.
In addition to major projects, Alderman Mary Ellen Niemietz referred to desired amenities suggested by Columbia residents, notably involving city parks and a possible future splash pad.
"Our hands are tied on a lot of different projects for what people have voiced in the comprehensive plan surveys," Niemietz began, "(The proposed taxes) are some creative ways we can use – not to pose any detriment to the citizens – but to provide more services."
During the public question part of the meeting, one resident in attendance asked why the new public safety complex project had not yet been accomplished and questioned whether it would be a priority if the home rule referendum were to pass.
The man, who did not wish to be named in this article, called the water and sewer projects "critical" but added, "I care about those guys right there, (Columbia Police Chief Jason Donjon and EMS Chief Kim Lamprecht) being in a crap building. Why wasn't (the public safety complex) considered before you focused on city streets and sidewalks? That prioritization concerns me."
He also took issue with a recent resolution which would restrict council action by capping certain tax rates and increases. He pointed out a future city council could easily change the existing ordinance even though it would require a super majority (six of eight aldermen) to repeal or amend.
Hill responded by saying "if home rule doesn't pass, it doesn't pass," but added he fully supports a new public safety complex, and home rule would help with the funding.
"In order for us to grow, we're going to have to spend money on infrastructure," Hill continued. "Right now we're pretty tight on what we're operating on. It's just a fact."
Several residents questioned if an increased sales tax would slow business in the city – which according to Hill has been historically strong in the past 2.5 years despite COVID-19 pandemic restrictions.
"I don't look at sales taxes" as a consumer, Hill said, adding he has never been asked about sales tax rates by a customer at the business he operates.
Whether or not the referendum passes, Hill reiterated his intent to not raise property taxes in the Columbia while he is mayor, noting the city's property tax rate has been the same or lower in five of the past six years.
By not raising property tax rates, Hill said that if additional sources of revenue are not available to alleviate the city's financial burden in the next decade, budgets for some of the city's "Cadillac services" would need to be reduced to make up the difference.
One thing both the residents and city officials agreed about was the need for more business and commercial development in the city to offset residents' tax burdens.
Alderman Doug Garmer alluded to tax revenue from a proposed sports complex in the city being multiplied if the home rule taxing abilities were in place, pointing out people who travel to club sports events generally spend significant amounts of money.
He continued by explaining the city "needs some business, there's no doubt. (Home rule) is just another tool in the tool box … as an option to attract more businesses."
Coincidentally, Columbia was part of a decision in 2008 which prevented development due to the city's non-home rule status.
Stakeholders in the proposed Columbia Crossing development sued the city to enforce a development agreement after the project narrowly failed to gain voter support in a 2007 advisory referendum.
The court ruled Columbia was "beyond its authority as a non-home-rule Illinois municipality" and had no legal basis to enter into a contract with the developer in the first place.
While that case involved a controversial commercial development, Brimm and other city officials Thursday contended the city needs additional revenue and flexibility in action afforded by home rule status to maintain and improve services in all areas of city government.
Columbia will continue its series of town hall meetings March 8 beginning at 6:30 p.m. at Columbia Public Library, 106 N. Metter Avenue.
Hill also encouraged Columbia residents to learn more and stay informed about home rule by visiting columbiaillinois.com/homerule.
He added the web page will be updated regularly to keep citizens informed as election day approaches.