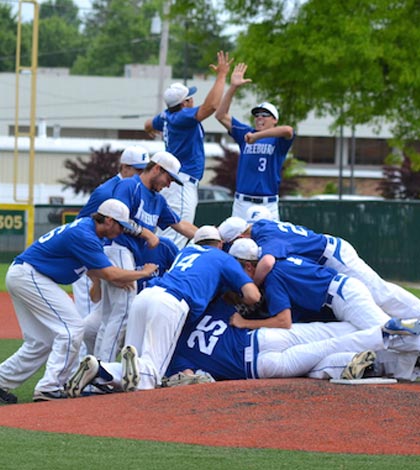 To borrow a quote from Muhammad Ali, who passed away late Friday night, the Freeburg Midgets "shocked the world" on Saturday, breaking through on a Waterloo pitching staff that had surrendered just one hit all postseason entering the sectional final showdown at Blazier Park in O'Fallon.
Freeburg stunned the Bulldogs, 9-6, to win the Class 3A crown and advance to Monday's supersectional at GCS Ballpark.
The Midgets plated three in the first inning off Waterloo ace Tyler McAlister, who threw a no-hitter in the regional final last weekend and had an ERA of around 0.50. Following an RBI double, Keegan Baxmeyer smashed an opposite field, two-run home run to right-center and the score was 3-0 in the blink of an eye.
Waterloo fought back valiantly in the third inning. Erik Kaiser drove in two runs with a single after Kane Osterhage and Jordan McFarland had reached on hits.
In the fifth, Kaiser smacked an RBI double and Cole Kaiping drove him home with a single and the Bulldogs took a 4-3 lead.
Freeburg took advantage of some shaky Bulldogs defense in the bottom of the fifth, scoring six runs to take control of the game. A squeeze bunt was bobbled, an infield grounder was booted and there was an errant pickoff throw by the Bulldogs, and the score was 9-4.
Kaiser and Aaron Laskowski added RBI groundouts in the seventh inning to make it 9-6, but Freeburg stopped the rally and celebrated its title on the turf pitching mound.