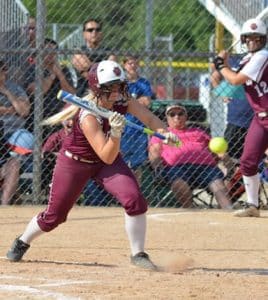 A historic season for the Dupo High School softball team ended Saturday without a state title, as the Tigers lost to a tough Carterville squad in the Class 2A championship game at East Peoria.
"Some days, it's just not your day," Dupo head coach Greg Pennock said.
One day after the Tigers advanced to the state title game for first time in program history, Carterville proved just too tough of an opponent to overcome.
Dupo (21-6) put runners on early with multiple hits in each of the first two innings, but Carterville's defense made plays to keep the Tigers off the board.
Carterville finally got to Dupo pitcher Jessica Stansch and her off-speed throws after one turn through the batting order, scoring five runs in the third inning and another in the fourth.
The Tigers clawed back to make a game of it late. Skylure Barlow homered and hits by Rachael Donald and Amber Mobbs cut the Carterville lead to 6-3 in the fifth inning.
But Carterville reliever Avery English came in and shut down Dupo over the final two innings, dashing any hopes of late-inning magic for the Tigers.