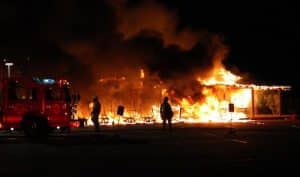 Flames were seen shooting from the building, located at 643 Ridge Road, with some stray embers hitting neighboring homes, according to arriving police officers on scene. There were also several small explosions heard inside the burning building. Several golf carts appeared destroyed. The flames were contained to the pool house, with no injuries being reported.
Waterloo Fire Chief Brett Wiegand said the fire was reported using 911 by a neighbor. Upon arrival, the main floor of the old pool house and several golf carts were fully engulfed.
"Due to concern that the main structure may have been involved when we first received the call, we requested that the Columbia Fire Department respond for mutual aid," Wiegand said. "When we arrived on scene, we established two attack lines and set up our ladder truck to quickly extinguish the fire and to verify that it has only melted some siding on the main building."
The cause of the fire is undetermined, Wiegand said, due to damage to both the building and golf carts parked nearby.
"There was no good way to make a determination if it started inside the building or outside the building," Wiegand said.
An original log structure dating back to around the 1850s, the pool house building was used for dry storage on the main floor. Beverage carts that were parked in the lower level were undamaged, Wiegand said, along with an ice machine that was still running until firemen turned off power to the building.
The contents on the main floor and golf carts were a total loss, since the fire had been burning for a considerable amount of time before it was reported.
Waterloo firefighters returned to the scene shortly after 1:30 p.m. Monday for a rekindling of the burned-out building.