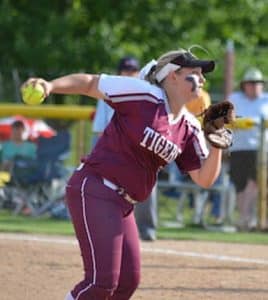 When asked about his team's opportunity to win a state title following Friday's IHSA Class 2A semifinal victory over St. Edward in East Peoria, Dupo head softball coach Greg Pennock got a little emotional.
"I'm happy for them," Pennock said, his voice choking up a bit. "They work hard, you know … sorry. I'm happy for them."
The Tigers (21-5) are one win away from a first-ever state title in softball after an entire team effort propelled them to a 5-1 victory on Friday afternoon.
There was much talk about St. Edward pitcher Lindsay Zdroik heading into the game. After all, the Valparaiso signee had 236 strikeouts in 133 innings and an ERA of 0.79.
Dupo's strategy on offense was simply to make contact.
"Our goal today was to make the defense get more outs than (Zdroik) got," Pennock said.
That strategy worked, as the Tigers bunted early and often to put runners on base for senior RBI machine Rachael Donald, who drove them home. Lefty leadoff hitter Alyssa Strubberg had three bunt hits and scored three runs. A Taylor Esmon single drove home Strubberg for the game's first run.
The big blow came in the second inning. After Caitlyn Brizzi and Strubberg each reached base via the bunt, Skylure Barlow walked. With two outs, Donald drove a full-count fastball into centerfield for a three-run double to put the Tigers up 4-0.
"All I needed to do was put the ball in play," Donald said about that at-bat after the game. " I told (Strubberg), 'Hey, if you keep getting on base, I'll keep hitting you in."
Strubberg bunted her way on again in the fourth inning; Donald drove her in again for a 5-0 lead.
That was plenty of run support for Dupo pitcher Jessica Stansch, who went six and two-thirds innings for the victory. The soft-throwing senior Tigers ace kept the St. Edwards hitters off balance all game with excellent location of her pitches. The Tigers' defense was strong behind her, as well.
"She's our little right-handed John Tudor," Pennock said of Stansch, referring to the successful, slow-throwing Cardinals southpaw from the mid-1980s. "They didn't get a whole lot of solid hacks off her."
The Tigers, who last played in the state tournament in 2009 but failed to win a game there that year, will take on Carterville (31-3) for the Class 2A crown on Saturday. First pitch is slated for 5:30 p.m. at EastSide Centre.
To view a video of the final out from Friday's game, click here.