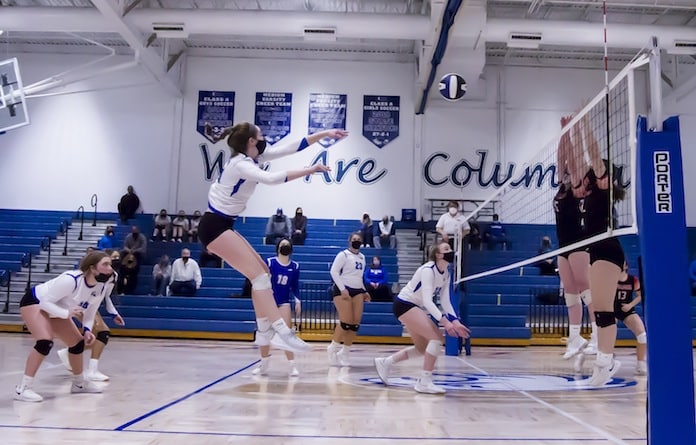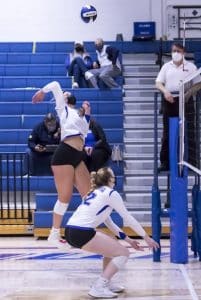 The sound of hoops players squeaking shoes on gym floors has quickly been replaced by the thumping of volleyballs by local teams of late.
A few local high school volleyball squads are off to strong starts.
Columbia won its first two matches of the season last week, downing Carlyle last Tuesday (25-4, 25-11) and posting a home victory Thursday over Waterloo (25-13, 25-15).
Olivia Peterson paced the Eagles with 14 points against Carlyle. Kate Toenjes had 17 assists and Ava Khoury recorded nine kills.
Natalie Huy had 11 points in the win over Waterloo. Toenjes had 15 assists and Khoury had eight kills.
Columbia hosted Breese Central on Tuesday, falling 25-15, 26-24. The Eagles host Salem on Thursday and play at Gibault on Monday.
Waterloo dropped its first two matches of the season.
In Thursday's loss at Columbia, Emma Day and Hailey Montgomery did their best to try and hold back the Eagles attack with 14 and 13 blocks, respectively.
Last Tuesday, Waterloo dropped a 15-25, 25-16, 17-25 match to Highland. Montgomery recorded seven points, six kills and six blocks.
Waterloo picked up its first win of the season Tuesday night, 25-14, 25-18 over Jerseyville. Montgomery had 14 points and Ella Bockhorn had nine kills. Waterloo plays at Civic Memorial on Thursday.
Gibault is off to a perfect 6-0 start.
The Hawks topped Okawville (25-11, 25-17) last Wednesday, Marquette (25-22, 25-21) on Thursday and Steeleville (25-7, 25-12) on Friday.
Ande Grohmann, a senior outside hitter, led Gibault with eight kills against Marquette and Ryley Lehmann registered 15 assists.
On Monday, Gibault dominated Wesclin at home, winning 25-22, 25-1. Grohmann put on a show in the second set, rattling off an amazing 24 straight service points after the game was tied 1-1. For photos from Monday's match, click here.
"Since I've started coaching, I have not seen someone hold 24 straight points," Gibault head coach Kelsey Hartung said. "But, if I had to put my money on someone, Ande would be one of them. She has a killer serve that can be very difficult to read and pass."
On Tuesday, the Hawks won 25-14, 25-14 against New Athens. Ande Grohmann had eight points and five kills. Abby Grohmann had nine kills.
The Hawks downed Red Bud on Wednesday, 25-13, 25-18. Abby Grohmann recorded nine kills, Zoe Swip had 12 digs and Lehmann had 15 assists for Gibault, which plays Thursday at Metro-East Lutheran and Friday at Valmeyer. 
Valmeyer has won three of its first four matches.
Last Tuesday, the Pirates won 25-15, 25-11 at Lebanon. Kiersten Miller had 10 points and six assists. Brooke Miller added eight points and six kills.
Last Wednesday, Valmeyer dropped a 26-24, 18-25, 17-25 match at Red Bud. Mia McSchooler had nine points and Brooke Miller had seven points and five blocks for the Pirates. Red Bud was led by Olivia Carle with 14 kills and Jenna Salger with 39 assists.
On Thursday, Valmeyer won at Hancock. McSchooler led the way with 20 points.
On Tuesday, Valmeyer won 25-15, 25-15 over Marissa behind solid and aggressive serving from senior Brooke Maus, who scored six points off four aces. Valmeyer hosts Gibault Friday and Steeleville on Monday.
Dupo dropped its first two matches of the season, falling 25-19, 25-13 at Red Bud last Monday and 25-17, 25-19 to Marissa last Tuesday.
Maddie Esmon leads the Tigers in most categories so far this season.
For a preview of local volleyball teams, click here.