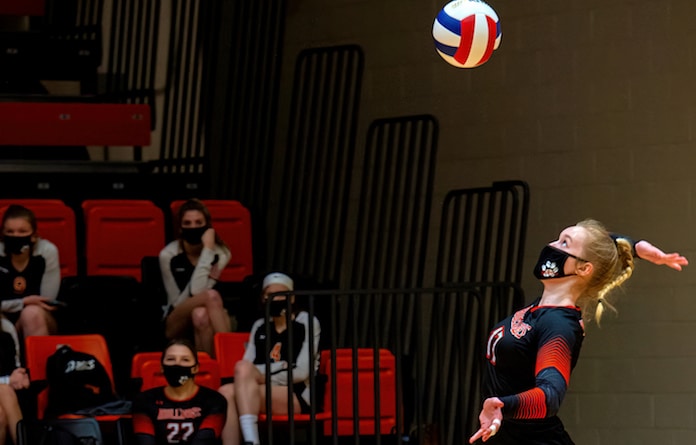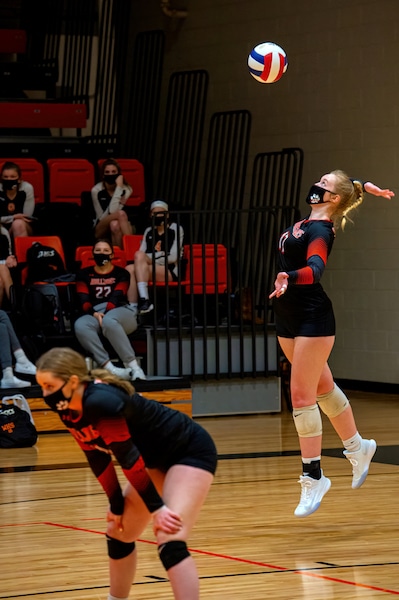 The high school volleyball season began this week and while some teams have higher expectations than others, all are excited to just be able to take the court.
Waterloo opened at home Tuesday against Highland, falling 15-25, 25-16, 17-25. The Bulldogs, who play Thursday at Columbia, return a strong group of players in Paige Montgomery, Hailey Montgomery and Ella Bockhorn. All are juniors.
Waterloo head coach Angie Crawford said junior Ellie Schwehr and sophomore Emma Day, who contributed valuable time last season, also return. Other returning varsity experience includes Lilly Heck, Maddie Davis and Karsyn Lane.
Breeyn Garrett and Ellie Metzger, both seniors, will play at libero and outside hitter, respectively.
The Bulldogs advanced to a sectional title game last season.
"We have been focusing on a rebuilding year for our defense and serve receive," Crawford said. "We are seeing promising effort and a great deal of heart from these girls in this area. Our area of strength will be our offense having three returning starters and strong additions to our lineup."
Columbia, which opened Tuesday with a 25-4, 25-11 win at Carlyle, features seven seniors: Maci Browne (defensive specialist), Natalie Busch (right side hitter), Natalie Huy (defensive specialist/right side hitter), Ava Khoury (outside hitter/middle hitter), Olivia Peterson (middle hitter), Kate Von Bokel (defensive specialist) and Kaitlyn Wilhelm (outside hitter/middle hitter).
Other team members include juniors Sophie Gill-Kemper and Taylor Holten, and sophomores Karsen Jany, Paige Knight and Kate Toenjes.
"All these girls bring their own special talents to the team," Columbia head coach Elysia Sepich said. "I am just glad these girls will get the opportunity to play."
Peterson scored 12 points and Khoury had nine kills in Tuesday's win.
The passion for volleyball in Valmeyer is always strong. The Pirates opened Tuesday with a 25-15, 25-11 win at Lebanon. Kiersten Miller led the team with 10 points and Brooke Miller registered six kills. On Wednesday, Valmeyer lost in three sets at Red Bud, 26-24, 18-25, 17-25. Markee Voelker led the Pirates with seven kills.
"Back in the day, Valmeyer players were always called 'small but mighty,'" Valmeyer head coach Karla Bivins said. "We may have been small in size, but play with big hearts and big ability. That is totally this group and team in general."
The Pirates will be without junior Sierra Hohnbaum due to injury, and senior Tinleigh Jakimauskas is dealing with knee and ankle injuries.
Brooke Maus, a senior, is looked upon as a leader and has been a top server since her freshman year, Bivins said.
Sophomores Jayna Krekel, Voelker, and Mattie White also return. Krekel and Voelker were varsity starters last season.
"Both girls have played club ball over the winter months and have made great improvements in speed, ability and confidence," Bivins said, adding that the 6-foot-tall White should excel at right side hitter and blocker.
Freshmen for Valmeyer are Hannah Gideon, Kate Lueck, Rylee Nagel, Mia McSchooler, Brooke Miller, Kierstin Miller and Courtney Schilling.
"This group works hard and fast," Bivins said. "They bring a spark to the game that spreads quickly. It will be fun to watch this group play, grow and learn."
Gibault opened Wednesday at home against Okawville, winning 25-11, 25-17. The Hawks lost key players from last year to graduation but have a good amount returning.
Ande Grohmann returns for her senior season and is ready to lead.
"I can tell she is ready to leave all she has out on the court and help lead her team to another successful season," Gibault head coach Kelsey Hartung said.
Abby Grohmann, a sophomore, will also be a force on the outside, Hartung said.
"Abby has been training hard in the offseason and I expect some big things from her this season," Hartung said.
Other returners are senior libero Zoe Swip and junior back row mate Ella Range.
Maddie Davis and Molly Penberthy, both seniors, are ready to make an impact as middle hitters, the coach said. Another senior, Melissa Bernal, also returns and will play on the right side.
Another senior, Ryley Lehmann, will step into the starting setter role.
"As a setter you not only have to have great court awareness, but you have to gain the trust of your hitters and Ryley has no problem checking both of those boxes," Hartung said.
Hartung said the goal for her team is to build on and improve from last season.
"What I really want most is for each and every girl to take in every minute of every single game, because if we learned anything from 2020 it would be that we shouldn't take even the smallest thing for granted," she said.
Dupo opened Monday with a two-set loss to Red Bud. On Tuesday, the Tigers lost 25-17, 25-19 at home to Marissa. Dupo plays Thursday at Lebanon.
The only returning starters from last season are Ellie Elfrink (setter) and Maddie Esmon (outside hitter).
Other players with major roles this year or the Tigers will include Tabitha Rendleman (middle hitter), Kyann Prater (middle hitter), McCayla Ortega (outside hitter), Aubrea Mitchell (outside hitter/secondary setter), Kloe Hamilton (libero) and Bree O'Guinn (defense). Others in the lineup are Lexi Curtis (utility), Alexis Duck (outside hitter) and Bree Portell (defensive specialist).
"Our major goal this year is to be competitive in every game and to work as a team," Dupo coach Casey Brumit said. "My seniors, especially, are very excited to be able to have a season this year."
For a full schedule of high school volleyball matches, click here.