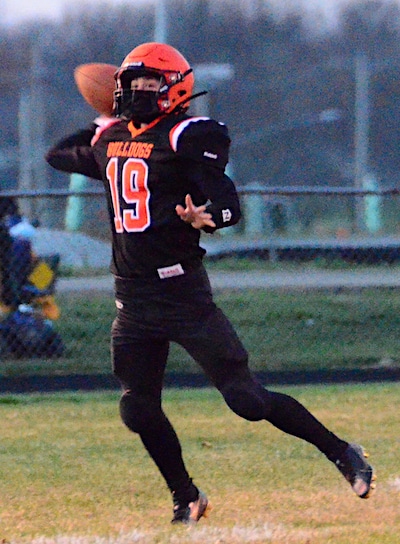 The good times continue to roll for the Waterloo High School football team, which improved to 2-0 in dominating fashion Friday at Granite City.
The Bulldogs rushed for 411 yards on the night in a 59-16 win.
Evan Davis ran for 141 yards and three touchdowns and Jack McFarlane rushed for 136 yards and a score in the victory.
Waterloo quarterback Eric Brown threw two TDs and ran for another.
Waterloo head coach Dan Rose said Brown hit some key screen passes when called upon to complement the team's dominating rushing attack.
"He has the capability in this offense to make decisions in real time," Rose said. "He's continuing to get better every game."
Waterloo, which out-rushed Granite City 226-18 in the first half, scored on each of its first four drives.
Rose credited the defense and special teams for giving the offense great field position on the early drives.
Ethan Horvath added an interception return for a TD in the third quarter and Aidan Morrow capped off the scoring with a 15-yard TD run in the fourth quarter.
The 59 points were the most scored in one game by the Bulldogs since a 63-21 win over Mater Dei on Oct. 20, 2017.
Rose said players who were smaller as underclassmen just a couple of years ago have stuck with the program despite the losses and gotten stronger in addition to gaining football experience. That is the key to Waterloo's success.
"They've put in the work, a lot of hard work," Rose said. "We need to keep the foot on the gas and continue the positive momentum."
Waterloo plays at Jerseyville (1-1) this Friday night, aiming for a perfect showing in Mississippi Valley Bowl Series pool play.
Rose said Jerseyville has a 240-pound fullback (Grant Thuer) and will try to control the ground game. Jerseyville also features 6-foot-4, 335-pound lineman Ethan Benton.
"They're a good-sized team," Rose said. "We'll need to be ready."
Eagles fall
Scoring was hard to come by Friday night in Breese, as Columbia dropped an 18-12 contest in the mud against a tough Breese Central squad.
The Eagles got on the scoreboard first courtesy of an 85-yard touchdown pass from Colin McLaren to Londyn Little to go up 6-0 at the end of the first quarter.
Central tied it on a TD run early in the second quarter.
Little scored again, this time on a 14-yard TD run, to put Columbia up 12-6 early in the second half. But that would be the rest of Columbia's points on the night.
Central returned an interception for a TD to end the third quarter at 12-12. The Cougars won the game in the final minute with a short TD run for a 18-12 outcome.
The Eagles were held to just 62 yards rushing on the night. Little had 172 yards receiving.
Central picked off three Columbia passes in the game.
"Turnovers and lack of an inside run game proved to be the difference," Columbia head coach Scott Horner assessed. "Londyn Little had a great night but we have to be able to run the ball inside the tackles if we are going to win games like that."
Still, Horner was impressed with his defense.
"Defensively, we played really well and only gave up 12 points," he said. "I was very proud of how we played defensively."
Columbia plays Friday night at Salem.
"Salem will be very much like Central," Horner said. "They are big, aggressive with a great mixture of speed at the skill positions. We will have to limit our turnovers if we are going to win."
Dupo wins
In other football action, Dupo picked up its first victory of the season Saturday at Madison, winning 40-18.
Camden Biggs carried the ball 33 times for 225 yards for the Tigers.
Dupo quarterback CJ Robinson was 2-for-4 passing for 62 yards and two touchdowns.
The Tigers defense had two interceptions and two quarterback sacks in the victory.
Dupo hosts Wesclin (0-2) this Friday night.